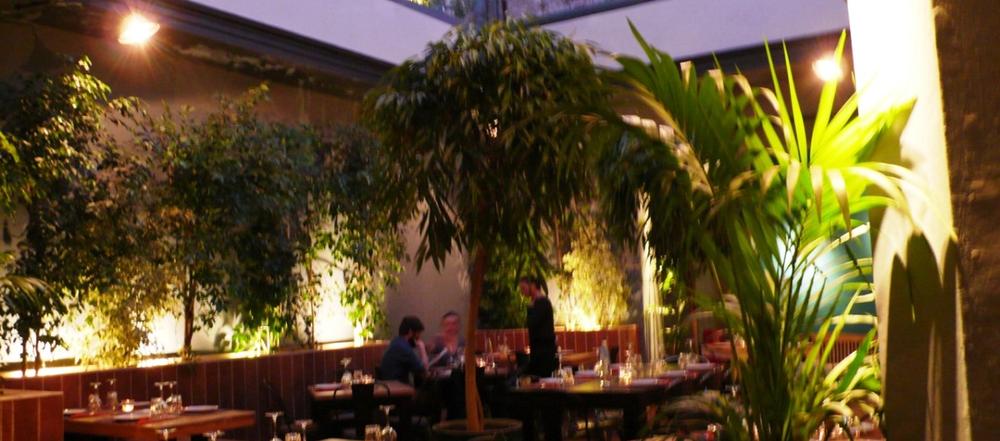 Christos Potsios is no newcomer on the nightlife block, having already surprised us pleasantly with Soul and well before that with De Luxe.
Now he is one of the chief names behind Foire, which, I confess, was much different to what I'd expected.
Taking things from the top, I had read that Foire was open for coffee from early afternoon. So I set off one Sunday for my first visit to the new – and already buzz-generating spot – only to find it closed.
The next day I decided to make a more formal visit for dinner. But it was closed again and then I knew that something was not right – you don't expect a new business to be closed two days in a row after all.
In the end it appears that I was just plain unlucky as Foire is closed on Sundays and Mondays, and does not do lunch, but, rather, opens at 19:00 in the afternoon.
My third attempt was on Wednesday evening. Finally, Foire was open. So I started climbing the stairs to the second floor where the main part of the venue is located. As usual, I headed straight for the bar partly because I had been – wrongly – informed that this was the highlight. It was in fact the first time that I felt compelled to turn my back to the bar after a while. What I saw was a beautiful atrium with trees and plants, and diners enjoying dishes of Asian cuisine while listening to perfect, relaxed dinner music.
Foire is not the kind of "alternative" space to bring in the crowds drawn by hype. Most of its patrons, in fact, are above 25, elegantly clad in dresses and heels, after-office types in shirts and, more importantly, into exotic flavours. The smiling faces of the well-dressed waiting staff is just another bonus.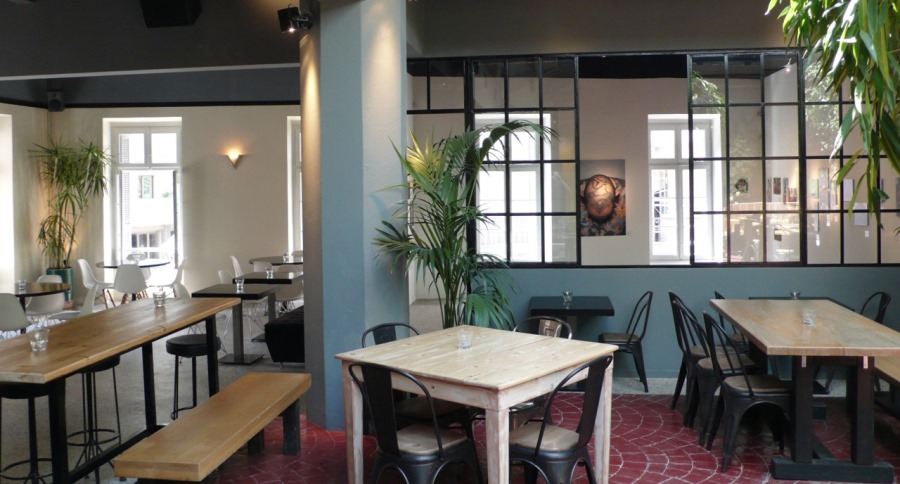 What else is there to do at Foire?
Take in the temporary exhibitions that are set up in a space near the beautiful indoor garden or (on Saturdays and Sundays) go dancing in the club area, which is on the same floor but has a separate entrance.
The menu features a variety of hors d'oeuvres priced at 4 euros, allows you to order a selection of different flavours. You can eat at the bar, choosing from the hors d'oeuvres or from the main courses, though as a fan of the bar as a bar, I would order appetizers from the main course to go with my drink.
What to drink
Ultimately, and despite expectations, I'm not sure I would go to Foire exclusively for a drink.
The bar itself is certainly a very attractive area but I got the impression that it is playing second fiddle to the other features, which shine in their respective starring roles.
Most of the diners had cocktails on their tables, which makes sense. I can see no reason why the easy-on-the-palette concoctions prepared by Spyros Skourtis and Yiannis Natsis should not pair well with the interesting dishes by Chef Giorgos Dramilarakis (Kona Kai, Soul).
Simply put, I would certainly consider pairing exotic noodles with a Ginger Cosmos – gin, ginger, basil, fresh pineapple juice, lime and sugar – or a spicy Cucumber Collins – gin, triple sec, cucumber, lime, soda and chilli syrup. Yet to say that I would come here just for a drink is stretching it a bit, especially as there are so many excellent alternatives in the area.
And, to be honest, the Aviation I ordered came without the lemon, a mistake that certainly soured by opinion of the bar. I was also a bit disconcerted when I noticed that the delicious and refreshing Foire Sour – vodka, mastiha liqueur, apple, basil, lime and sugar – was ordered three times and the bartender prepared it in a shaker every time. I just didn't get it, try as I may.
The liquor stock is at a very basic level and presents few surprises and little variety but that said, I did find the extensive wine list interesting and liked the idea of having herbs growing in pots right on the bar so the bartenders can pick them fresh when preparing a drink.
I will go to Foire, again and again, and it is one of the spots that I would recommend. It has a tasteful and distinctive ambience; I liked the people I saw, the menu titillated my taste buds and the club made me want to ask when the next party was on. In short, it is a pleasant package, and no, it is not a "bar." But at the end of day, I really didn't mind.
(Mitropoleos 72, Monastiraki)
User Comments
Login or register to join the conversation