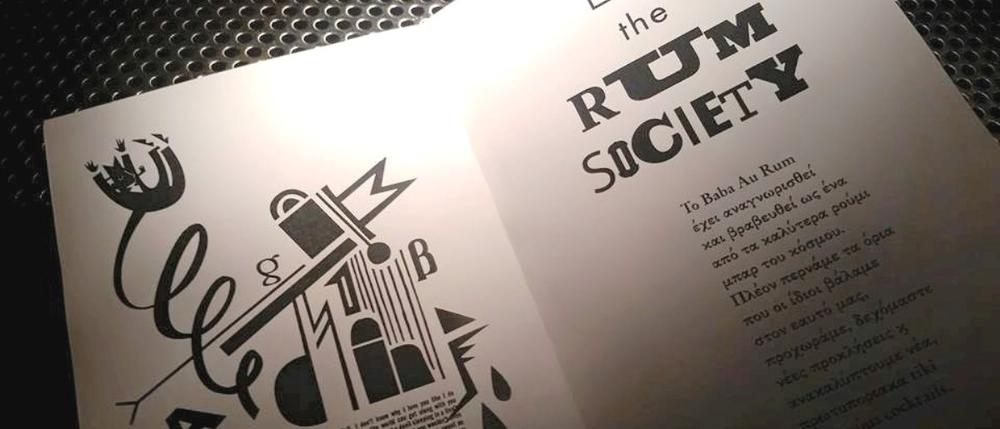 In the magical world of bars, there is a word that separates good from great: concept, meaning the philosophy that underlines every detail in the menu, the space and the overall aesthetic.
In order for a bar to put that across, the team behind it must be experienced and confident.  Baba Au Rum has that in spades. Having opened 7 years ago, owner Thanos Prunarus felt like one cycle had ended. He's changing the logo, the menu and the whole drinking experience in his bar.
Baba Au Rum is shaking off its Tiki label but remaining a rum based bar.  It's drawing inspiration from the great art movements of the early 20th century, with a particular focus on Avant Garde and Futurism.  These elements come through in Kostas Theocharis' menu illustrations, which were almost exclusively done by hand.  Design is another way of putting across what Prunarus and his team are after, the freedom to be creative. Baba Au Rum is moving away from its 'return to classics' ethos, which has been replicated around the world with Jerry Thomas as its figurehead as he was the first person to put his recipes to print.
The new, vol.7 menu, starts with 'Avant Garde Cocktails' or else ' the cocktails you should try at least once in your life'. Thanos Prunarus, Elias Stergiopoulos, Nikos Gartzolakis and Fedonas Papakonstantinou are looking for innovation in the bar scene, especially during such a unique moment in the socio-political sense.  This category won't be static and it includes 19 cocktails which showcase the bar staff's confidence.  'The cocktails have been created to be liked by everyone' says Thanos, something which is evident as he's achieved the ultimate balance between flavours.  You won't be looking for 'something sweet' or 'something sour' or 'something gin based'.  In the Avant Garde section, the descriptions are detailed and full of mystery and their goal is to offer a new taste experience, accessible by a larger audience. The Love of Zero for example is a refreshing cocktail which apparently is 'the best drink of 2015', made from a secret mix and combined with tomato water, plenty of bergamot, lemon and orange flower aromas.  This drink has a savoury feeling bordering on umami which can be an introduction to the Fluxus Milk Punch which is a completely different proposition, described as a 'surreally popular brunch'.  Made with Spanish brandy, Jamaica rum, exotic spices, cherries, vanilla and soya milk, this is a rich and filling cocktail.  The new menu concept can be summed up by Conceptual Form, a cocktail which in an international first, reintroduces a syrup lost in time which followed a Fassionola recipe.  This is a Tiki ingredient that Baba Au Rum was asked to re-imagine for Ben Reed, a man at the forefront of international drink marketing.  The Avant Garde menu is about new flavours, a new beginning, innovation and resourcefulness.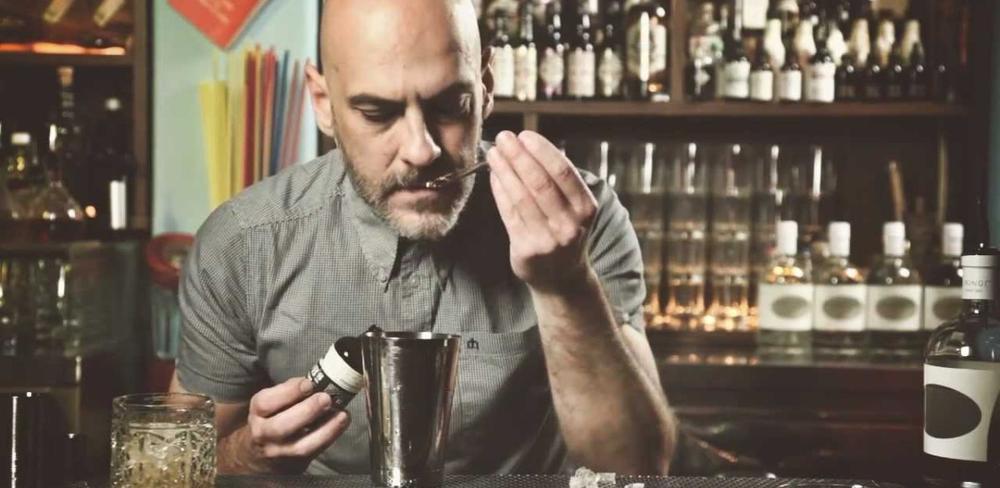 The second chapter in the new Baba Au Rum menu is Rum Society, made up of 9 recipes the majority of which are the classics the team has always recommended. This category includes the Zombie, Mai Tai (with the ability to choose between 3 types of rum) and some house recipes, which have become staples over the last 7 years.
If there is one thing I'm taking away from this visit, it is that, since Baba Au Rum has already made the international bar top 50, it can now look towards its future with some well deserved confidence. It's becoming more outward looking and leaving its strict attitude behind that involved insisting or even telling customers what to drink. There are also some other details which are signalling the new era: the constantly updated website with a menu analysis, the soon to be launched blog, the social media updates, the QR code which allows you to check the menu on your phone, the menus in two languages and the introduction of a Happy Hour.
Klitiou 6, Athens
User Comments
Login or register to join the conversation