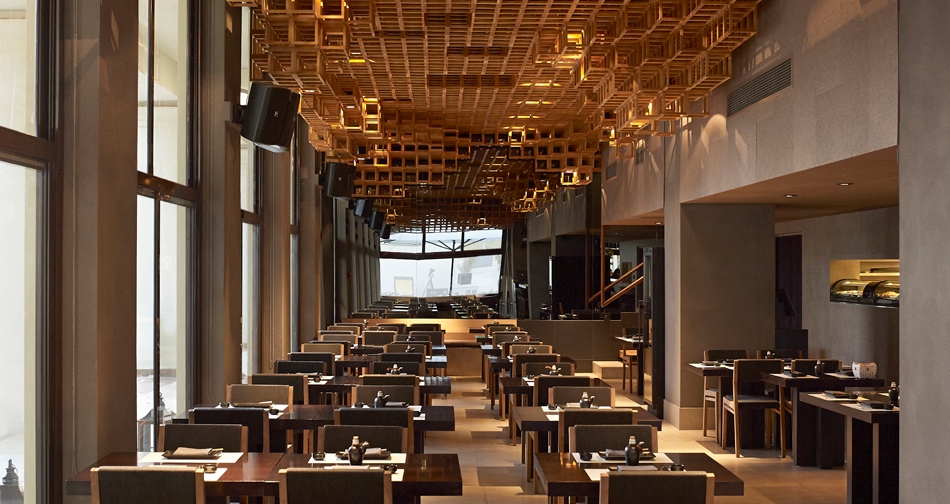 The second, after Oozora, Japanese opening in Kifissia also carries the architectural-decorative signature of K-Studio. At the helm in the kitchen is Joe Kurauchi, formerly of New York's Morimoto, with an impressive resume that includes stints at El Bulli, Fat Duck and other top venues! Rakkan is the brainchild of two young men, Dimitris Pappas (Hama and, since last week, Paragon) and Dennis Papageorgiou.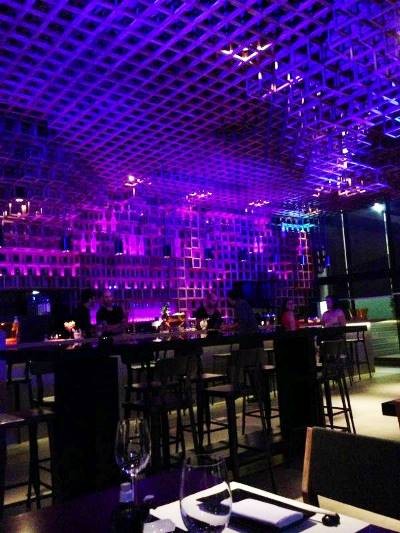 It would be easy, even expected, for Rakkan to rely on the strong public relations and reputations of its creators, nor would it be much of a surprise if they themselves had adopted a laxer approach. But this has not been the case; the passion and drive for the best are evident, as too – I venture to say – is the professionalism. Before focusing on the cuisine, I should like to mention something that made an impression on me the first time I visited: the acoustics! With the venue full, the music could be heard crystal clear, we conversed without having to shout and there was no background noise. If such meticulous attention to sound is not an indication of professionalism, then what is? At this point, I should add that the interior is far more attractive than the exterior. The mood is set by the ceiling, which comprises an almost 'fluid' arrangement of rectangular frames which begins behind the bar and extends throughout the interior. It is very impressive indeed, particularly when the colours change depending on the lighting! Outside, the scene is – inevitably – simpler, indeed a little 'makeshift' (hence my 3/5 rating for atmosphere, which pertains to the summer dining area).
We take our seats. It's still early and the place hasn't filled (though it will do later, even though it's Monday night). The service is very polite and attentive, although I was taken aback when we were asked if we required ice for our wine. I don't doubt that they often get such a request, but that's no reason to adopt it as a 'formal' inquiry! I pick up the menu. Two things make an impression. Its breadth and its prices. The latter are very close to those at Matsuhisa and this sets the bar very high indeed and I think they need to be careful, for no matter how good the food is – and it is – the restaurant has not yet made a name for itself, nor is the location particularly striking.  
Joe Kurauchi's menu clearly has influences from Nobu, though he does not confine himself to these and executes them impeccably. I tried, for example, the most perfect version of black cod with sweet miso, which has that wonderful, airy texture of the original and its depth of flavour, but is slightly better balanced in terms of sweetness. Also immaculate was the classic yellowtail jalapeno, with precision balance between spicy and sour and fish with a most agreeable, almost buttery texture. As I already mentioned, the chef's proposals extend far beyond these familiar offerings. First of all there is the exceptional bao (Thai steamed buns), here filled with shrimps in a spicy curry sauce, absolutely delicious and at €6 excellent value for money! But what really makes Rakkan stand out is the sushi. There is no doubt that the sushi chef has consummate skill, technique and imagination. The signature rolls, although expensive, are impressive and filling. I singled out the Emperor rolls with king crab and eel, which is a great combination, rich but harmonious. This richness may perhaps lean sometimes toward a lack of finesse in certain of the offerings, such as the Spector, with spicy tuna, crab, shiso, avocado, tobiko and two sauces, one sweet and the other spicy (which are fried momentarily in a very light tempura batter), or the New Yorker with tempura shrimp, avocado and spicy sauce, wrapped – also – in tuna! Personally, I would like to see the chef's indisputable prowess channelled into some less extravagant, more elegant and delicate maki and nigiri. I am sure they would be outstanding! Apart from the sushi, I also tried the skewered salmon teriyaki from the robata grill which was delectable, though ever so slightly overcooked, and the very good Boston lobster with lovely karashi su miso (a type of Japanese 'mustard' dipping sauce) accompanied by tapioca green tea, as well as superbly cooked king crab claws in a ponzu sauce.
Among the very interesting desserts, the one that really captured my imagination was the incredible Tropical Pana Cotta Dulsey with candied chocolate and exotic fruit jam which... although a shade too sweet, is perhaps the finest dessert I have tasted in an 'exotic' restaurant! Lastly, the wine list is fairly conventional though with plenty of options, whilst the cocktails look interesting, but €14 for a signature cocktail is probably too much for Athens in the year 2014.
In conclusion, I believe Rakkan is a notable, very interesting restaurant that can easily become even better... provided the cuisine curbs its tendency toward heartiness with an infusion of Japanese finesse. 
Rakkan
Phone: (+30210) 8087941
Website: www.rakkanrestaurant.com
Open: Daily, noon-evening
Price per person (€)*: 70-100
* we do our best to reflect the actual price range per-person of a full meal including first and main courses, desert, water and half a bottle of wine or one beer depending on the type of restaurant.
Scoreboard Key
0 - 3

Poor

3.5 - 4

Average

4.5

Acceptable

5 - 5.5

Satisfactory

6 - 6.5

Good

7 - 8

Very Good

8.5 - 9

Outstanding

9.5 - 10

Excellent
| | | | | | | | |
| --- | --- | --- | --- | --- | --- | --- | --- |
| 0 - 3 | 3.5 - 4 | 4.5 | 5 - 5.5 | 6 - 6.5 | 7 - 8 | 8.5 - 9 | 9.5 - 10 |
| Poor | Average | Acceptable | Satisfactory | Good | Very Good | Outstanding | Excellent |
User Comments
Login or register to join the conversation