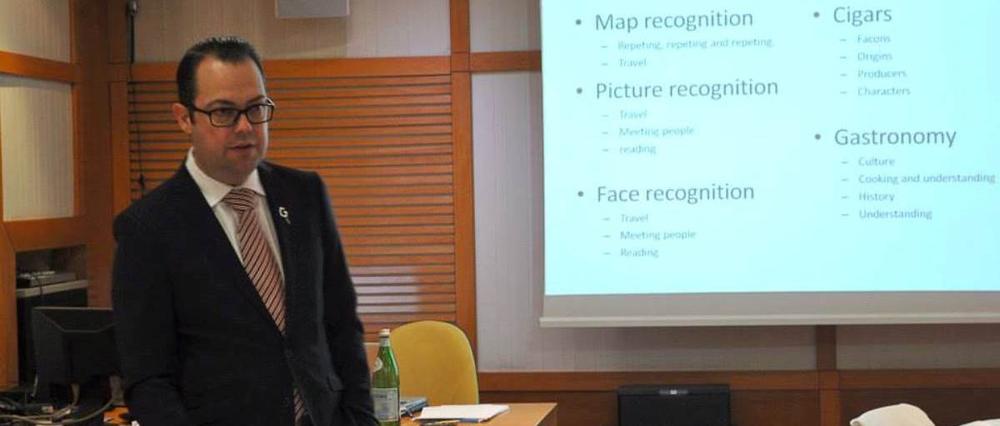 Soren has been training sommeliers taking part in international competitions since 2004 (his students won first prizes in 2007 and 2013).  I met him when he recently visited Greece to take part in George Loukas's Genius in Gastronomy event.  He was to be a speaker at the Expert Wine Course, which aims to train sommeliers for upcoming wine competitions.
Which wines should everyone try at least once in their lives and what is it that distinguishes a good sommelier from a great one?  How much do we really know about wine and which regions should we be focusing on? Soren Polonius answered all these questions and much, much more.  He is the founder and head trainer for the national Swedish sommelier team and is internationally known as the most successful coach of new sommeliers competing in international events.
When did your career in wine begin and what made you choose it?
I have always been interested in wine, going back to even my teenage years.  During the mid 90s I realised that there were many clients who knew a lot about wine and I felt the need to catch up with them in order to offer the best service possible.  It was during that period that I attended my first sommelier course in Restaurangakademien in Stockholm. 
At which point can a professional claim he or she 'knows' wine?
It's really very easy.  Anyone who takes some time studying wine, will gain some knowledge. What is important is what you do with that knowledge.
What is the best advice you could give a professional sommelier before they compete?
They have to be ready to make many sacrifices.  In order to get to the top of your field, you have to work hard at it.  There is simply no other way.
What characterises a good sommelier?
Open mindedness!  The world of wine is too big for small-minded people.
What differentiates someone good from someone great?
A good sommelier works very hard.  A fantastic sommelier has never even thought they're actually working at it; it just comes naturally.  If you don't love what you do, you'll never excel at it.
International or local varieties?
It wholly depends on where you are at any point in time. In the US for example, the rare Concord variety (Vitis Labrusca) doesn't produce good wine.  On the other hand the Cabernet Sauvignon, Pinot Noir and Chardonnay are all great.  I'd never want Pinot Noir grown in Santorini for example.  It would be a shame to ruin the Asyrtiko terroir by trying a variety which will never produce as well as it does elsewhere.
What will a sommelier get from Genius in Gastronomy's Expert Wine Course?
When I was approached, I decided to give the students simple tasks.  Many years ago I decided that I would share my knowledge with as many colleagues as I could; that's exactly what I intend to do now.  I hope the sommeliers that will take part in this course will go in with their hearts open and take in 100% of what I will be offering them.
What qualities do you find interesting in Greek varieties?
The fact that they're made for showcasing their terroir, just like in the case of Portuguese wine when local varieties are guarded like state treasures.  This is such an interesting element.  Wouldn't it be very boring if all wine tasted the same?
What advice do you most commonly share with wine consumers?
I recommend they keep an open mind and don't get too stuck on a specific style, variety or region.  Every new bottle should be treated as a new experience.
Which regions or countries will we be focusing on in the future?
There is some great stuff happening in California.  I've also seen some interesting results from some of the colder regions in Australia, like Gippsland, Mornington Peninsula and Yarra Valley.  As far as the Old World is concerned, there is not much in the way of news there as the identity of the wines is very specific and established.  Portugal, Hungary and Greece could progress much further if the producers were ready to take advantage of the opportunities available to them.
Name some labels that all wine buffs should try at least once
Château Haut Brion 1985: This is a wine which has moved me like very few have been able to! It shakes me to my core every time I try it.
Gravelly Meadow Cabernet Sauvignon 1982 MGN, Diamond Creek: One of the first labels to open my mind to how elegant American wine can be.
Saz Rüster Ausbruch 2002, Weinbau Wenzel: A relatively unknown Austrian winery, which is seriously vying for the title of the best sweet wine in the world.
Fleur de Passion 1995, Diebolt Vallois: The clarity of this specific champagne is impressive and its flavour so unique, even when compared to other great labels.  Such clarity and depth.  I actually baptised my daughter in some of this champagne's 2002 vintage!
1863 Vintage port, Taylors:
This wine is wonderful but then so are many other wines.
  I think it's the fact that you're drinking something so old that makes it extra special.  You're not just drinking a majestic wine, you're drinking a little bit of history.  I hope all wine lovers get a chance to savour such a unique experience at least once in their lives.
User Comments
Login or register to join the conversation