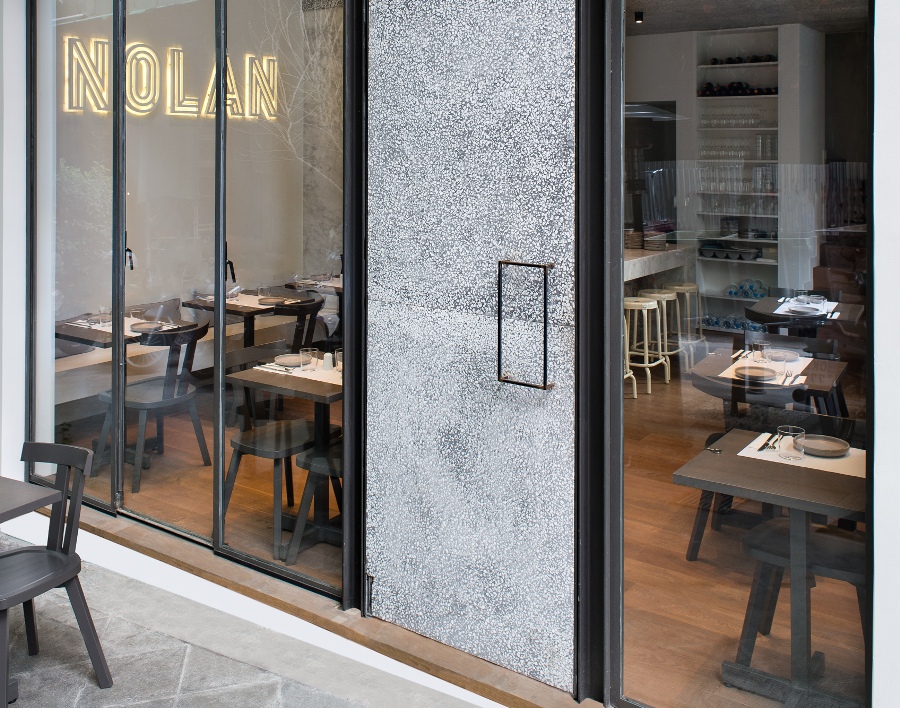 I think it's very indicative that I was won over by an all-day restaurant when traditionally this type of establishment is not really my cup of tea. Critics shouldn't really be influenced by personal taste, but we're only human.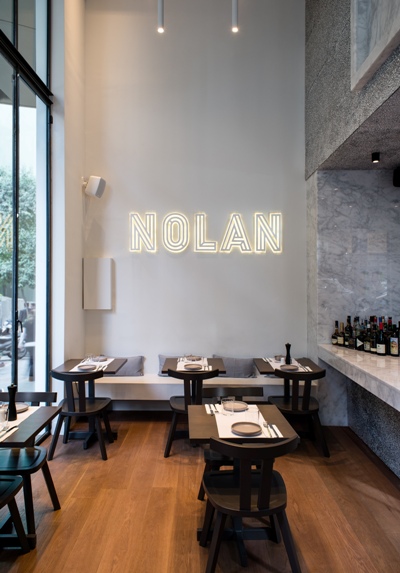 Nolan is a small minimalist restaurant, with a feeling of space due to the high ceiling and perfectly in keeping with its urban surroundings on Voulis street. The tables are small, there are plenty of white and grey elements as well as mosaic, marble and wood with an elevated half-open kitchen which all together make for a young, hip atmosphere. Young chef Sotiris Kontiza's cooking (he's half Japanese and his CV includes a sous chef position with Christophoros Peskias at P-Box as well as time at 48, Nobu and the famous Ledbury in London) accentuates and completes the overall design concept. 
The menu is eclectic but doesn't seem confused. Inspired by Japanese and Vietnamese street food, encompassing Greek and Mediterranean elements and even including a junk food nod with its NFC dish: wonderful fried chicken which needs to be crispier or at least lighter on the batter. What makes this work is the chef's self assurance -impressive considering his age- and the fact that the restaurant is definitely riding current trends by producing fusion cooking which feels bizarrely familiar. 
After all this you're probably wondering why I said I wouldn't naturally gravitate towards a place like Nolan.  It's a bit more cramped than I would like and this type of food isn't generally my kind of thing.  It's interesting nevertheless and well made.  I've also got a personal gripe when the servers, who are otherwise polite, come up with: "the dishes come out as and when they're ready", meaning that we end up eating in instalments and staring at each other's dishes in the interim. 
The other thing I think is lacking is some intensity in the flavours and aromas.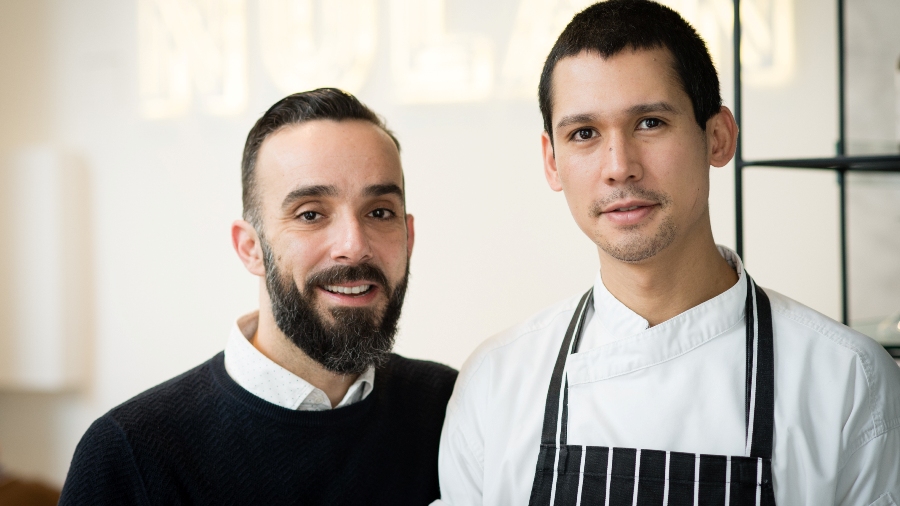 Sotiris Kontiza's inherent finesse (he's the one on the right in the photo) means that dishes can become bland; take the chicken soup with glass noodles and poached egg (call me ramen) for example. On the other hand there are things which showcase his talent and are impressive considering this is an all-day restaurant; the gorgeous cockles in a smoked oil broth with yuzu, peanut and coriander is a good example. Other lovely dishes include the 'burnt' cauliflower and cabbage salad with walnuts, dry Babounis' anthotiro and truffle oil and the korroke (a Japanese fritter with mince, potato and carrot wrapped in Panko breadcrumbs), which is perfectly accompanied by a delicious side of mash potatoes. 
Nolan's menu changes on a daily basis so there isn't much point in listing dishes. I think the overall idea is clear as is the fact that Sotiris Kontiza's star is on the up. It's also worth noting that it's good value for money and that there is a short but interesting wine list. Kostas Pissiotis' Nolan (on the left in the photo and P-Box's co-owner) has deservedly become talk of the town and is moving the all-day restaurant concept forward. 
Nolan
Phone: (+30) 210 3243545
Address: Voulis 31-33, Athens, Athens
Website: http://www.nolanrestaurant.gr/
Open:

Open Tues-Sun for lunch and dinner

Price per person (€)*: 25-35
* we do our best to reflect the actual price range per-person of a full meal including first and main courses, desert, water and half a bottle of wine or one beer depending on the type of restaurant.
Scoreboard Key
0 - 3

Poor

3.5 - 4

Average

4.5

Acceptable

5 - 5.5

Satisfactory

6 - 6.5

Good

7 - 8

Very Good

8.5 - 9

Outstanding

9.5 - 10

Excellent
| | | | | | | | |
| --- | --- | --- | --- | --- | --- | --- | --- |
| 0 - 3 | 3.5 - 4 | 4.5 | 5 - 5.5 | 6 - 6.5 | 7 - 8 | 8.5 - 9 | 9.5 - 10 |
| Poor | Average | Acceptable | Satisfactory | Good | Very Good | Outstanding | Excellent |
User Comments
Login or register to join the conversation