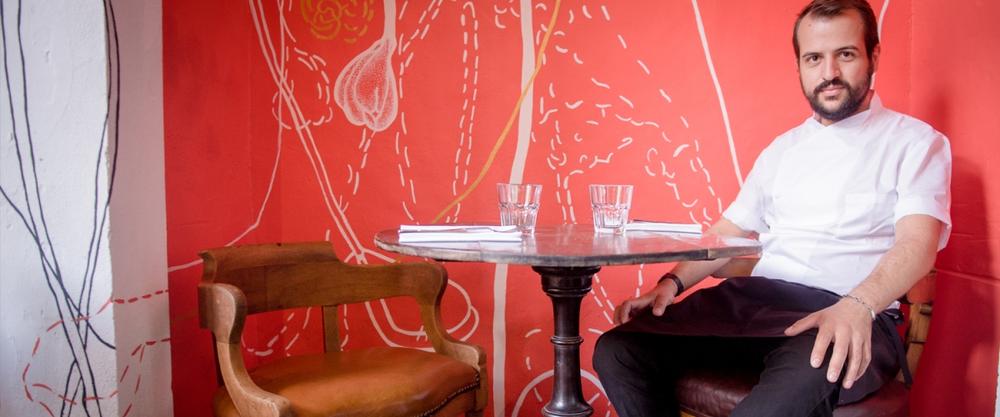 In 2010 the two brothers decided to look into ways of giving pizza a new lease of life. They started using fresh, seasonal and organic products and experimenting with different types of flour. Working within the slow food concept, they created Berbere, a line of pizzerias using dough, which has matured for 24 hours and also offering gluten free and vegetarian options. They work alongside Alce Nero, a group of over 1,000 producers, farmers and beekeepers who have been cultivating their land since the 1970s without the use of any chemicals or pesticides. 
They have opened four restaurants so far; I visited the one in Florence and I left with nothing but the best impressions. The restaurant is located in Oltrarno, a neighbourhood full of little artisan stores, very in keeping with the Berbere ethos. 
The space is full of light, with the wood fire oven taking centre stage and a kaleidoscope mural, which is a tongue in cheek reference to a city with some of the most well known murals anywhere in the world. Both the staff and customers would be considered Italian hipsters, or a lighter version of the type to the rest of us. 
The menu which is heavy on vegetarian options, is split between starters, pizza rossa (tomato sauce base) and bianca (without tomato sauce) and desserts. I loved the salt cod carpaccio with olives, capers and caramelised lemons and the grilled watermelon with parmigiano reggiano and balsamic vinegar. These were unpretentious, intense dishes, full of rich flavours and aromas. 
From the pizza bianca I loved the one with the Trentino speck, gorgonzola, walnuts and honey and I was pleasantly surprised with the summery option of grilled chicken, tzatziki and cucumber.  From the rossa category, the one with burrata, pork sausage and dried apricots was exceptional in the way the sweetness of the fruit cut through the meat flavours. The toppings aside, what really leaves you speechless is the pizza dough, which is effectively a savoury, crispy brioche, fluffy and warm with a rich bread flavour. It's not heavy on the stomach and you can happily eat it for breakfast the next day, which is exactly what we did as we couldn't finish the four pizzas we ordered. 
The Florence outpost has a series of artisan beers from small producers with really interesting flavours. I'm not a beer drinker but my friends assure me they are a true taste experience. 
The desserts are my speciality though and I can vouch for how good they are here.  Even though in Italy ice cream is usually the best option, I tried the rose cheesecake and a yoghurt and mint mousse, which was the perfect ending to our meal. 
P.S. They don't serve Coca Cola here.  Don't fight them over this, the restaurant is 100% organic. 
Rating: 7/10
Scoreboard Key
0 - 3

Poor

3.5 - 4

Average

4.5

Acceptable

5 - 5.5

Satisfactory

6 - 6.5

Good

7 - 8

Very Good

8.5 - 9

Outstanding

9.5 - 10

Excellent
| | | | | | | | |
| --- | --- | --- | --- | --- | --- | --- | --- |
| 0 - 3 | 3.5 - 4 | 4.5 | 5 - 5.5 | 6 - 6.5 | 7 - 8 | 8.5 - 9 | 9.5 - 10 |
| Poor | Average | Acceptable | Satisfactory | Good | Very Good | Outstanding | Excellent |
User Comments
Login or register to join the conversation