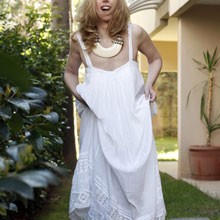 Ira Sinigalias
Columnist: Beautiful South
She was born in a city of the Greek Beautiful South, Patras. she left it to study History and try her luck in postgraduate studies in this field. Because there is no past without the present, she decided to do what had been expecting her: write for magazines in which she still believes, as long as they are in the spirit of their time rather than the spirit of lamenting.
She spent a spell at the purely scientific Focus magazine, then spent sleepless nights for the launches of the magazines 2Board, Conde Nast Traveller, Mykonos Confidential, Best of the Best; she "played" with the Greek edition of the breezy L' Officiel having attended to its new look in 2009. Finally, she contributes to corporate publications, such as the ultra sic Attica stores magazine. She has also worked with the Status and Eu Zin magazines. For fear that she will miss that some publication, she always finishes her list with "etc." to be on the safe side.
When she isn't writing, she takes up dancing, which has come to stay in her life. When she isn't dancing, she reads avidly and deals with community issues. When she isn't running around, she plays with her cats and cooks new dishes for Beautiful South, because in the Beautiful South there is no place for one thing, applause.