There is also a lot of discussion about the etymology of the name Drama.  There are various theories tracing it back to 'Ydrama', 'Dirrema' or 'Dirrama' (all with connections to water, 'Dragma' or 'Draviskos'. Thoukidides mentions Draviskos and that has its root in the verb 'derkome' which means to see better, therefore a city built on a spot with a good view.
Either way, Drama and wine have been connected since Neolithic times as the excavations at Sitagri village have proven.  The locals clearly loved wine as there are many mentions of Dionysian worship in the area.  Drama's temple to God Dionysus was functioning until the 4th century A.D and there is an incredible Dionysus bust, in almost easy rider style, which can be found at the archaeological museum in Drama.  The most important find is the temple to Dionysus in Kali Vrisi village, discovered by archaeologist Katerina Peristeri, better known for her work in Amphipolis.
In modern times the main agricultural focus turned to rice, cotton, sesame, lint (for fabric manufacturing) and later wheat and tobacco. Wine production didn't really make a comeback until the early 1990s. The wonderful Miles Lambert-Gocs' book on Greek wine*, published in 1990, doesn't cover Drama at all and how could it? The first vineyard in the area (by brothers Nico and Costa Lazaridi) was founded in 1987.
These days there are nine vineyards, six of which are founding members of the Drama Winemakers Union: Klonaridis Wine, Domaine Costa Lazaridi, Lenikakis vineyard, Domaine Manolesaki, Domaine Michaelidi, Chateau Nico Lazaridi, Pavlidis Estate, Wineart and Oenogenesis Winery. With the assistance of both Drama city council and Drama prefecture, seven of the wineries were part of the 2nd Drama Wine Appreciation event, which took place in early June in various locations all over the city **. It was a great opportunity to find out what all the companies are working on and to taste some of the most recent vintages.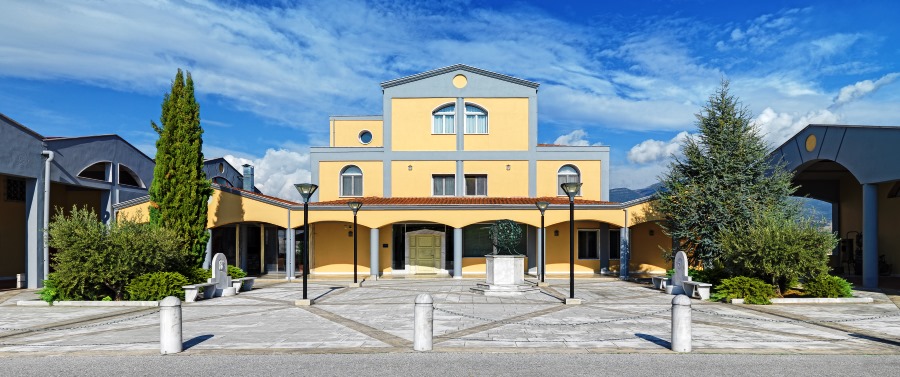 The leader of the pack is most definitely Domaine Costa Lazaridi.  Their facilities are the largest and most impressive in town and they have a wide variety of products including wines from Drama and Attica (Oenotria Gi), as well as vinegar and spirits (ouzo, tsipouro and other grape distillations).  Their USB is high quality across their product range: from the vinegar, which is simply stunning, to the spirits (their ouzo is one of the best on the market)*** and their wines, which are amongst the most established Greek labels.
This winery was created in 1992 when brothers Nico and Costa went their separate ways; Nico kept the wine making facilities and Costa took 80% of the vineyard. Today Domaine Costa Lazaridi cultivates about 2,000 acres in the Drama area.  Mr Lazaridis has recently planted another 250 acres in Katafito, a small village of 150 inhabitants situated at an altitude of 900m, outside Nevrokopi near the Greek-Bulgarian border. In the last three years they've also planted 50 acres of truffle trees, which should start bearing fruit in about 10 years.
As far as the wines are concerned, I would say buy anything from the new 'Domaine Costa Lazaridi' range. The white (which was previously Chateau Julia Semillon) is a beautiful, oak barrel, rich wine and the rosé is a great light coloured Merlot, among some of the best I've tried all year. The red is simply poetry in Syrah with great depth of flavour but unfortunately only 6,000 bottles of it!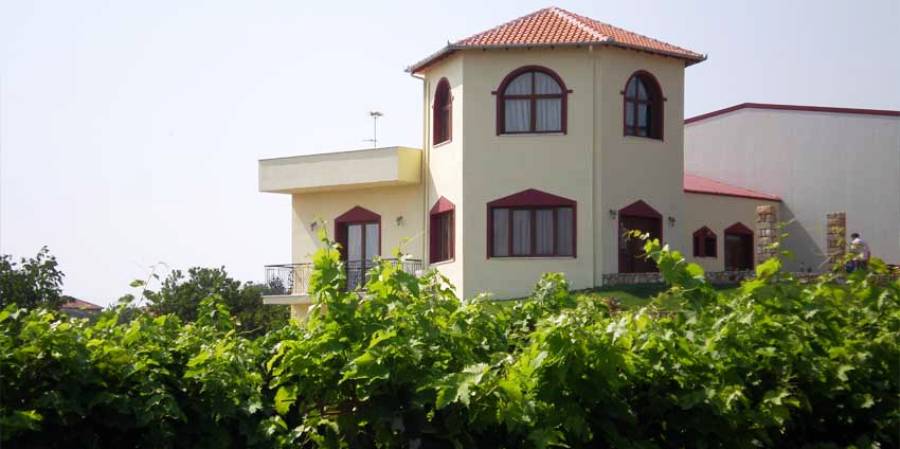 Domaine Manolesaki (which was originally Gennima Psihis), is now headed by the refreshingly grounded oenologist Aggeliki Apostolaki.  'Last year was so bad that the grapes would arrive and I would hide from them.  Only 30% of each bunch was healthy' she says as she serves me some of their 2014 Malagouzia.  It's a wine with beautiful apricot and pear aromas, with a mineral and fresh flavour, clean and easy to drink.  If this was a bad year, bring on the good ones!
Yorgos Manolesakis cultivates 160 acres in Adriani and Doxato making wines which are great value for money.  The new EXIS range which retails for about €6 includes fruity wines, made for immediate consumption. The red, made from Moschomavro and Lemnio, is very rustic but with a distinct personality nevertheless.  A little further up pecking order, we have the Gennima Psihis range, and above that again the Domaine's specific varieties of which the Merlot is my favourite. 'I really adore that wine', says Mrs Apostolaki, 'as it's the wine that put us on the map'.  The 2009 vintage is a wine still in development, strong, rich and complex with aromas and flavours of leather and spices.  An ideal companion to game, just like what Mr Manolesakis himself hunts in the surrounding mountains!

Tania Kyriakidou, Domaine Michaelidi's co-owner, had her pride and joy, a Harley Davidson Softail, stolen a few months ago. Thankfully she and husband Iordanis Michaelidis have their lovely wines, from Drama's Agios Athanasios, to make them feel better.  Mr Michaelidis founded his business in 1992 when he was just 16 years old and now cultivates 120 acres, producing 45,000 bottles with an ultimate goal of 70,000. The 'Pyli' range, is their basic offering which includes red, white and rosé labels.  'Kleidi' is a white wine, a typical malagouzia, light with an emphasis on floral aromas and a fresh aftertaste. They are working on a new line called 'Chrisma' which will include 2 premium labels: a white, aged in the barrel Assyrtiko and a red Mavrotragano. I particularly liked the Pyli rosé, a classic Syrah rosé with pomegranate and strawberry aromas, ideal for consumption during the summer months.


Domaine Nico Lazaridi, headed by Federic Lazaridis, have completely reconfigured their range, launching some more economical options like the well established Mavro Provato and more recently their Cavalieri Lazaridi and F or Ef ranges. The red Cavalieri, made using the four basic Domaine varieties (Cabernet Sauvignon, Cabernet Franc, late vintage Merlot and Sangiovese), is a sturdy wine with an intensely herbal nose. The white version, made from Sauvignon (from Australian vines) and Assyrtiko has beautifully unique and mineral salty aromas, which make it stand out despite not having the intensity we would have liked on the nose. The 'F/Ef' line is made up of pleasant vat wines, with the red combining unripe Merlot and Grenache Rouge (replacing Merlot Nico Lazaridi) and the white not being launched until next year.
After some tough times (in 2010 the company's profits fell by 30%), Domaine Nico Lazaridi is well and truly on its way up.  Production has been amped up, the products have been split into three categories (entry level – medium – premium) with the goal of each one being responsible for 33% of the overall profits and the addition of 67 acres to the company's vineyards.  They have also expanded into olive oil production in the Peloponnese with their 'The Wise Owl' label and they're now making wine bar snacks too, under the name 'Kristoeno'.  Recent months have also seen the launch of the Nico Lazaridi wine club (www.nlwineclub.gr)
Pavlidis Estate is another Drama winery forging a clear path.  Their wines are straight to the point and very honest in both their packaging and their flavour.  Their ranges are very simple: 'Thema' and the premium 'Emphasis' which is made from single varieties.  Thema is the company's bread and butter.  The white (Assyrtiko/Sauvignon Blanc) produces 180,000 bottles and is a wine you can depend on, with exotic fruit flavours and a well-structured mouth.  There are also the Syrah and Tempranillo, two impressive reds with velvety tannins, ample fruity alcohol for the Syrah and black pepper for the Tempranillo.  The Emphasis Agiorgitiko is a disappointingly cold wine, reminiscent of sour cherryade, which really doesn't fit in with the Estate's other labels. Pavlidis wine, and in fact wines from the entire region, are not at terroir level but they are easy to drink and fit what most wine buyers are after.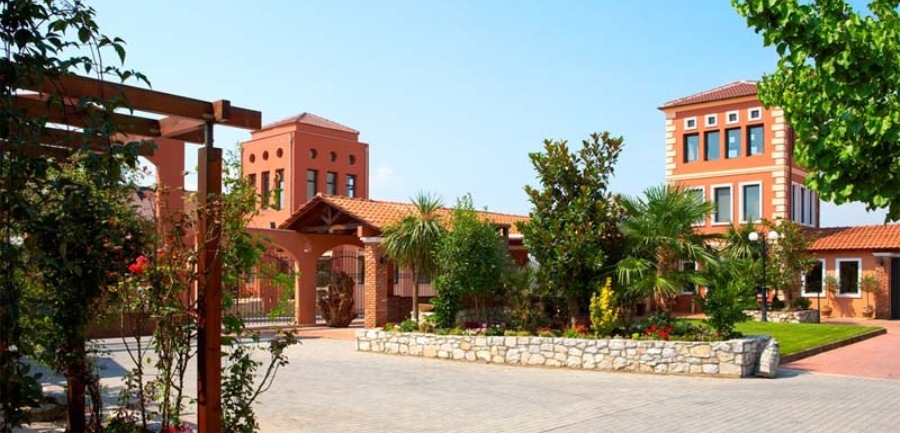 A visit to Wineart (Tehni Oinou) is a breath of fresh air.  The two owners, Yiannis Papadopoulos and Yiannis Kalaitzidis and their children have developed a clear brand identity for their 'boutique winery'.  What started out as a hobby has grown into a quirky business, reminiscent of wineries in Alsace: they have a country road cutting through the vineyard but an underground cellar connecting both sides of the property.  The winemaking facilities and the largest part of the vineyard are in Mikrochori and the rest in Kali Vrisi.  The wines are classically Northern Greek with their goal being the highest possible level of expressiveness. Starting in 2009, the goal has been slightly lighter wines with smaller extractions, less focus on the barrel but more of an effort to use Greek varieties like Agiorgitiko and Lemnionas. Wineart's biggest calling cards are the exemplary Chardonnay, the great multi-variety rosé and the very good reds like the unexpected Touriga Nacional, a Portugese variety known for making port.  Wineart's fantastic Assyrtiko is also worth mentioning as it might actually be the best outside Santorini. If you come across the 2011 vintage, don't hesitate!  There is also the new light coloured rosé, Pink Bag, made with Touriga Nacional and Syrah and the upcoming spirits, which are yet to be bottled and made available to the mass market.

Babis Chalkos is going to complete his 37th harvest this year.  Raised in France and influenced by French oenological traditions, he has a very specific viewpoint when it comes to wine; something he put to practice initially at Chateau Nico Lazaridi and now at Oenogenesis where he is one of the co-owners. Mr Chalkos does not rush wine.  'From the moment the grapes reach the factory, the fermentation process lasts 17 days' he says while proudly showing us around his company's brand new facilities. Oenogenesis winery is an imposing building with an internal courtyard reminiscent of a monastery, which perfectly suits the frame of mind you need to be in when tasting these wines. These are not easy wines, they are the product of painstaking work and research.  Mr Chalkos is particularly proud of Deka (X), made from old vines planted in 1989.  It's an unassuming wine with complete but not intense aromas of dried flowers, nuts and butter toffee. Like all their other labels, with the exception of the commercial range of Skertso rosé, this is a good restaurant wine. Feggites is another range which is more accessible both in an economic and taste sense.
I have been watching Mr Chalkos with great interest for many years as he continuously dares to be different and take risks.  I feel I want to but can't quite follow him on the more extreme flavour journeys he's embarked on.  He says wine is '65% terroir, 25% microclimate/variety and 10% human factor', an interesting idea if you do indeed have a terroir.  What happens if you don't though?
*How the Greek wine world has ignored the work of Lambert-Gocs is another story in itself.
**http://www.dramini.gr/wp-content/uploads/2013/05/Πολιτιστικη-Διαδρομη-Φυλλαδιο.pdf
***Ouzo Costa Lazaridi is 100% distilled and the product of 8 months of research and development.
User Comments
Login or register to join the conversation