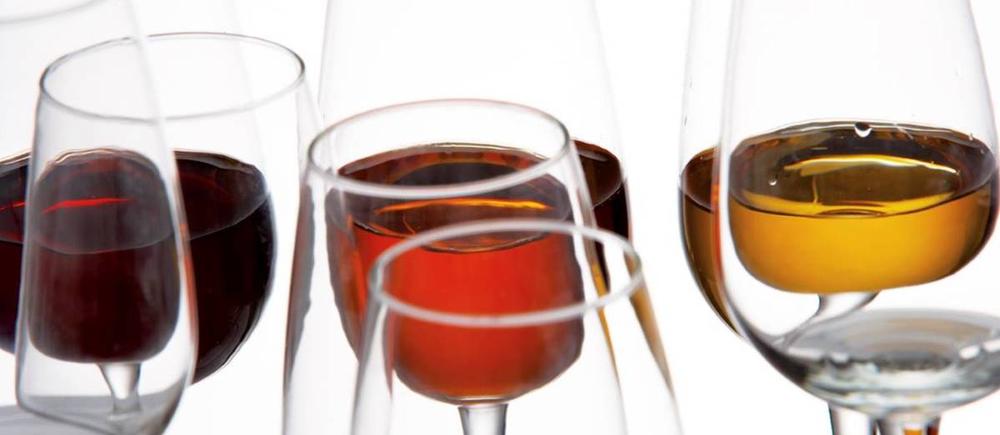 The general feeling was that Cypriot producers have made great strides in an oenological sense but have also made great improvements from an aesthetic point of view on their labels. 
Koumandaria is Cyprus' main wine export even though it was heavily abused in the past with wrong vinification procedures, selling in bulk and even when bottled, having badly designed labels with missing information. 
It's very positive that there are now bottled Koumandaries from 13 certified producers, out of which 4 are available in Greece. All of them are substantially improved as far as their character and labelling is concerned. 
According to the law, PDO (Protected Designation of Origin) Koumandaria can only be produced within a certain region, in the 14 villages north of Lemesos (the most Southerly wine producing zone in Europe) from sundried grapes of Cypriot varieries like Mavro (red) and Xynisteri (white) in quantities that aren't set inany binding way. What is stated though is that fortified wine from 15% to 20% volume is called Vin de liqueur, while wines that aren't fortified and retain the naturally produced alcohol level between 11% and 15% are called naturally sweet wines. Both types have to be aged in barrels for at least two years before they're bottled even though some wineries age them in the barrel or bottle longer than that. 
These technical details differentiate new age from classic Koumandaries. The new generation wines have higher levels of Xynisteri in their mixes so have all the advantages that come with white dessert wines. That includes a lighter golden colour, more finesse, a crispy acidity and delicate colours, all elements that are more attractive to modern consumers.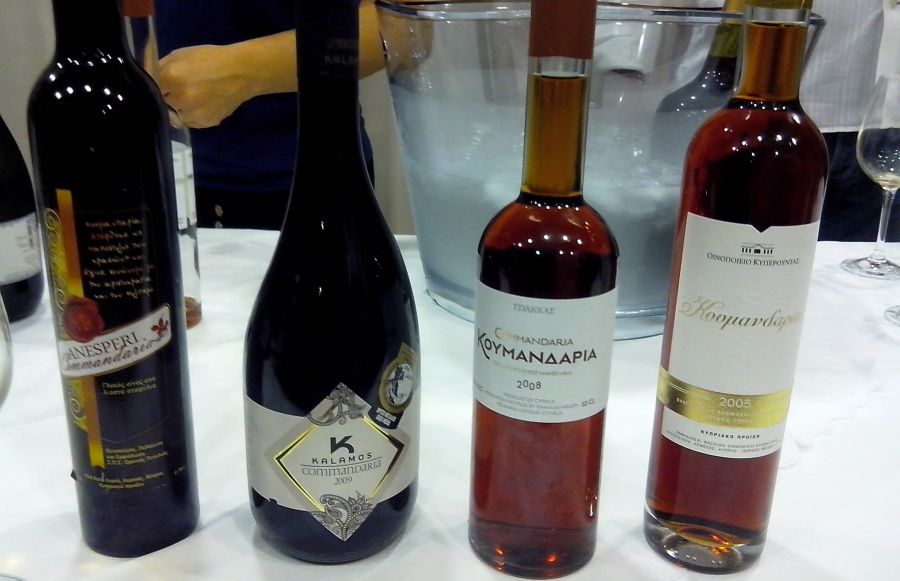 The wine I was most impressed with was the 5-year aged Tsiakas' Koumandaria, a great ambassador for this category.  With a 13% alcohol, a wonderful balance, a fruity flavour and a brave acidity, which accentuates every characteristic like salt and pepper would. The terroir is obvious and clear but it was missing its rustic characteristics that would clearly identify this as Koumandaria and the main reason for that is that it's exclusively made with Xynisteri. On the contrary, Anesperi OPK, even though it's a more modern Koumandaria with 11% alcohol, has a light and refreshing taste and a direct link with traditional wine. The rustic character was there with the two other new generation wines: Kalamos by Nikolas Ignatiou and Koumandaria Kyperountas (with 83% Xynisteri and a 7-year aging process). As naturally sweet wines, they both have alcohol levels that don't exceed 15% and have typical barrel flavours, alongside those of citrus fruit, coffee, caramel and nuts. 
On the opposite end of the wine tasting table, we found the darker Koumandaries (where the Mavro variety was stronger), with a 15% alcohol level in all five of them. This is a very different philosophy: warm, complex and rustic characters, with dark coffee and bergamot hues, a definite alcoholic mouth, soft acidity and a bitter after taste. The Koumandaria vins de liqueur are the bridge between the old and the new and even though they might not be to everyone's taste, they are the alternative option to what is otherwise a mainstream business.  The amber coloured St.Nicolas by ETKO, the velvety Koumanadaria by Aes Abelis, SODAP's St. Barnabas (with 93% Xynisteri) and LOEL's Alasia are classic Koumandaries.  Theodoratou Karsera stands ahead of the crowd because of its complexity and intensity: it's a Koumandaria with a very dark bronze colour, an intense sweetness, a sparky acidity, a clear bitter after taste like you're chewing on a sweet walnut, and even a hint of salt to complete the picture. 
Info:
You'll find most of these labels at the King George and Grande Bretagne hotels in their GB Corner Gifts and Flavors
User Comments
Login or register to join the conversation