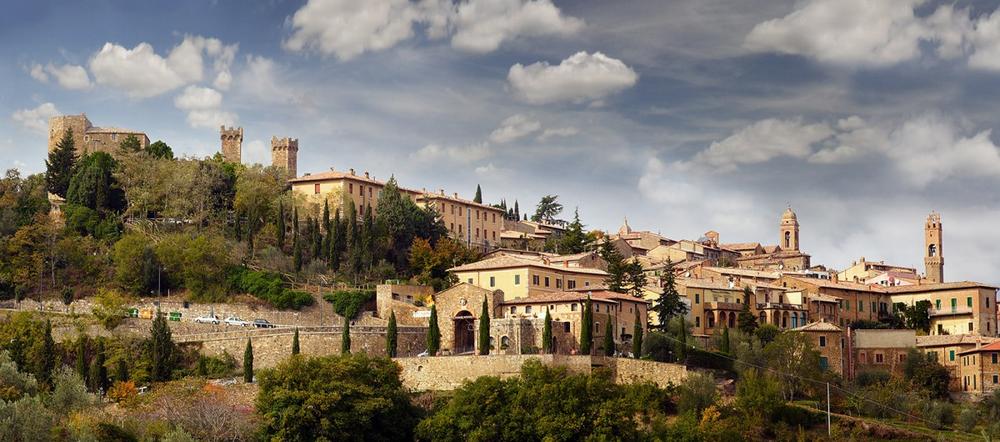 When I drive around the Greek countryside visiting wineries, what I usually hear is 'it looks just like Tuscany'. The geology, the lines of vineyards and olive groves are supposedly similar to the wine paradise of Tuscany.
Let me say that I will never make the same mistake again now that I've actually been there. A good gauge of the level of service on offer and the differences with Greece are the restaurants and their prices.  After flying to Florence, you can hire a car and be North of Montalcino within an hour and a half. Before crossing the border, it's worth stopping at Sienna's Buonconvento in order to eat at La Porta di Sotto.  The service was friendly and efficient despite not speaking any language other than Italian, with a great wine list to boot.  We started with a fresh Vermentino 2014 from the Antinori winery in Bolgheri Guado Al Tasso at just €18, served with timballo di coniglio with vegetables and spring onions cooked in Brunello.  We then had a risotto and some pinci (local type of pasta) served with ragu as we waited for the arrival of the Fiorentina.  When it did make an appearance, it didn't last long.  We washed it down with a 2012 Guidalberto from Tenuta san Guido and a 2009 Castello di Ama Cianti Classico Reserva, both priced at €40 and served at the right temperature and in the right glass. This place made me think of Kostas Touloumtzis's Enoteca on Pentelis Avenue with its great wines and accompanying dishes as he used to call them.
We were staying in Altesino but decided to visit Caparzo first since its wines are no longer available in Greece. On our return to Altesino, we headed for the winery for a wander around the French and Slovenian barrels.  We ended up in Altesino's Vinsanteria, the space where they dry the grapes before they're put in caratellis, the special small barrels used for Vin Santo di Sant Antimo.
We had a gorgeous traditional meal there as well as all the latest Altesino vintages: Bianco, Rosso di Toscana, Rosso di Montalcino, Palazzo Altesi, Alte d'Altesi, Brunello di Montalcino, Montosoli Cru di Brunello, Grappa di Brunello, Grappa di Brunello di Montalcino Riserva, Brandy di Montalcino and of course the great local extra virgin olive oil.  A great two-hour experience before we rested in the rooms they'd kindly put aside for us in the Palazzo.
We moved on to Montalcino in the afternoon, a town of 5,000 inhabitants with a medieval castle and 30 wine cellars and enotecas.  There is a buzz in the air with a large number of students and tourists mingling with locals, so you feel compelled to stop for an aperitif. 
Alle Logge di Piazza is probably the best place in town, with an amazing view and really friendly service. A Franciacorta was just what the doctor ordered but the staff also recommended a small, relatively unknown producer called Majolini.  It turned out to be a pleasant, cold wine priced at €30 which suited the view towards the south of Montalcino as the sun came down.  It felt like being in a wine lover's Santorini.
We ended our day at the Ristorante San Giorgio which is a restaurant with a wine shop across the road so you can choose what you want at very reasonable prices.
  We chose a 2007 Castello Romitorio Brunello Riserva, one of Montalcino's best years, a pizza diavola, some more pinci and tagliolini.  The desserts were inedible but I guess you can't have it all!
User Comments
Login or register to join the conversation