In the mountainous vineyards of Nemea's Asprokabos, Konstantinos Pyrgakis makes wine with a defined identity and a specific concept, which showcases its terroir. A connoisseur could easily pick out a Pyrgakis' wine with his eyes closed as they really stand out despite their little imperfections. I really like their take on Agiorgitiko both in the Nemea (Spilia) and rosé versions. Their international varieties are of a high standard too, including the wonderful 815 alt. Cabernet-Merlot, the rare and peppery Petit Verdot, the condensed and rich Chardonnay and the very special Tannat, which is perfect with a peppery beef picanha. 
Tannat, a variety from South West France, is cultivated in Asprokabos and the Agios Nikolaos vineyard in particular, which is located at an altitude of 800 metres. It is produced in a limited run of just 1,500 bottles. You have to be patient with this wine as it stays in barrels for 15 months and then another 15 months in the bottle before being made available to retail. This is a very classy wine, which has been made with a lot of care. Sweet nose aromas of mature berries, an intense fruit flavour which caresses the palate along with notes of violet, chocolate and spices. It's rich with sturdy tannins, a tasty acidity and a high alcohol level, which is well encompassed and releases a welcome sweetness (possibly to the detriment of its overall finesse) and a long aftertaste with oak aromas. Pyrgakis feels that you can age this wine for over 15 years.  Maybe he's right.  In any case, even if you keep it for a shorter period, time will help in softening its tannins and ironing out any angles. If you don't keep it stored away, don't forget to pour it into a carafe for about half an hour before serving. 
This is wine which really needs an aged, well cooked, juicy cut of meat which is well seasoned but not smothered in sauce. As the weather gets better, it's the perfect time to use your barbeque and if not, you can enjoy it with some liver pâté, lamb or a Fresh style cassoulet and some strong spicy cheeses.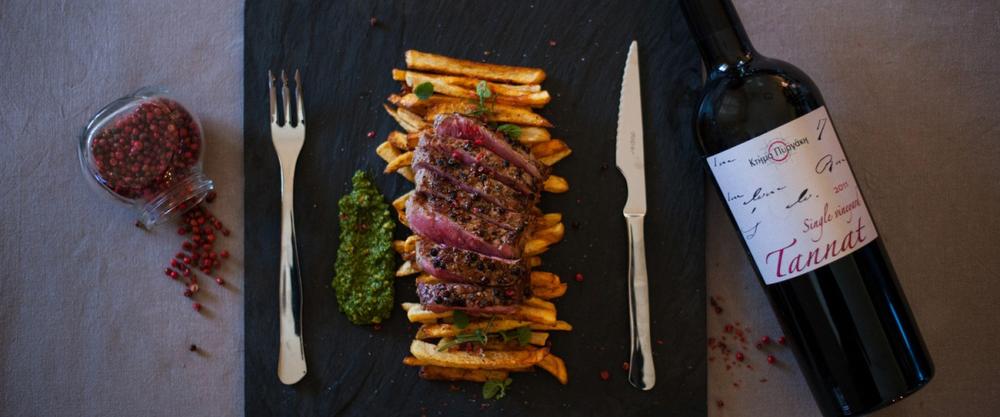 Peppery picanha with parsley salad
If you have time to marinade the meat and add some extra flavour, try this: for 4 portions or about 1.5-2 kilos of meat (picanha, ribeye or rib steak), mix 2 tablespoons of olive oil, 2 tablespoons of soy sauce, 1 tablespoon of whisky, 1 tablespoon of blueberry or raspberry jam. Allow the meat to soak in the flavours for about 1 to 2 hours outside the fridge and then add 4 tablespoons of crushed peppercorns to a shallow dish. Cover the meat in the peppercorns and put it on the barbeque or a non-stick frying pan with a little olive oil for about 5 minutes. To make the parsley salad, you'll need to add the following ingredients to a blender: 2 cups of parsley, 1 onion chopped into four, 1 garlic clove, 200ml olive oil, 2 tablespoons of lemon juice, half a teaspoon of honey, 3 slices of bread without the crust, 1 tablespoon of mild mustard, salt and pepper. We served the meat with a sprinkling of rock salt, the parsley salad and some finely cut French fries. 
You can also enjoy this recipe with a bottle of Ktima Alpha Tannat, Zafirakis Sangiovese-Syrah, Mega Spileo Cabernet or Kitos' Malbec. Whichever label you choose, make sure it's a red, rich wine with intense peppery notes.  These are all characteristic of aged Cabernet or Syrah, Agiorgitiko and Mavrodafni. 
Photos: Marianna Roussou
User Comments
Login or register to join the conversation