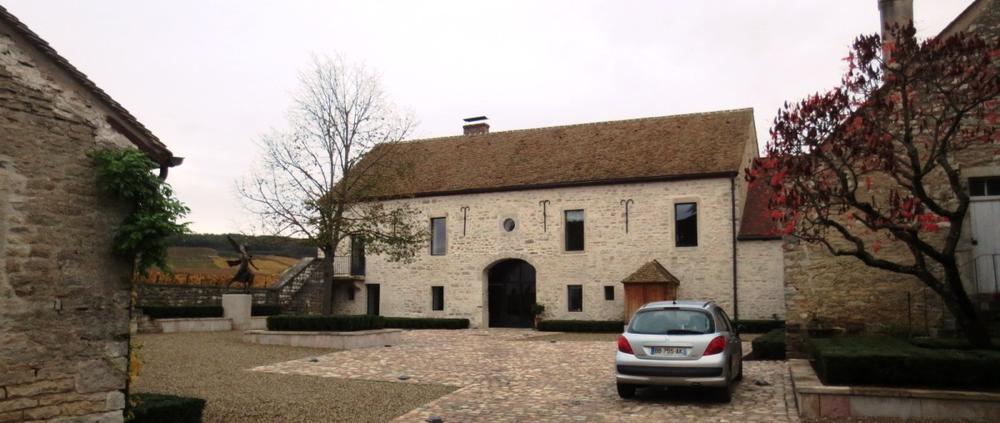 My visit was scheduled for 10am sharp. Even though the distance from Beaune, where I was staying, to Vosne Romanee was only 20kms or 15mins, I woke up at 6.30am just to make sure I wasn't going to be late.
At 9.45am I was in Vosne Romanee central  square and just like in Puligny, signing was more or less non existent.  I asked for directions and found myself at the gates of the Domaine's new offices at 9.59. After waiting for precisely one minute, I rang the bell and a sweet female voice asked me what I was after.  After explaining I had an appointment, I was allowed into the hallowed Domaine.
We were shown into a sitting room where we waited for 10mins just like in a doctor's surgery. We sat there in silence like wax versions of ourselves.  Thankfully we were put out of our misery soon enough and one of the owners' nephews showed up, the Domaine's technical director Bernard de Villaine.
He introduced himself and gave us the history of the building which now houses the Domaine's new offices.  It used to be the monastery which was the safekeeper of Vosne Romanee wines throughout the centuries.
He apologetically told us that the wines were in the fermentation stage which had been delayed for 6 days because of the frost so they were forced to monitor it closely despite it being Catholic Easter.
He then took us to where the 2013 and 2014 vintages were aging.  As he was telling us the Domaine's story and explaining the family lineage as the vineyard passed between uncles and cousins with heirs, we stopped in front of a barrel called Corton 2013.
In 2008 DRC achieved a long term lease, with scope to buy, on 25 acres of Corton Grand Cru vineyards from the heirs of Prince Florent de Merode, thus creating a new label outside of the Vosne Romanee community (the second being the rare Montrachet).

The wine is made with a combination of the three best climats in Corton: Clos du Roi, Bressandes and Regards.  It's closed, with aromas of violet and beetroot, ethereal notes of cranberry, tannic but also velvety with a steady acidity giving it a kick.
We then tried the Echezeaux Grand Cru 2013 which was rich and complex but outside the typical Echezeaux characteristics that are usually more subtle.
We set off for the Domaine's aging cellar and walked past millions of euros in horizontal positions, literally liquid god.  In a primitive and spartan space we waited to taste the wines he would choose for us.  After giving our best analyses he revealed that what we were actually drinking was a 2003 Romanne St Vivant.
This is considered an equal of Richebourg and directly below La Tache.  Despite it having been a particularly trying year due to heat and other issues, it still managed to retain its character although it did surprise them by being ready earlier than expected. 
In the end he wanted to share another bottle with us since he was unable to let us have the wines still in the stages of fermentation.  He honoured us by letting us try a bottle which is not available for sale but is made just for the owners' families.  This was a 1999 Batard Montrachet Grand Cru DRC.
I must admit that it was one of the most important moments of my career in wine, being able to taste a wine at DRC, reserved only for the heirs of such an esteemed tradition. It goes without saying that the wine was outstanding.  The visit that was supposed to last an hour was still going strong after two and a half with Bernard de Villaine telling us stories of carefree holidays in Greece with a breakfast he was once served by a retired seaman in Piraeus.
The wine world may be small but it's an exciting one. We left promising to return next year.  As we were leaving, we had a look around these vineyards of immeasurable historical and financial value which carry on the myth of Domaine de la Romanée-Conti.
He recommended we have lunch in Gentil Hommelerie, an auberge in the middle of nowhere, and its restaurant: Le Coq Chef.
  It was there we toasted this incredible DRC experience with a 2011 Liger Morey St Denis.
User Comments
Login or register to join the conversation