For many years this was a cult book that wine aficionados would either pass from one to the other, as if it were holy scripture, or they would buy its first edition for crazy prices at specialist bookstores.  Dr Emmerik Maury's 'Heal yourselves with wine' is a highly entertaining and provocative book even by today's standards. It was first published in 1974 and kept getting reprinted until 1980.  It became a much sought after title in collectors circles and, as you couldn't buy it anywhere, NiL publishing house unsuccessfully attempted to contact the writer and his descendants.  They ended up publishing the book in 2011 without a license, but by noting on its final page that they would invite the rights owners to come by their office for a 'glass of water'. Dr Maury was a total mystery despite having published a number of other books on homeopathy and alternative medicine.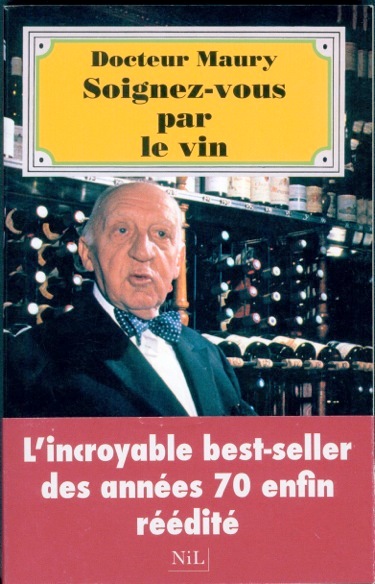 The book, brought back to life by NiL publishing house, is an ode to wine, written at the end of the 60s when wine was king.  At the time, most French households consumed tens if not hundreds of simple 'table wines', doctors were pro-wine, pregnant women were still drinking and smoking, 'La Villageoise' wine from the South of France was the no1 make around the world and Jacques Anquetil won the Tour de France despite being a heavy wine drinker.  So when Dr Emmerik Maury writes that 'wine is a noble drink, a full meal and great medicine', he was just saying what everyone is thinking.  According to Maury, 'wine has been unfairly categorised as an alcoholic beverage' when it should 'a therapeutic immunoadjuvant drink' because it's full of vitamins and minerals.
So according to the fine doctor, wine can cure everything and in order to prove his point he included lists of common ailments matched with the types of wine that could heal them.  Do you suffer from joint pain?  Drink more rosé from Provence!  Kidney stones?  No bother, with a few glasses of Pouilly-Fuisse you'll be as good as rain.  A dose of diarrhea? A glass of Madiran will cure that too.  Has the economic crisis brought you closer to a nervous breakdown?  Turn to Chablis!  Suffering from flu symptoms? Brut champagne is the one for you.  Are you worried about the state of your heart? All you need to do is drink more aged Bordeaux.  If the menopause is your problem, then Cahors or Perchamant are your friends!  Tuberculosis or diabetes problems, here's some Medoc.  High cholesterol?  Move to Alsace!  Hypotension?  Banyuls is the answer and so on. As one French reviewer said 'with Mr Maury, you can only hope you get sick'.
One third of the book deals with the 'anatomy' of wine (as we said the author is a doctor) and two thirds are full of his very descriptive prose.  Every ailment is presented in synopsis through the lens of 'modern living' 45 years ago.  It is then matched with one or more wines and the reasons for each one are analysed.  All very scientific!
Take for example the case of arteriosclerosis sufferers who apparently 'despite it being the norm in the civilised world, shouldn't necessarily stop consuming reasonable amounts of wine, especially if they're carefully chosen'. His recommendations would be either Muscadet or a Provence rosé because Muscadet comes from sturdy vineyards which grow in poor soil and Provence rosé is both detoxifying and a diuretic. What else does one need?
What is the author's biggest enemy you ask?  Water of course.  He detests it because according to him it has many dangerous elements. In fact it's better avoided and if you want to bottle anything, it might as well be the sun! Mr Maury writes 'water enthusiasts make two grave errors: one is to compare spirits with wine which is a living organism and the other is to label a decent person who happens to be a connoisseur of grape juice, an alcoholic'.
We demand a Greek translation!
User Comments
Login or register to join the conversation