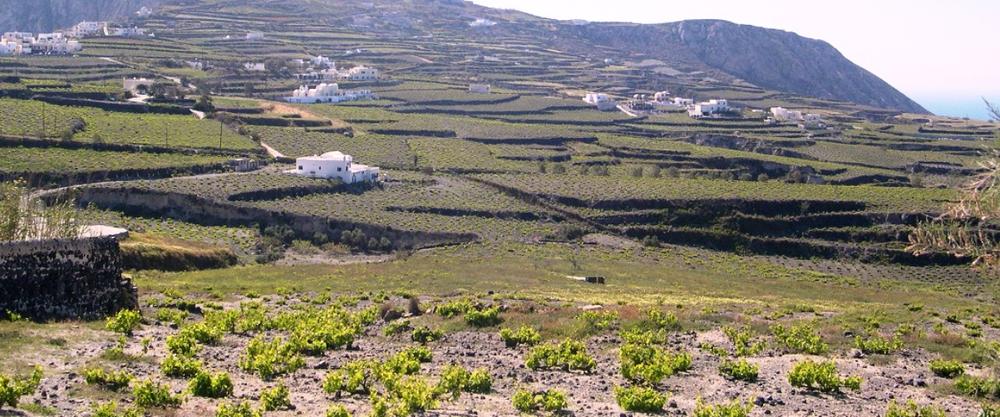 These wines are expensive to make and their price crosses that psychological barrier of €20 at retail and €50 to €70 at the restaurant.  The results are impressive but no Greek wine has quite managed to become a classic or universally acknowledged as the best white wine.
Domaine Hadjimichalis started the trend back in the 90s with 'Kapnias Lefkos', a typical Chardonnay with intense oak tones which was the top choice of upscale fish restaurants for years. With a €25 retail price and 20 years presence on the market it deserves the title of a white premium Greek wine.
Around the same time Antonopoulos vineyards released the emblematic Chardonnay in the characteristic Burgundy bottle with the yellow label, which really made it stand out. The oenologist team of Michalis Probonas and Tasos Drosiadis (who is now at A.Rouvalis's Oenoforos) gave Antonopoulos a push towards white Burgundy wines. The icing on the cake was Janic Robinson comparing this Chardonnay with Comte Fafond's Meursault, the highest possible accolade.  In time it was updated and became known as Anax and continues to have fans up to this day.  It retails at €20.5 and at €50 to €60 in a restaurant.  Due to its small production run, it's a much sought after item.
In the following period, or during the good times, there were many new wines introduced but no one seemed to be focused on top level production until the Santorini tourist phenomenon really took hold. Assyrtiko became Greece's main USP and we finally have the first nominations for an iconic Greek white wine.  Haridimos Hatzidakis is a very talented vintner producing wines with distinct personalities. Wine buffs appreciate their authentic pedigree and charm, which only becomes stronger with aging. After the great Assyrtiko de Mylos Vieille Vignes, he's now producing the Assyrtiko de Louros from the same vineyard in Pyrgos with its ancient vines.  This is what the Australians would call Ancestor Wines.  A very small production run of no more than 500 bottles, its second year is the 2012 vintage and you can buy it for €50 if you can find it.  Just a side note at this point: in order for a wine to be considered a classic or even iconic, the quantity of production should be such that it can be available enough in order to achieve that recognition. Small productions, due to either early experimentation or small vineyards, cannot become classics no matter how good the result may be. The wines known as unicorns are there for us to talk about more than they are for us to taste.
Another important wine from Santorini is Paris Sigalas's Grand Reserve. A modern interpretation of a traditional Santorini wine, which goes by the name of Nychteri and comes from old vines, long aging and oxidising, and a combined fermentation process. Technically difficult to produce, its result is rich and complicated which gives Santorini wines a whole other dimension and a well deserved €36 retail price.
Surprising ultra-premium wines come like bolts out of the blue on many occasions.  Places like Bolgheri in Italy or Priorato in Spain became known because of one producer's dedication to changing things up.
Alexandros Avataggelou's Tiniaki Vineyars in Tinos is just such a case.  Literally out of nowhere, he began producing Assyrtiko on a sandy plateau on the island of Tinos called Falatados.  I have been following it closely since 2010 and every bottle is a revelation. Unfortunately 70% of the wine is exported to France and Japan so there are only about 1,000 bottles left for the Greek market. It's closest nose brother is something like a Chablis Grand Cru and its €35 retail price is actually pretty low considering the level of quality on offer.
Yiorgos Skouras is a restless producer who follows his instinct and ignores any potential risks. The Viognier is delicate and difficult and with North Rodanos as the mark to measure itself against, it takes guts to make a Greek version of it.  Skouras makes 2 Viognier wines and the Cuvee Eclectique is the Domaine's top white label with a screw top cap and retail price of €22.
The Agio Oros vineyard forms part of a cultural heritage and not just for Tsantalis winery who manage it. The Kormilitsa white, along with red Gold Cuvee, Kormilitsa red and the clever blend of Chardonnay with Assyrtiko are all worth your attention. Retail price is set at €23.
White premium wines are a necessity and producers should start making it part of their agenda.
  We're still waiting for some of our bigger names who, despite making great wines, haven't entered this category yet. There is definitely the space and interest in the market if the quality on show is right.
User Comments
Login or register to join the conversation