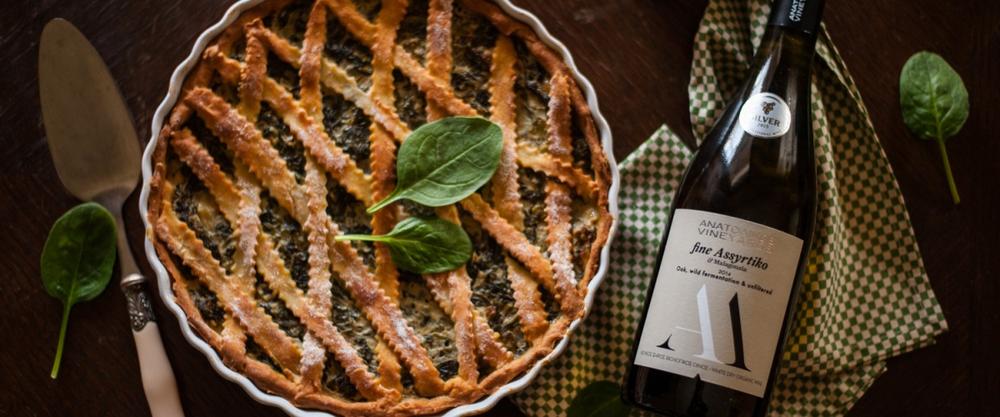 From Avdira in Xanthi and the Anatolikos Vineyards comes Fine Assyrtiko, an oaky wine made by wild fermentation. It's bottled unfiltered and in limited numbers so it's definitely a wine worth keeping an eye on for the next 2, 3 or 4 years. It's grown on 'low-return per square meter' land, with the use of organic methods and is left to mature for 6 months in oak barrels. This is a labour of love from a winery which has also taken a long time developing Mavroudi, a local red variety that produces complex and spicy wines.  A must try!
The impressive Assyrtiko, with its unusual colour, is reminiscent of Alsatian Riesling and has a condensed power which it puts across with finesse. The barrel is there but behind a multilayered bouquet so there aren't any overpowering wood or smoke elements. The bouquet is constantly evolving, starting with lemon and chamomile but also some petrol notes. The longer it stays in the glass, its aroma sweetens so you notice the Malagouzia (10%) but also the notes of coconut, caramelised ginger, kumquat marmalade, ripe citrus fruit as well characteristic mineral notes with a floral honey finish. The producer recommends you let it breathe in a carafe for 30mins and he's not wrong; the flavour development is impressive. The nose aromas last a while and further develop in the mouth, which is full if a little more greasy than it should be. It's gratifying though, with a silky feel, good structure and a tasty acidity. The large aftertaste has a hint of nuts and lemon zest. 
This juicy, aromatic wine can work well alongside dishes with intense aromas of fresh herbs, garlic and spices like coriander, white pepper, aniseed, ginger, turmeric and szechuan pepper. It goes well with fish, shrimp or chicken, cooked with Thai spices or Greek style from the oven and flavoured with lemon, garlic, thyme and oregano. You could also try it with goat cheese encrusted with spices, cooked cheeses like fried formaela, grilled manouri, feta cooked in pastry or even a pie filled with greens. If it's a pie you're going for, get some peppery feta or add some character with a couple of spoonfuls of smoked yellow cheese like Metsovone which will complement the wine.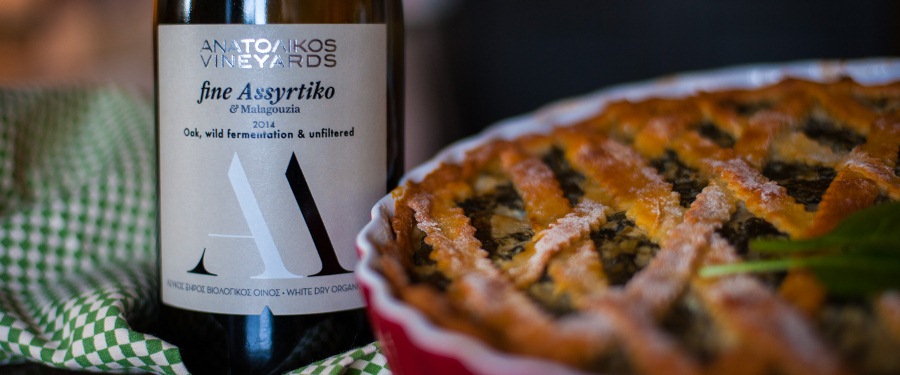 Aromatic greens' filled pie
Use a wide pot to fry 5 spring onions in 3 tablespoons of olive oil until golden. Add 1.5 kilos of washed and roughly chopped greens, including spinach, leeks or local greens that are in season like lapatha or vrouves and stir until they soften. Add 2 cups of chopped herbs like mint, dill, fennel or Mediterranean hartwort. If the greens are watery, strain them and move them into a bowl. Add to the greens' mixture 400gr of yoghurt, 4 beaten eggs, 3 cups of chopped feta and half a cup of grated Metsovone or any other smoked cheese. Season and mix well.  Take an oiled shallow round baking tin and spread a layer of kourou pastry, pierce it in a few places and add the filling. Cover it with another sheet of pastry or cut it in strips so you can cover the filling in a pattern that leaves little gaps for the steam to escape. Bake the pie for about 30mins at 200C until golden. Take it out and allow it to cool off before cutting through it. 
If you'd like to try this pie with another wine, I would recommend a Cretan oaked Vidiano like Douloufakis' Aspros Lagos, a single variety Sauvignon like Kyr Yiannis' Droumo or even a classic Sauvignon and Assyrtiko mix like Pavlidis' Thema.  As the combination of Assyrtiko and Malagouzia is proving to be fairly popular, you can also try the very good oaked wine Kapnistos by the Dalamaras winery. 
Photos: Marianna Roussou
User Comments
Login or register to join the conversation