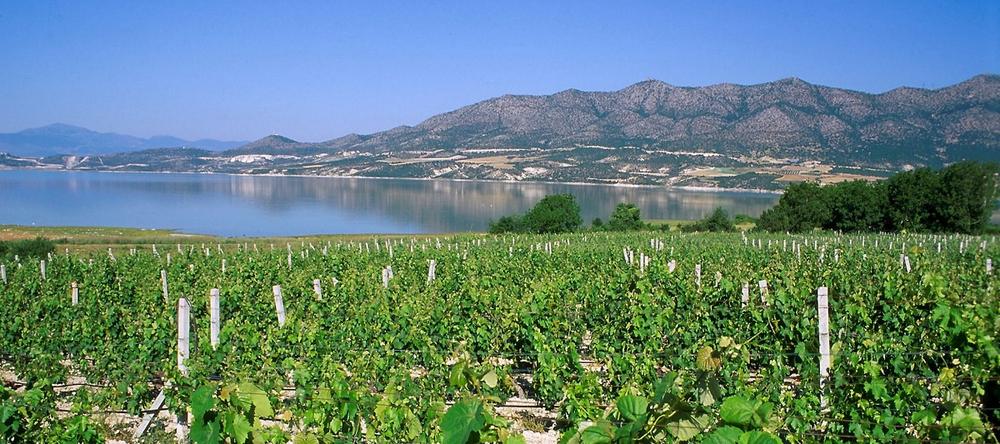 The attendance figures, both from the public and the exhibitors (26 wineries) were impressive. Organised by Vinetum and sponsored by the prefecture of Southern and Northern Aegean, it allowed producers, wine buffs and professionals to mingle and get to know each other. Generally speaking, Aegean wines are split into two categories: Santorini wines and everything else. This separation comes because of the island's popularity and the high quality of its wine production.  9 out of the 26 exhibitors were from Santorini, all boasting considerable market experience at every level.  Overall though, having a two tier race is not necessarily a bad thing.  The sheer number of wineries warrants the investment the Aegean prefectures are going ahead with and also opens up a whole world of discovery for wine buffs.
Samos in particular is an interesting case despite the
various legal issues resulting from an exclusivity the Samos co-op has tried to enforce. Vakakis Wines and Nopera are forging ahead and promoting the potential of Moscato and Samiotiko in particular, which could stand shoulder to shoulder with Santorini's Assyrtiko. Samos' Co-op 'Aspro Votsalo' label was one of the best wines at the Aegean show and can easily claim the title of the ultimate summer wine.
Yiannis Labrou from Lesvos focuses on the Chidiriotiko variety from its namesake village and also on an orange coloured wine on top of his white or red labels.
Lemnos is also showing potential.  Petros Chatzigeorgiou is offering an alternative to Moscato d'Asti or Moscato di Ifestia by trying to make his Alexandrias Moscato a household name.
It was with great sadness that I noticed that our amazing sweet wines remain a forgotten category, only to be given out as a peace offering after an unsuccessful or overpriced meal.  Vinsanto, sundried Voudomato and Moscato from Lemnos and Samos are world class but annoyingly low priced.
The Vassaltis from Santorini's Valabous Winery made its debut and got very positive feedback. Santo's sparkling wine has found its way in a commercial sense while the Grand Reserve had a very aggressive barrel making the result quite one dimensional and losing the finesse it used to have.
Kallisti Reserve continues to be the best wine Boutaris produces and anyone able to wait 5-10 years will be handsomely rewarded. I still remember the 1989 vintage we were drinking between 2002 and 2005 and thinking how floored we were by the aging potential this wine has. Gavalas is a low key heavyweight with Katsano, Gigenis Zimes and Nychteri.
In amongst all the wine, Sigalas' prickly pear spirit  shone with the flair and creativity of its cosmopolitan producer.
This really was an event which offered a momentary escape from the paranoia all around us and gave us the opportunity to see the Aegean in a different light.
User Comments
Login or register to join the conversation