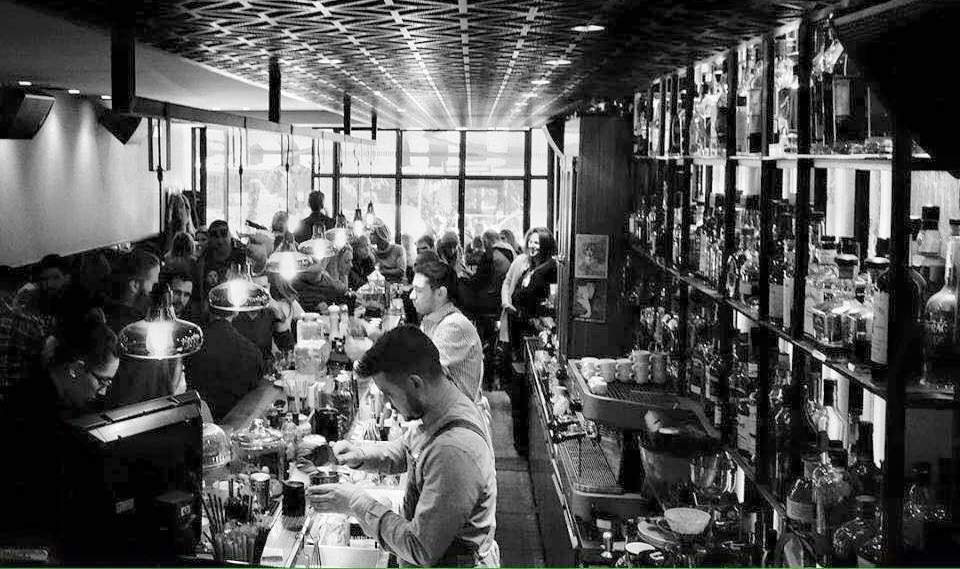 The Romans used an expression when they wanted to point out that there is a singularity in every moment in time and that you can't relive it, at least not in exactly the same way: Hic et Nunc, meaning here and now. Fear not, we're not going all philosophical on you. In Vogatsikou 3's case though, that saying was the trigger for presenting Yiannis Kedes' wonderful Thessaloniki bar and showing the reasons behind it being chosen as FnL's best cocktail bar in its recent Cardhu sponsored awards' ceremony. 
The name gives away its location, in the heart of the city and a stone's throw from Nikis' seaside thoroughfare. Taking over from legendary Belair bar, they opened three years ago. This is a place to enjoy a great morning coffee or the dishes prepared for you by chef Yiorgos Zorbas. Soon they will also be adding a breakfast and brunch menu with a "funky gourmet" flair as we were told. 
Artist Takis Tsentemaedes will create their new tablemats and there is a new, wonderful cocktail menu put together by the bar team after the departure of distinguished bartender Alexandros Sourbatis. 
I know my train of thought is a little confusing but one of Vogatsikou 3's best characteristics is that all these different parts seem to work well together.  The focus is the gorgeous wooden bar area but whether it's a coffee you choose, a pasta dish or a multi dimensional cocktail, they all have balance and perfect technique in common. This is how they're able to attract such a diverse crowd and make them all feel at home. All three times I visited in the last five months, an upbeat, mixed crowd packed out the bar. Despite this being a strictly non smoking establishment, the shakers are going at full throttle from lunchtime onwards!  People were dancing for hours and just popping out briefly to have a cigarette, as if they were at the cinema or theatre.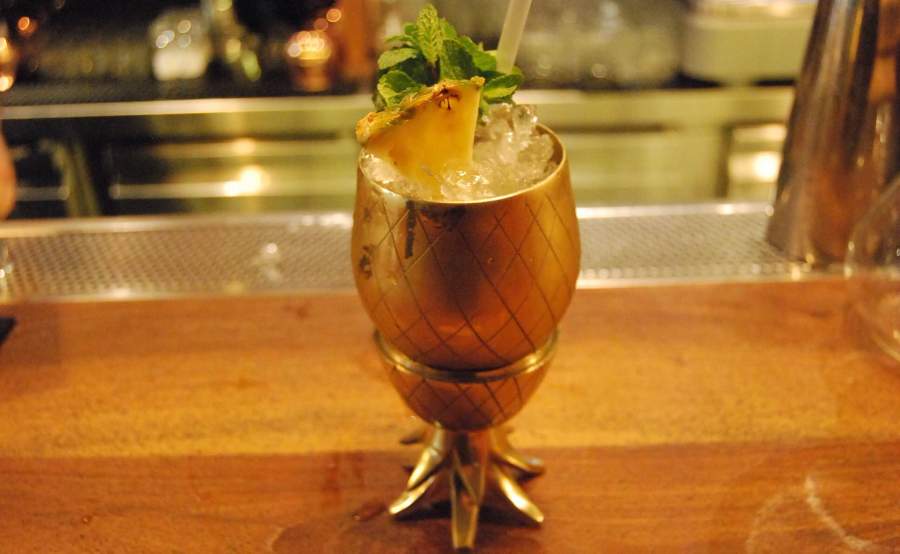 Yiannis Kedes is without a doubt one of the best bartenders in Greece. In just three years, initially with the equally great Alexandros Sourbatis and now with his amazing team, he's moved his bar forward by creating multi-dimensional cocktails made with top notch ingredients and exciting recipes. He didn't just stop there.  He recently travelled to Mexico in order to choose a tequila which would bear the bar's own name! It's with this tequila that he created the fantastic Tahona (see photo) by adding ginger, mint, sour almond syrup, lime and pineapple.  Last time I was there Manolis Betsis gave me a wonderful aged Boulevardier with Select Reserve Jameson, Campari, Aperol, vermouth and sloe berry Jameson bitters. It's Thomas Kandyliaris' Saladito that became an instant favourite though: a genius mix of San Cosme Mezcal, honey syrup, fresh lime juice, cayenne pepper as well as a mix of rock salt.  The new menu includes Breakfast In Martinique, the winning T Punch competition cocktail, which will represent Greece at the international finals held in Martinique. I must also mention the Pink Panther and The Only Smoker, a recipe which is the only place you'll actually see smoke mentioned here!  The cocktail is made with smoked cinnamon, Remy Martin V.S.O.P, Zacapa 23, sweet red vermouth and Angostura bitters. Now bordering on a high end drinking establishment, Vogatsikou 3 has rightfully gained its position as one of the country's best cocktail bars by entering its most interesting and creative phase with plenty of space for further growth.  Awarding titles like this might weigh down on people's shoulders by creating all kinds of expectations but it's good to give credit where it's due.
P.S.
The renewed Vogatsikou 3 cocktail menu is the product of teamwork, with the team including Yiannis Kedes, Thomas Kandyliaris, Thodoros Manolas, Andreas Yiaprakas and Manolis Betsis. 
Info: Vogatsikou 3, Thessaloniki, tel: 2310 222899
User Comments
Login or register to join the conversation