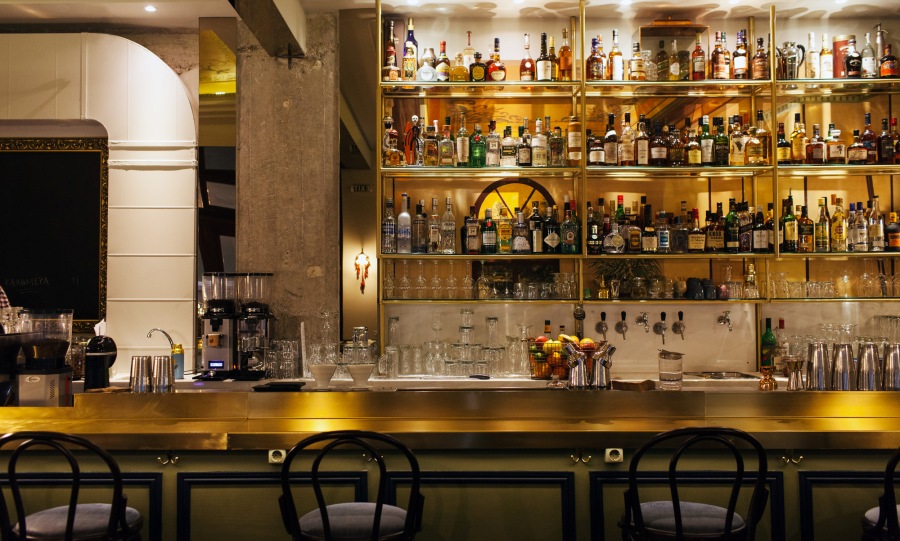 Last time I met Yiannis Samaras he was behind the bar at Kitty Cat and he told me he was in the process of opening his own business in the city centre. I didn't want to pry but he seemed happy and optimistic if a little guarded, just like he always is. I've been following Samaras for years and I have to admit he's one of my favourite people on the bartending scene. Apart from his great drinks, I like the quiet way he deals with his work and reputation.  As if nothing is a big deal, even though it clearly is.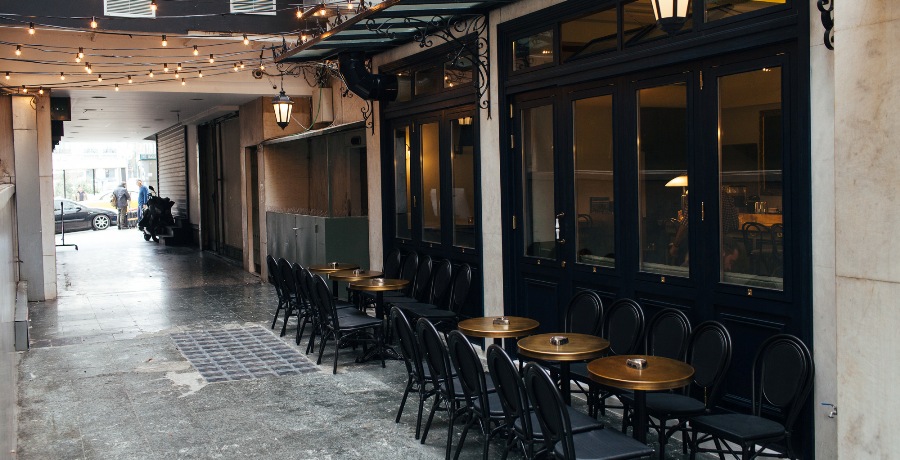 I've been living in Athens since 2001 but I didn't know Othonos street despite it being right on Syntagma square and the terminus for airport buses. Walking into the little arcade I realised where the name 'Trap' came from. The aim is to lure in passers-by and charm them into staying.  Are traps charming?  Absolutely they are, otherwise they wouldn't be traps, would they?
The Trap is the child of Yiannis Samaras, the experienced Dimitris Benakis from Cinco, the great mixologist Yiannis Alexopoulos (Cinco, The Dalliance House, Hide & Seek) and up and coming Stefanos Draganidakis who will be the most active behind the bar. It opened on the first day of the year, bringing with it an air of classic film noir. The handmade ornate ceiling is one of the great things you'll notice as it really ties in the sense of an all time classic bar with a modern drinking spot. A mid-war decor reminiscent of an Athens we miss without having actually known it. Other touches harp back to that era, like the all white marble sink and copper tap.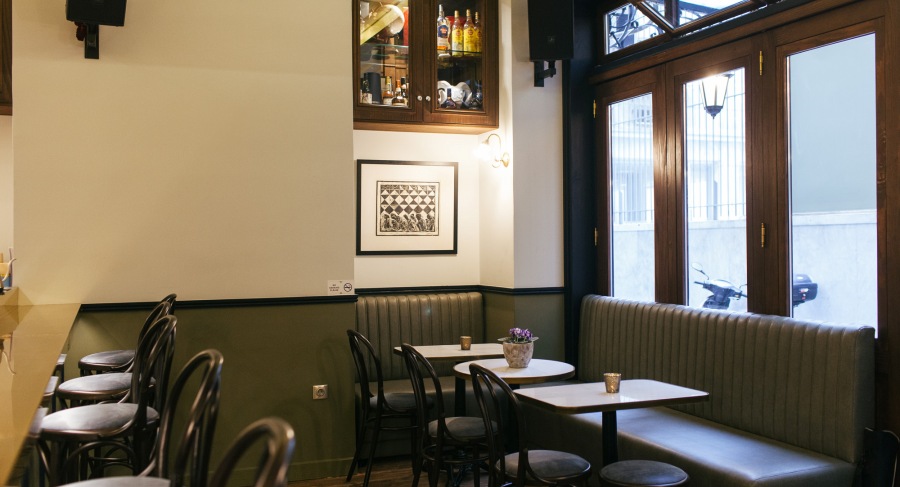 It opens in the morning and serves good coffee, soon to be accompanied by a food menu. My antennae though are focused on the bar. The spirit selection is fairly large even though on its second day, the cocktail menu was still being drafted. For the moment there is a small list of 10 signature drinks. I can't therefore have a full picture of what's to be but I did enjoy the herbal but yet earthy America-America with Campari, tangerine and red pepper.  As far as the Cantarito is concerned, made with Altos Reposado Tequila and grapefruit cordial, it lacked intensity. I then moved onto to the enjoyable Le Fou Gaston made with Laphroaig, apricot liqueur and manzanillo cherries, while The Odd Couple with Absolut, masticha and pomegranate left me feeling undecided as to whether I liked it or not. Either way, this early cocktail menu combined Samaras' love for clear flavours, Alexopoulos' funky but distinctly creative touches and Stefanos Draganidakis' ability to execute the recipes well.  I don't know who came up with what exactly but when it's a team, and a very capable one at that, I don't think it actually matters. 
The Trap could be a French bistro or a bar in London or Manhattan but it's not. It could be the bar Vincent Van Gogh and Toulouse Lautrec hung out in drinking bottles of absinthe, getting melancholy and drawing but it's not that either. It has its own character and it is defined by the coming together of four people who have something to say.  A return to a classical innocence with its eyes firmly set on today and tomorrow. The Trap is just that, a trap.  For now at least.
Info: Othonos 10, Athens
*Photos: Paris Tavittan / Lifo
User Comments
Login or register to join the conversation