It is housed in a neoclassical building from another time. Architecturally, the history of the place has clearly been respected, though there are a number of modern touches that make the venue pleasant also for those immersed in "today". In front and at the rear there are two inviting courtyards for those looking for a more familiar "Kifissia" experience. And into the bar room. The bar itself is large and attractive, with coloured lighting fixtures endowing the room with a more romantic feel. The numerous bottles displayed behind the bar certainly indicate they know what they're doing here. These are complemented by huge glass bowls, some full of dried grapefruit and large cinnamon sticks, others with dehydrated cucumber, yet others with crispy beetroot chips.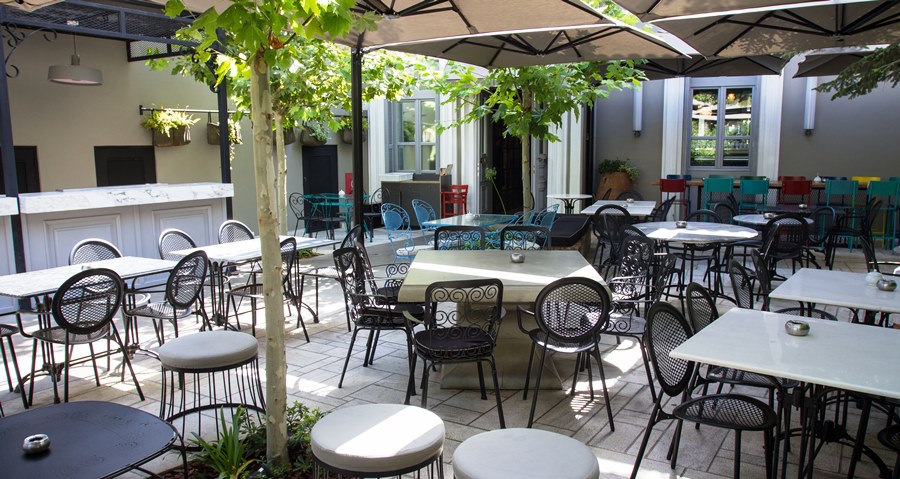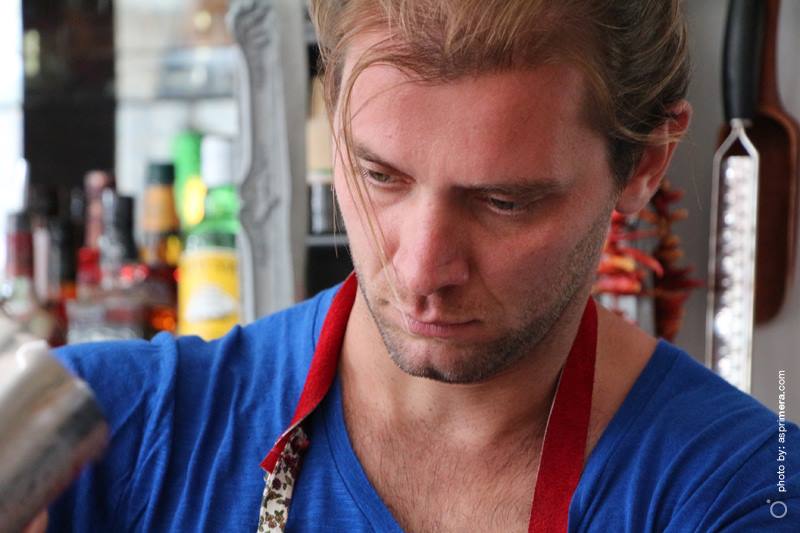 In the role of head bartender... co-owner Yiannis Samaras, whom we have previously seen in similar roles behind the bar at 42, Pere Ubu, Baba Au Rum and Panas Group venues.
Now, in his first own venture (along with partner Lefteris Bakopoulos from Mona's in Halandri) he has free rein to try and endure the very tough competition in Athens, indeed to stand out, which is no easy task. However, the first impressions are positive. His drinks list begins with eight signature cocktails, featuring unremarkable yet topical recipes and clearly leaning towards the classic. One immediately realises that the humble flavours of some of the cocktails are seamlessly followed by other, more "difficult" proposals, which are in turn succeeded again by more familiar – in terms of taste, not technique – offerings. Overall, this creates the impression that Yiannis Samaras aims to prove his worth, but without overlooking the needs of the clientele he is targeting, since he is now also an entrepreneur.  
At The Dalliance, a "beginner" may appreciate an intensely aromatic yet refreshing Pisco No. 5, with a base of pisco in a blend of gin, fresh lychee, lime juice, orgeat (bitter almond) syrup, Amargo bitters and cinnamon. But the same drink will also intrigue an experienced palate thanks to the absinthe used to spray both the inside of the glass and its rim, with the magical "tears" of Artemisia absinthium shouting "wake up" each time one's lips come into contact with the drinking vessel. And an even more demanding customer will find among these initial eight proposals plenty of reasons to smile and return to the venue, as I discovered with my first encounter with the Beast.
This "monster" was served to me in a Collins glass. It contained Glenlivet 12 year old whisky as the base, aromatic Picon aperitif, a "two-faced" mix of vinegar and honey, orange flower water whose enchanting fragrance filled the entire bar, chocolate bitters and – as the cherry on the cake – "selfish" Pedro Ximenez, which even in the tiniest amount wants to be the star of the show. It had been expertly sprayed inside the glass and around the rim in a way that did not smother the whisky, while with each sip the chocolate played its own little games, though always in complete harmony with the orange, whose sweet smell lingered impressively.
The real surprise, however, was not the final result in the glass, but the fact that it had come from the hands of a young bartender, Giorgos Sarmantas, whom I soon expect to see in the spotlight. As is the case with Stefanos Draganidakis, a new addition to the bar team, who attracted considerable attention this year with his first participation in the World Class competition. The team has been completed by the recruitment of Vangelis Zachos, the first major transfer of the season, who joined The Dalliance from Baba Au Rum.
Sarmantas, in an interesting tête-à-tête with me as a customer (during which I expressed my weakness for classic cocktails and "masculine" recipes and my lack of tolerance for all these new-fangled cocktails), went on to recommend another entry on the drinks list, Land of the Forgotten. The execution of which betrayed no sign of forgetfulness, being more than capable of winning over the most ardent Negroni fan. Prepared with an interesting twist and again, made doubly exciting by the freshness of a very promising young bartender.
Into the mixing glass he poured Beefeater gin, Lillet Rouge, green Chartreuse for a more botanical profile, sweet raspberry vinegar and chocolate bitters. For garnish, he used a thin strip of orange peel, on which he placed some of those tiny sweets we ate as children and which exploded with flavour in the mouth, while making a delightful popping sound. My cocktail "sang" from start to finish, producing in me a similar disposition.
Naturally, at The Dalliance you won't find only proposals that are "difficult" for regular palates. Quite the contrary, given that the second part of the drinks list comprises mainstream ideas, which however... are just that, ideas, for while they may bear names that I hope will soon disappear from bars, they do in fact differ substantially.
A Dry Apple Martini, for example, is nothing more than a classic Dry Martini with a clever twist in the form of apple liqueur (which I am sure will have disappointed many ladies of Kifissia who love their Apple Martini); a classic recipe for the cult status Karpouzi of the 90s is deconstructed, so instead of Southern Comfort, they use Jameson whisky flavoured with peach, orgeat syrup, fresh watermelon juice, grenadine and basil; while the... Pron Star... here comes in the shape of vodka, fresh lime juice, ginger, spiced syrup, brandy, mint leaves and passion fruit pulp.
I should go on record, of course, and add that I would prefer not to see these recipes at all, but one must bear in mind the initial objective: if not "educating" people about cocktails, then at least giving them the chance to enjoy them, albeit subject to certain conditions.
And finally, one thing I found particularly interesting was the punch, served in tureens for groups of four or more, while the bottled versions of Zombie and Pisco No. 5 were a nice touch, first of all because they represent something new in Athens but especially since they represent two important trends in cocktail bars abroad.
In a nutshell, The Dalliance House is a highly promising new arrival. There is no doubt it has already managed to stand out, thanks to the bar offerings but also the cuisine of Avgeria Stapaki (from the Hytra team). However, because it is an all-day venue, it should display the same consistency also with regard to its more general concept.
At The Dalliance there is a familiar "Kifissia" feel... girls greet you at the door; the music can be dull one moment and disruptive the next; there is a commotion that may be what local customers expect, but I don't know how pleasing it will be to those simply wanting to enjoy a drink that "sings". And particularly since prices are in the "Kifissia" bracket, I believe that The Dalliance must soon make up its mind about the type of clientele it wishes to attract.
But it's still early days, and the omens are good... 
User Comments
Login or register to join the conversation