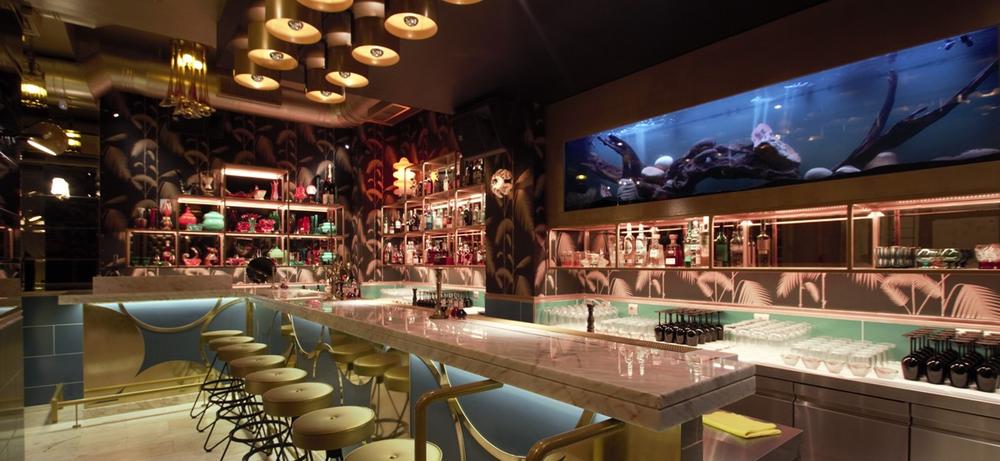 I had to stop for a minute to figure out where this bar was. A strange blue fish tank light caught my eye from the very end of the arcade.  I walked through the Drunk Sinatra crowd and felt like I'd gone back in time. The brand new bar by Theo Gandes and Vassiliki Papayianni, designed by Alexandros Lavdas (Aldesign) is an intensely retro space. One of the main features is a huge marble bar with golden accents and three comfortable bartender stations. The others are a fish tank with big inhabitants and a serious collection of spirits. Rum is the king here and you can discover hidden gems like the rhum agricoles from Guadelupe, Haiti, Martinique, St Barts and the Marie Galante distillery. 
After another look around, I noticed the turquoise tiles and the palm leaf wallpaper, which made it even more 70s-tastic. There was a multicolour Murano collection in one corner as well which really took me back.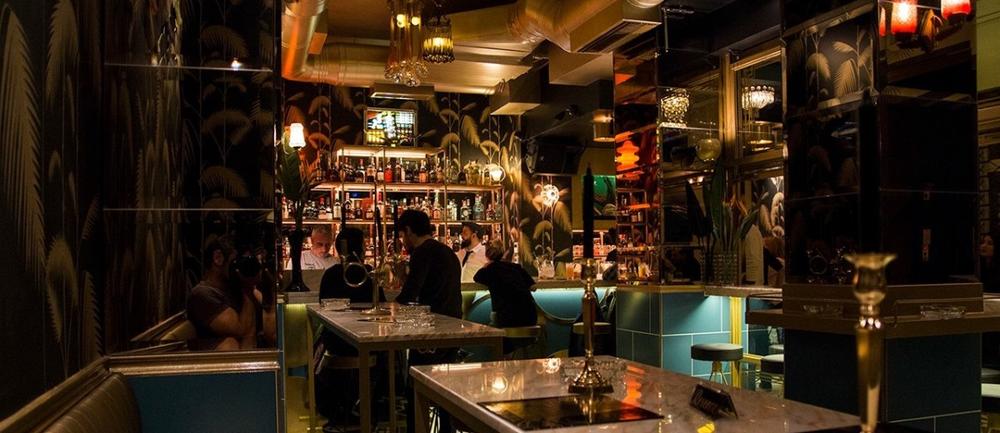 I quickly noticed that everyone around me was drinking cocktails so I asked for the menu.  Before I was able to make a choice, Alexandros Gikopoulos delved into the 8 signature cocktails and presented me with my first drink.  I had so many questions: what was the concept, why were all the signature cocktails served swizzled and not shaken? All of them though showcased Alexandros' love of rum. Metamorphosis includes rum for Jamaica, Guyana and Guatemala and shaved ice and is intensely alcoholic without screaming it from the rooftops.  It's served, like the other seven, in a highball glass from Spiegelau's classic bar collection, just like a tall mixed drink should. From the first sip, I could feel the sturdy identity the three rum combination provided, but I could also taste the herby Chartreuse mixed in with aromas of ginger, sour almond, lemon and nutmeg.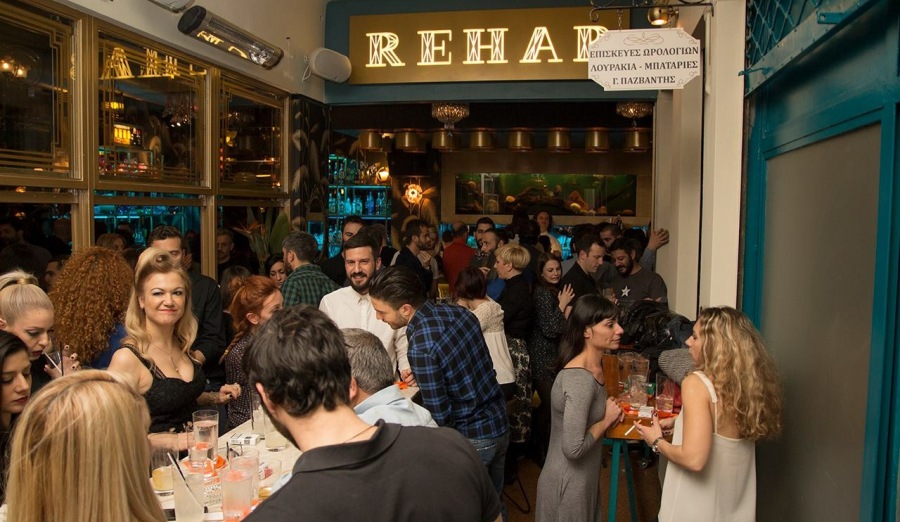 Alexandros explained that the cocktail names were references for various artistic movements (Fauvism, Blue Rider), movies (Elevator to the Gallows, The Broken Down Mirrors), songs (The Chameleon Song) and Rumi poems (The Bloody Rumi is a pleasurably spicy version of a classic Bloody Mary, with 3 rhum agricoles from St Lucia, Martinique and Guadelupe, sherry amontillado, tomato juice with notes of red fruit and a coriander based spice mix).
The Aquarelle, a take on Pina Colada, which can actually turn any disbelievers as this version is based on gin with two Jamaican rums, pineapple mixed with various other exotic fruits (mango, passion, kiwi and goyave fruits). I was won over by 'Chameleon's song' with its complex texture and its ability to bring to the fore its many ingredients (rum from Jamaica, Guatemala and Cuba, ginger, Jerez brandy, apple shrub and sugarcane vinegar). 
Naturally, the Rehab team (Paraskevas Savvas, Achilleas Stavropoulos, Evi Christou, Diamantis Eliadis and Manos Lagoulis) are more than happy to make whichever classic cocktail you're after.  Slightly tweaked by Alexandros Gikopoulos of course. Just a note for fans of the Mai Tai, which despite not normally being my favourite, here is unexpectedly charming.
Thiseos 16, Athens, Tel: 210 32 11 434
User Comments
Login or register to join the conversation