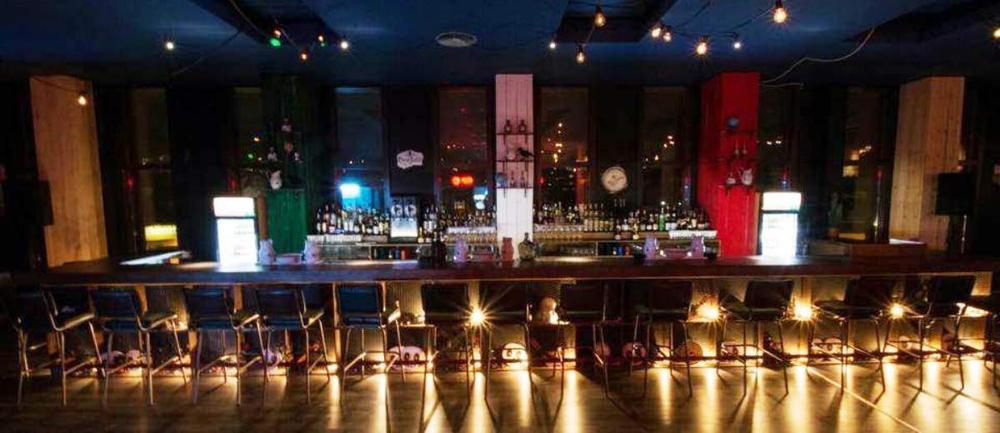 Being at the top might make you feel a bit giddy but can also push things even further both for the people experiencing it or just watching it from afar. For those on the pedestal it gives them even more drive to succeed and as for the admirers they get to enjoy unique experiences. 
Don't want to bore with you with any more of my theories but that's what I was thinking as I entered the impressive Palmitas on Friday evening. The Clumsies didn't arrive here by chance and I didn't need to visit Palmitas to grasp that. It is however one of the more fun and complete concept bars ever to grace our fair city. That in itself says it all really but let's start at the very beginning.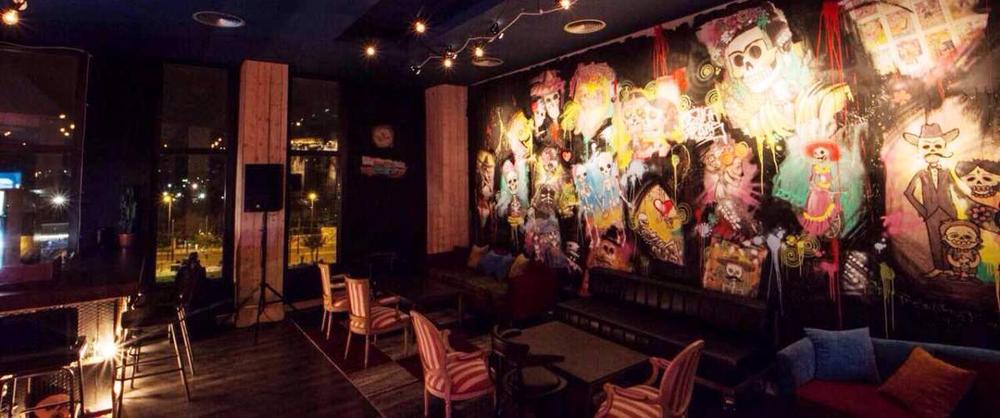 Palmitas is Greece's first pop up bar. Pop up, meaning a bar, restaurant or combination of the above, that has a limited shelf life. Another pop up characteristic is that there is usually a unique concept behind it put together by professionals who are already successful elsewhere. 
London is where this trend has really taken hold with 30 pop up bars and restaurants in 2015 alone. Originating in the U.S. and Cuba, the pop up craze started with food trucks and grew from there.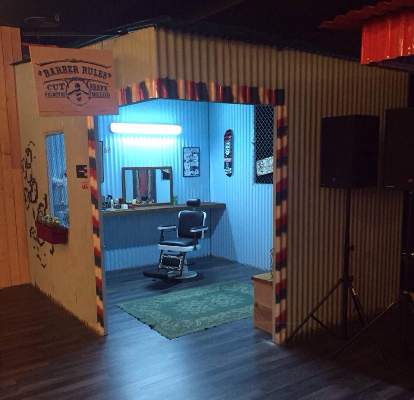 Palmitas borrowed its name from the infamous and graffiti filled neighbourhood of the town of Pachuca in Mexico. The Clumsies' dream team (Lefteris Georgopoulos, Thanos Tsounakas, Vasilis Kyritsis, Nikos Bakoulis and Yiorgos Kesaris) has transformed the fourth floor of a building on Iera Odos into a miniature version of a Mexican neighbourhood. The amazing set made by Nine Designs is more than impressive as it includes a working barber shop, a tattoo parlour, a beautiful cantina, a wall dedicated to Dia de los Muertos, a huge bar with a view of the Acropolis and a live band. I was so taken aback by everything else that I hardly noticed the view. Everything seems to run like clockwork and all the elements play off each other.  There are no rules and regulations here.  You can get a haircut while drinking your Mezcal, you can enjoy your tacos or you can just take in the amazing view with your friends while knocking back tequila shots. The cocktail menu, which is split into four categories, was designed by the power duo of Kyritsis-Bakoulis while Yiorgos Tsirikos, Yiorgos Sarmantas and Panayiotis Kanatsoulis take charge behind the bar. Every now and then well known Greek bartenders like Manolis Lykiardopoulos, Loretta Tosca and Yiorgos Bagos make guest appearances further lending some weight to this whole project.  The night I visited the drinks were made by the talented Steve Ajulo who was friendly, efficient and really fast. 
The best cocktail was Dia de los Muertos.  An explosive blend of agave spirits, passion fruit, chocolate and spices. From their Margaritas' menu the Picante with Mexican rum, jalapenos, black agave and lime was interesting with the closest to my taste being the wonderful Amarga: Don Julio Reposado mixed with Corona beer syrup, Aperol and lime.  100% fun in a cocktail glass. The Paloma was also solid and all the cocktails are priced between €8 to €12 apart from the Buene Suerte which costs €25 because of the 1942 Don Julio. 
I didn't try enough of the Tex-Mex menu put together by Marilou Pantaki and chef Albertos Simmilidis to be able to properly review it. If the tasty fajita combo, the chilli con carne and chicken fajitas were anything to go by though it should be more than adequate both in combination with the cocktails and in keeping with the overall theme. 
I really liked Palmitas. I found it innovative, beautiful, with interesting drinks, decent food and an atmosphere I have never encountered in Athens before.

People all around me were dancing, smiling, drinking and flirting just like I assume Mexican people would…
Info: Iera Odos 7-13, Athens.  Tel: 6980 303935
Open every Friday and Saturday from 8pm onwards
User Comments
Login or register to join the conversation