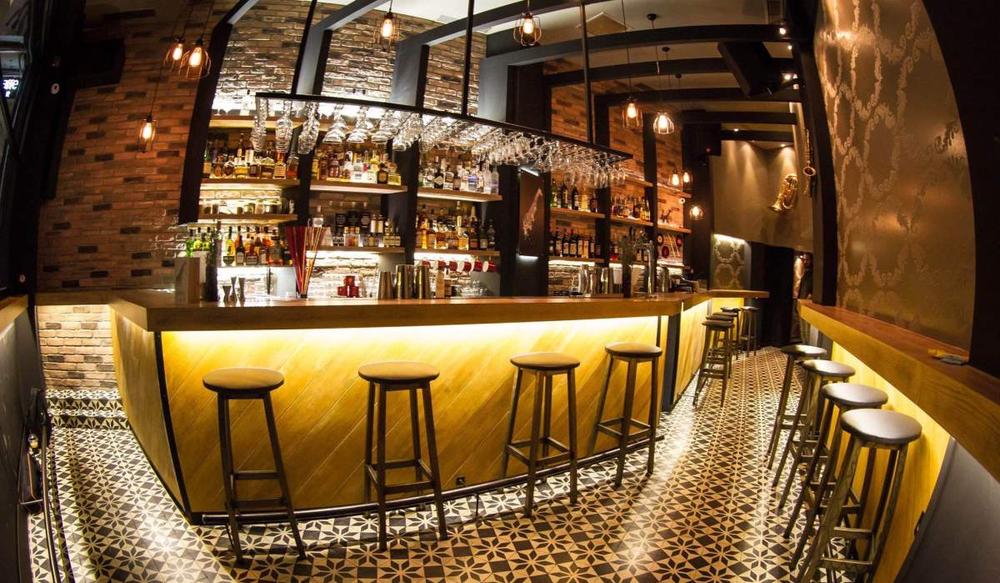 Giraffe might be a new bar at the beginning of Praxitelous street but it has already made its presence felt. Your eye is immediately drawn to the bar and the black and golden details in the décor.  The bar is the focal point but the spirit display is also one of the most impressive in the city, especially for a place this size. 130 well priced spirits which instantly make you understand the owner's good intentions. The crowd is young, in the mood for a laid back drink without the usual downtown crush. Some were trying cocktails, there were a couple of lone drinkers too and an overall cool crowd checking out the Praxitelous thoroughfare. A chilled atmosphere, which is always welcome, with the music being a mix of jazz, funk and soul and a bonus point awarded to the polite and efficient staff.  So far, so good. 
Giraffe considers itself a cocktail bar, so this review has to focus on that element.  The ten signature cocktails are the baby of talented Panagiotis Aggelou, who finished second in the final of the Skinos Mediterranean Challenge. He's also in charge of the bar team who prepare everything from the signature cocktails to any tailor made options which I have to say are actually better. Panagiotis Aggelou loves rum, whisky, London gin, spices, citrus flavours, various syrups and some of his homemade molecular concoctions. These blends result in a series of 10 in house, low alcohol cocktails which aren't that great. An obvious example would be the well intentioned Giraffe Cartel with rosemary infused tequila, cherry liqueur, lemon juice and their own monastery type liqueur.  Aggressive from the first sip as the balance wasn't there, it also left a highly acidic aftertaste, which levelled out all the ingredients. A similar case, if a little better, was the Londreza; aggressively acidic and lacking in body that might have balanced it out. 
We were lucky though as when we were there, Vangelis Nomikos (City Bistro, Matsuhisa) was behind the bar. He prepared his own Josiba cocktail which won him first place at the inaugural Nikka Perfect Serve competition back in November of last year. In our tailor made version the otherwise lovely Nikka was replaced by Mezcal Bouzan, creating an imaginative and highly enjoyable drink which filled us with hope about Giraffe's potential. 
The next cocktail list is already in the making so I hope that this talented team will get over these initial missteps and deliver some blends that are worthy of their talent. 
Info: Praxitelous 5, Athens
Tel: 212 1049526
User Comments
Login or register to join the conversation