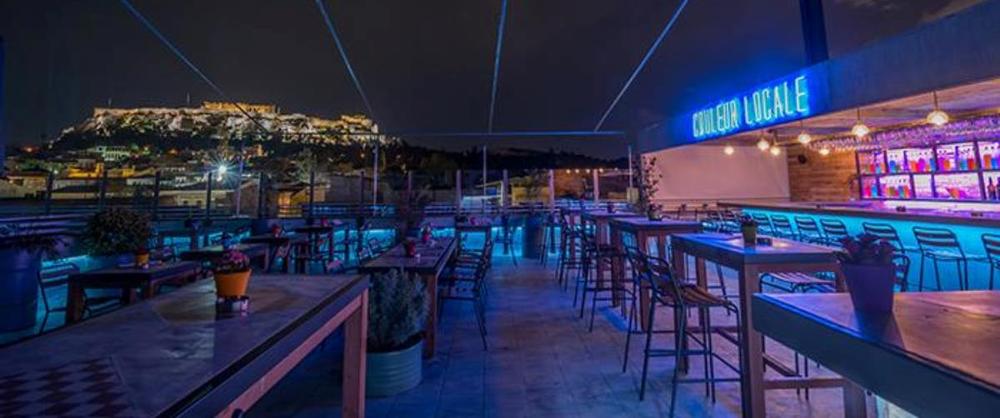 Couleur Locale opened last summer. It has one of the best roof top terraces in the city, with a great view of the Parthenon. I didn't go during the summer months, but social media was awash with photos of enthusiastic lovers of that uniquely Athenian view. Personally, I was really surprised by the cute inside area on the ground floor, which you enter through a row of vintage stores and a live rebetiko music venue.
Having walked through those colourful storefronts, I walk into a space which is spartan but cleverly decorated and which focuses on the brightly lit bar. There is also an atrium where old black and white movies are projected with the sound off.  The atrium will open when the weather gets warmer so I definitely have a reason to come back. The music is relaxing and allows you to enjoy your drink without getting boring.
Couleur Locale's bar is well stocked with all kind of spirits, which are laid out well so you can easily make your choice, while there seems to be quite a few Vermouth and Amari options. I don't usually ask for a cocktail menu in situations like these.  When there is cold Cocchi Vermouth, a vast array of whiskeys and gins and a Campari, then you can't go wrong with a Negroni of Boulevardier.  To my surprise however the menu put together by Pavlos Loulis, does just that.  It includes 18 classic recipes with something for everyone depending on what era you prefer. From El Presidente to Hemingway Daiquiri, El Burro and French 75, Mai Tai and Cosmopolitan, the classics are all well made here.  It's worth noting that apart from the amazing roof terrace, cocktails are priced at about 7.5 euros.  Couleur Locale is simple, classic, straight to the point and we like it!
Normanou 3, Monastiraki
User Comments
Login or register to join the conversation