When the impressive Athens Bar Show took place in Gazi earlier this year, it made me think how it was possible that the biggest celebration of innovative Greek bartending was taking place in an area without a single cocktail bar!  I don't condone the generalisation about there being no one who might want to drink a cocktail in Gazi, nevertheless, the area got labelled as such and where once nightlife was flourishing, now the whole place feels a little downmarket. This is one of the reasons I decided I had to see Barrio with my own eyes.  I have to admit that I probably wouldn't have rushed here if Vasilis Kyritsis hadn't designed the cocktail list. I do have certain reservations as far as the execution of said list is concerned, for obvious reasons.  However when a bartender like Kyritsis, at the height of his powers, decides to move into consulting, I immediately have high expectations and I'm naturally curious and optimistic at the same time. 
Barrio means neighbourhood and neighbourhood in my books means people getting together for a good time. It's on the corner of Triptolemou and Evmolpidon streets, where Respenza restaurant and Red Dot used to be, neither of which was successful. It opens in the morning for coffee and although the food menu seemed interesting, I can't comment further than that as I didn't actually try anything. There are big posters on the wall depicting scenes from Cuban barrio life and the décor is of the much maligned 'industrial chic' variety despite it being tasteful enough. The second floor benefits from a great view across the city so it's being used for the restaurant for the time being with the bar moving up there soon after. The soundtrack is soul and jazz influenced with regular live band nights. Although I visited in the early evening, it gave me the impression that its audience is made up of young, laid back locals. A real neighbourhood hangout. 
Talented Kyritsis has put together a mainstream list to go with the overall atmosphere here. The 14 signature recipes are easy to drink but not simple per se. I would go as far as saying that it's an introduction to current cocktail trends by an industry expert. They won't scare people off but they're not boring either; they're playful but not in an obvious way. An exception is 'Safe Sex on the Beach' whose presentation I won't reveal but I'm sure you can guess for yourselves. I found the 'Very Old Fashioned' interesting, made with bourbon or Metaxa brandy, maple syrup, chocolate bitters and decorated with a small piece of Pavlidis chocolate. It's worth mentioning that some cocktails allow the customer to choose the core blending ingredient. For example 'Enjoy the Silence' made with a blend of bitters, black cocoa cream and Antica Formula and either black rum or Scotch whisky.  It's totally different but equally as good in either version.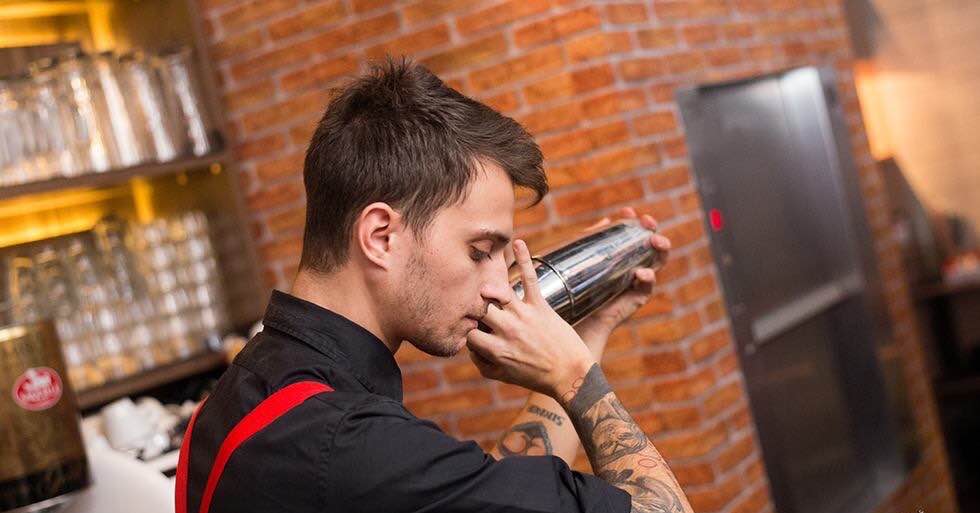 Young bartender Christos Baltayiannis is called upon to bring these recipes to life, something he doesn't take lightly. He's already doing well, he's just as daring as he should be and operates with humour and love for his craft. I tried to trip him up by ordering a Dry Martini but I didn't succeed! It was well made and tasty.  With Alex Symeonidis and Vasilis Kyritsis as his teachers, he's full of potential and I'm feeling certain that he will continue to improve.
Info: Triptolemou 10 & Evmolpidon 24, Gazi
Tel: 210 3477379
User Comments
Login or register to join the conversation