Say goodbye to Cognac and extend a warm welcome to Metaxa!
Whenever I go to Vinexpo, the major wine exhibition held in Bordeaux every two years, I always spend my last day in the building that houses the alcoholic beverages. First of all, this is where you find the most attractive girls, cast in the role of eye candy at the stands of the distillers. But it is also where you have the opportunity to try newly created alcoholic drinks from some amazing companies and incredible places. As a rule, everything is awful! Novel names and impressive bottle do not suffice to convince buyers that these products have a future, but the potential profits are so enormous in the event they do succeed that each year dozens of would-be "Johnnie Walkers" try their luck on the exhibition circuit. (I still feel shivers when I recall the alcoholic tea launched by a Slovakian company at the last Vinexpo). It appears that human inventiveness has been exhausted when it comes to distillation and it is now extremely difficult, if not impossible, to compete with the well established, classic spirits and liqueurs. Cases like Malibu – which hit the international market in the early 1980s – or the tragic Chambord (there's no accounting for taste), are very rare.  
Which is why any drink capable of combining history with an original and, if possible, pleasant taste, has particular value. And this is the case with Metaxa, Greece's most misunderstood alcoholic beverage. In 1989 the – centenarian then – company was sold  to Grand Metropolitan (now, after mergers, Diageo) and later to the Remy Cointreau group. In the chaos of multinational trademarks, the small-scale Greek brand became lost and with no support whatsoever soon fell into disrepute. 

This was a huge mistake, because Metaxa is a truly marvellous drink, unrivalled anywhere else. I appreciate that it belongs to the liqueur family (although it is by no means as sweet as others in that category), like Drambuie, which is also a unique and irreplaceable drink, made from malt whisky. Metaxa is an aged blend of noble wine distillates, sweet Samos wine along with various herb and floral extracts. Rose petals, from the mountains of Corinthia, are one of the ingredients that play a decisive role in shaping Metaxa's personality and is easily perceivable by the nose. The result is a rich, sweet drink, extremely smooth, easy to drink and aromatic, complex and indeed unexpectedly dense in its more expensive versions. I believe it is easily on a par with dozens of other, better known drinks with more successful commercial careers. It's just that for many years Metaxa's marketing had been a complete disaster, probably because no one in those massive companies took it seriously or believed in it.
This situation has already changed and will continue to change even more for the better. Don't be surprised if in a few years you see that Metaxa has acquired an image equivalent to that of the finest liqueurs and no longer has any need to go to... Vinexpo!
What happened, quite simply, is that the company's helm has been taken over by the former CEO who is not only highly experienced, but above all a "believer" in the product's high quality. Panos Sarantopoulos*, with professional experience in both Cognac and Champagne and studies in the USA and France, by a strange coincidence grew up in the same neighbourhood of Metaxa's cellars at Kifissia ("I used to play football in front of the factory") and returned to Greece in 2011 with the aim of taking the company to new heights. Bearing in mind the innovations he introduced at Champagne's historic House of Krug (where, at the age of 38, he became the first CEO not related to the homonymous family), there can be no doubt that the restructuring and re-launch of the House of Metaxa will succeed and very soon. The company has already introduced a number of innovations, including the "Academia Metaxa" (a programme to inform professionals and thereby create "ambassadors" all over the world), "Villa Metaxa" (a villa at Sounion for special guests, whose decoration embodies the "Metaxa lifestyle" and a series of targeted actions abroad, such as sponsorship of the artificial beaches created in major European cities on riverbanks during the summer. All this, to anyone who in the past had witnessed the spasmodic marketing of the lethargic brand, is revolutionary to say the least.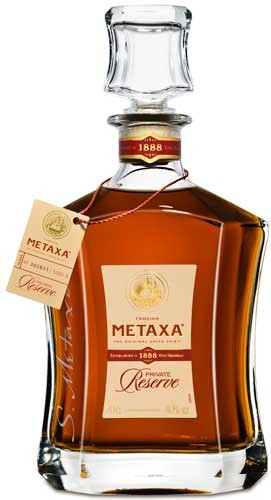 Of course, none of this would mean anything at all if the product itself lacked intrinsic value. I don't know how similar the "recipe" of the House's founder, Spyros Metaxas, is to today's; what I do know is that "Metaxa Master" Constantinos Raptis (photo), head of production for the past 25 years, has done a tremendous job of creating intriguing blends of Metaxa in various stages of development. It is the best guarantee that the high quality will be maintained and that in the future we will see new products being launched depending on developments with the company's stock of hundreds of barrels in its cellars. Raptis has already "signed" two new creations, Metaxa 12 Stars  (presently available at certain Duty Free shops) and Metaxa Private Reserve, both of exceptional quality.  
Generally speaking, the entire range of products is characterised by incomparable value for money and sophisticated packaging that is far removed from the tacky efforts of the past. Metaxa is a unique liqueur that also makes an ideal gift for foreign friends seeking a "taste of Greece".  

* Since the article was first published, mr. Panos Sarantopoulos has moved on to become head of the Liquers & Spirits Division of Remy Cointreau.

User Comments
Login or register to join the conversation