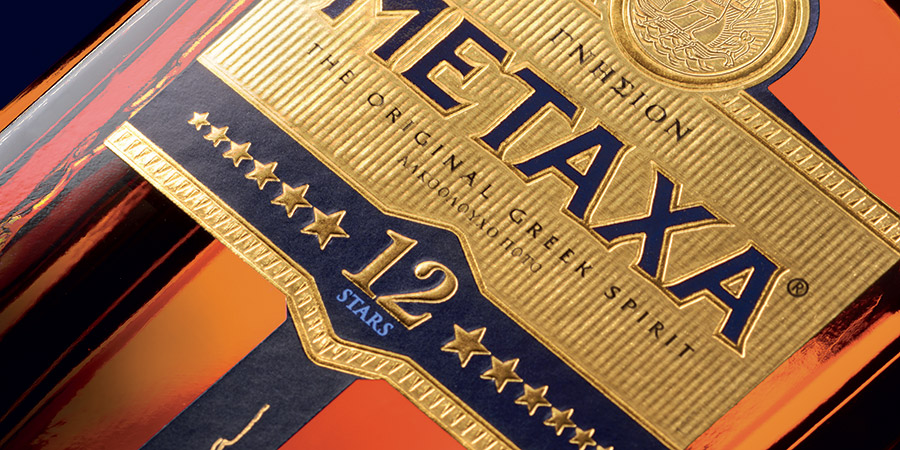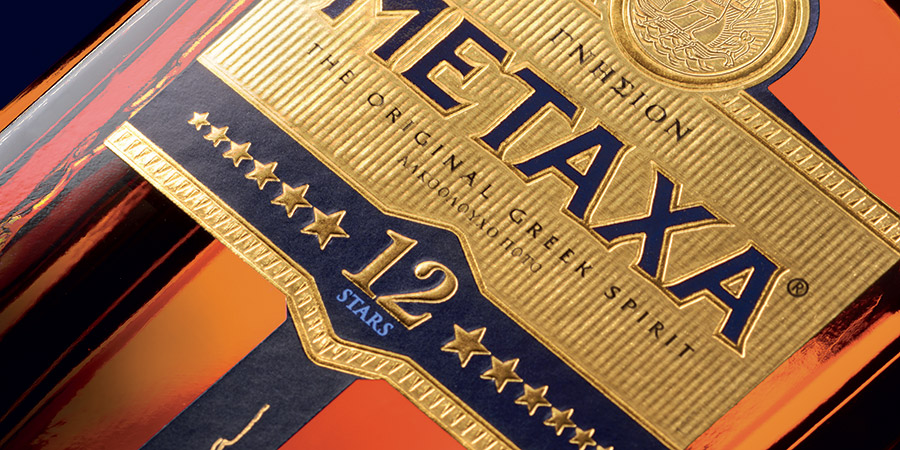 It's really difficult to write about Metaxa, not because there is not enough to write about, but because you have to face a lifetime's worth of memories: family get togethers, lonely evenings glass in hand, fun times with friends at your favourite bar, highlights and low points, fun and sadness.  Those Metaxa stars have always been there and still are.  Metaxa is Greece after all; its past, present and  future.
I was recently lucky enough to witness its creative ritual and to be submerged in its age old secrets. A modest ritual, adhered to for decades.  A voyage of flavours starting out life via a sun beam, coming through the earth and the juices of the grape, and then revealing all of its aromas due to the creative process which produces a taste of pure Greek velvet. Konstantinos Raptis is Metaxa's 5th master, continuing a tradition dating back to 1888.
The beginning
Spyros Metaxas was born in 1848 to a family of silk merchants, which would explain the provenance of his surname (metaxi means silk in Greek). His entrepreneurial spirit, his love of exotic imports and his anti-conformist nature led him to create a unique drink, refined yet simple.
Spirits in Spyros Metaxa's time were particularly harsh, without any particular character or aroma.  Their purpose was to warm up the body, not indulge the senses.  His vision was the exact opposite, the creation of a velvety drink to awaken the senses.  So in 1888, Metaxa was born; a combination of aromatic complexity and simplicity in flavour. While other spirits were limited to a strict distillation process, Metaxas worked with aged wines and Moscato wine in particular.
The journey
The Metaxas winery, based in Piraeus in 1888, worked on the three principles set by its founder which are still adhered to today: the secret art of creation, an obsession with achieving the highest possible quality and the talents of the Master who protects the Metaxa secrets. When the factory was being built, workmen discovered a medal with the head of a soldier who fought in the battle of Salamis engraved on it, and this ended up becoming the company's logo. 
Metaxa was categorised as cognac up until 1936 when that particular region of France was awarded a Protected Designation of Origin.  Metaxa then established itself as brandy.  In 1968 the winery was moved to a larger location in Kifissia; an event still referred to as 'the big move'.  1987 was another milestone in the company's development.  Brandy was generally used for all products derived from grape must, apart from Cognac and Armagnac.  Metaxa however is not the product of a single distillation process but a blend of multiple distilled spirits, so brandy was never an accurate description.  So it was decided that Metaxa should just be Metaxa, that it should drop the name brandy from its labels and create a new international drink category.  The innovative product born in 1888 was officially recognised a century later.
Metaxa
The unique Metaxa flavour is down to the distilled spirits chosen for their character and their ability to mature in Limousin oak barrels and the gift that is Moscato wine.  This refined grape variety has produced wine of high aromatic complexity since ancient times.  Today, Metaxa uses the best Moscato from Samos and Limnos. A secret bouquet of alcohol infused spring rose petals and Mediterranean herbs add to the final product. 
I was lucky enough to be taken through the 'secret art of creation' by the current Metaxa Master.  It was so exciting holding a mixing bottle and seeing the moment when the aromatic Moscato meets the aged spirit, waiting to be joined by refreshing rose petals and herbs; the full on Metaxa ritual.
Metaxa creations
The most recent creation is Metaxa honey shot, an exciting new entry in the world of lighter drinks.
The 'stars' series is what Metaxa is mostly known for however.  Metaxa 5*, at 38% alcohol and characterised by the aromas of orange blossom, violet and jasmine, can be enjoyed as an aperitif or digestif.  The subtle flavour of blossom honey and the velvety aftertaste of almond and rose are true House of Metaxa flavours.
The 7* with its 40% alcohol content is a more mature drink with aromas like peach, apricot, orange and fig and a flavour reminiscent of honey and raisins.
When you reach the 12*, the aromas are definitely stronger.  Chocolate, coffee, caramel and butter meet forest honey with strong notes of dried fig and plum.  This has Konstantinos Raptis's signature and is a great expression of the brand's style.
Another Raptis creation is the Private Reserve, born out of the Metaxa Master's need to experiment in order to produce something of unique flavour and texture.  A true premium blend which mixes the aromas of chocolate, coffee, plum and fig with that of a good cigar, smoked oak, black raisin and pepper.
The ultimate Metaxa is presented in a handmade, crystal bottle as if to lock inside it the history and philosophy of the house for all eternity.  AEN, aged in barrel no1, at 45,3% alcohol content has an unforgettable flavour of dried seeds, fruits and pepper which seem to tell a story in every drop.
The history and barrel no1
Metaxa's tradition is wrapped up in the four oldest barrels which are preserved in the House's cellars.  Barrel no1 is named after Spyros, the founder.  Barrel no2 is named after Despina who took over after her husband Spyros's death and became one of the first women in conservative Southern Europe to successfully run a business of this size.  Barrels 3 and 4 are named after Spyros's brothers, Elias and Alexandros, who helped take Metaxa around the world.
Barrel no1 embodies the role time plays in the development of Metaxa's unique character.  For more than 80 years Masters have chosen the oldest blends to breathe new life into this infamous barrel.  The end result is Metaxa encapsulated, an incredible mix of over 200 blends.  The elixir symbolising eternity was bottled for the collector's edition 'AEN Metaxa' in order to celebrate the House's 120-year anniversary.  AEN allows Metaxa aficionados to get a feeling of mythical barrel no1 as the other three are strictly for Masters' use only.  No one else apart from them has ever tasted their content and today Konstantinos Raptis is the keeper of those secrets.
Metaxa Master
Konstantinos Raptis, Metaxa's 5th Master, is the man charged with continuing and safeguarding the authentic House character.  As the keeper of all the company's secrets, he is in charge of selecting, aging and mixing the ingredients which make up Metaxa.  He uses fruit, flowers and herbs in order to achieve the famous velvet flavour and has been doing so for the last 27 years after graduating with degrees in Chemistry and Oenology.
The future and the round table
Metaxa is an internationally acclaimed Greek brand which exports to 60 countries, produces 10.000.000 bottles annually, 80% of which are for overseas consumption.  With international duty frees being their no1 customer, it is thought that 1000 glasses of Metaxa are consumed every minute around the world.  Despite its long history, the House is not stuck in the past and in fact we were introduced to the future by the Master himself.  At the back of the cellar, there is a large round space, which looks like a science fiction film set. There is nothing there other than a large round table, a portrait of Spyros Metaxas on one side and on the other the five latest House creations; the 'stars', Private Reserve and AEN.  At the edge of the room there is a futuristic construction depicting the sky and the company logo, which makes artificial light look like sunlight.  Under the Master's watchful eye, we tasted every secret hidden in each bottle.  A simple and almost mystical ritual, we left feeling like we'd joined a special sect.
The House of Metaxa is already in the future and the round table ritual feels like the perfect combination of respecting tradition and using technological innovation to further the creative process.
User Comments
Login or register to join the conversation