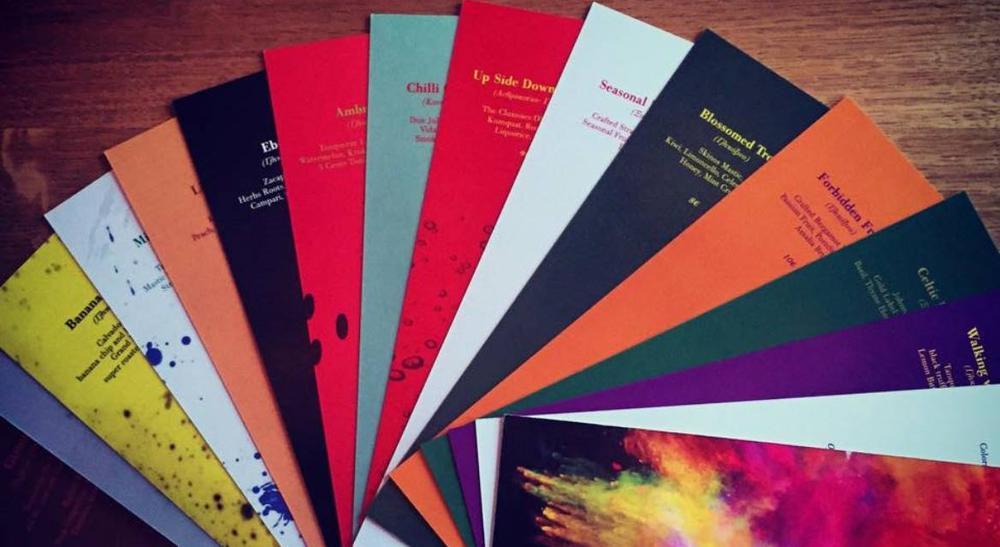 The ever changing Greek bar scene is also showing signs of increasing professionalism.  It is now common ground to celebrate the launch of a new or seasonal bar menu with its creators explaining everything in detail and benefiting from a little communal brainstorming before it's made available to the public. The Clumsies is a much talked about bar which has instantly attracted fans because of the imaginative recipes; drinks which are popular but challenging at the same time.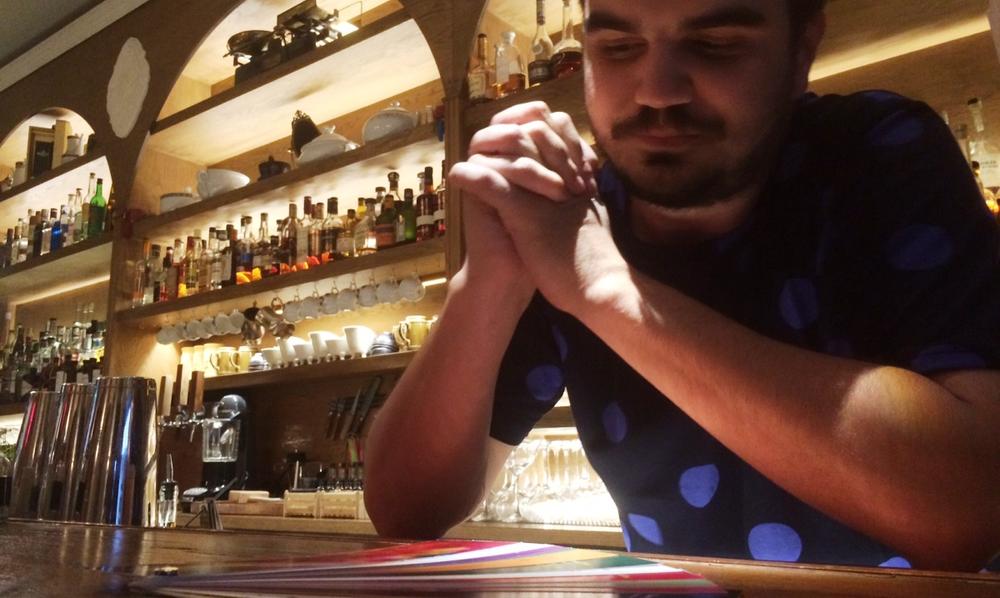 The new menu devised by Vasilis Kyritsis, Nikos Bakoulis, Stefanos Draganidakis, Dimitris Dafopoulos, Kiki Fountoukidou and Konstantinos Papakonstantinou, is called 'Kaleidoscope' and looks like a colour sample book in the shape of a fan. Kaleidoscope is a concept menu, much like what you'd normally find in a gourmet restaurant.  A series of strong colours and phrases aimed to create the feeling you'll associate with each drink.

Take 'Walking with Colours' for example, a blend of Tanqueray No. Ten and Tanqueray Rangpur infused with a purple Thai tea called Butterfly.  Add to that some dry vermouth with a hint of black truffle which hits your nose more than your mouth, some condensed elderflower, sugar syrup, lemon bitters and buttermilk grapefruit tonic water. It's served in a short glass with ice and aims to be a refreshing take on the Old Fashioned.  Its wonderful colours, which are very camera friendly, are brought to life by a garnish of lemon peel and cucumber pickle.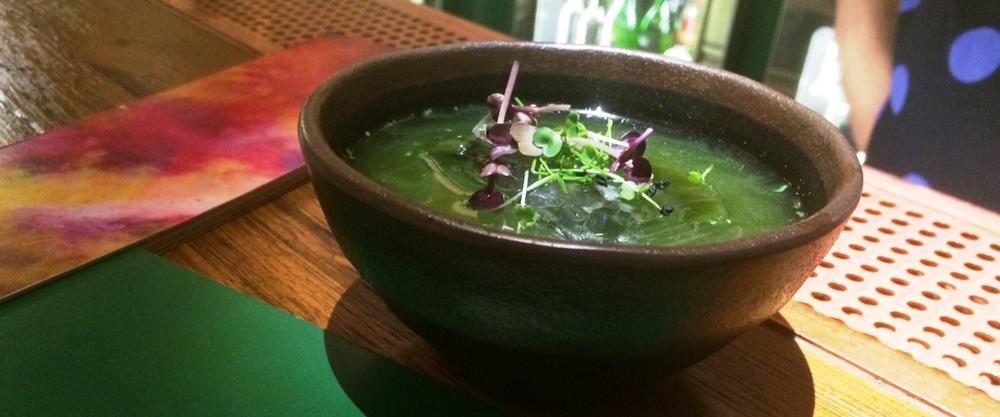 Celtic Forest: The strong greens of a Celtic forest are represented in one of the most interesting cocktails we've seen.  A lot of flat leaf basil and liquid nitrogen are added to a shaker in order for the aromas to be condensed as much as possible. As the frozen smoke makes its way round the bar to the delight of the selfie brigade, a generous portion of just-out-of-the-freezer Johnnie Walker Gold Label Reserve is added. Then comes lemon juice, thyme honey and a little Chartreuse while the drink is served in a sharing Japanese bowl.  The dark green cocktail (with a single piece of ice) is garnished with rocket, radish and basil shoots.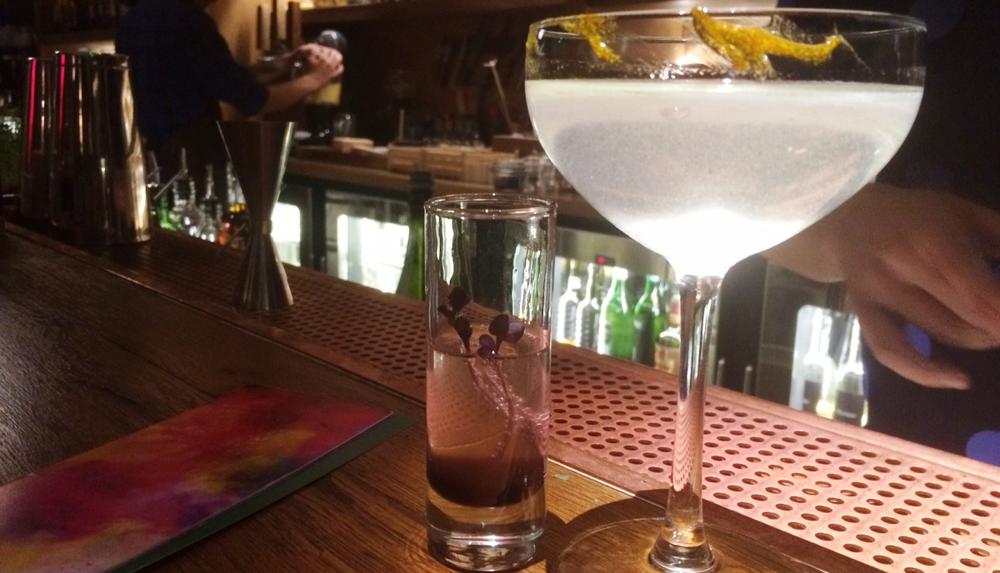 Forbidden Fruit: Porn Star Martini is a love-it-or-hate-it kind of drink. The Clumsies' Porn Star does deserve your attention though, as it basically summarises the whole menu concept with its intricate play on flavours, textures and colours as well as its interactive presentation and notes of umami. Redistilling the vodka with bergamot, results in condensing the citrus aromas in the drink while a potion made of tomato water, passion fruit, grapefruit, vanilla, lemongrass and a blend of apple and citrus acid is added afterwards.  The cocktail is served in a rounded glass on which the bartender paints with vanilla colouring.  Just as the Porn Star is served with a shot of champagne on the side, this version has a shot of Prosecco with condensed passion fruit giving it a strong purple colour.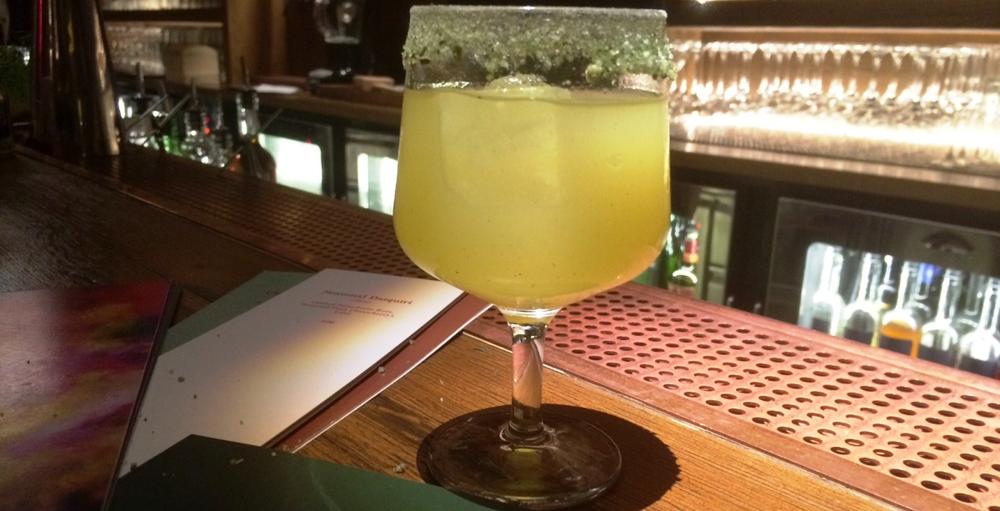 Blossom Tree: Another really interesting, refreshing and aromatic drink using masticha as a base. It's then mixed with honey and limoncello infused kiwi water, a little black sesame and lemon juice.  The green hued drink is served in a glass whose rim has powdered mint on it as a result of mixing the herb with liquid nitrogen.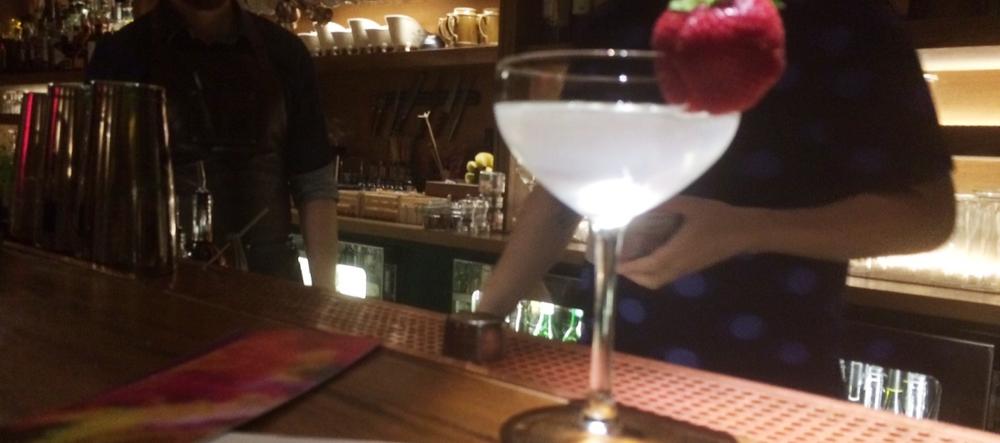 Seasonal Daiquiri: First presented as part of their winter menu, the daiquiri is back and it's no surprise that you can never just have one of them.  The rum is distilled again with strawberries and raspberries and mixed with a sweet & sour potion made with fresh strawberries, lime juice which has had the colour taken out of it, water, vanilla and cumquat.  The cocktail is served in a round glass with a fresh strawberry, it's practically colour free and has an aroma which permeates the whole bar.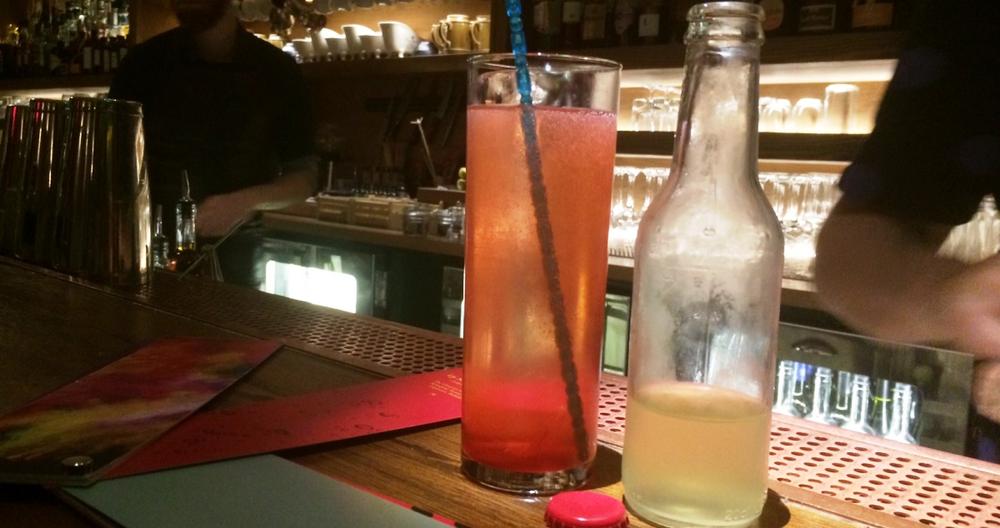 Upside Down Collins: Served readymade in a little bottle and totally carbonised. It's made with The Clumsies Old Tom gin, a cumquat cordial, salt and a honey infused cordial with crushed lime.  It's served in a thin long glass with liquorice and smoked honey at the bottom and a rectangular shaped block of ice.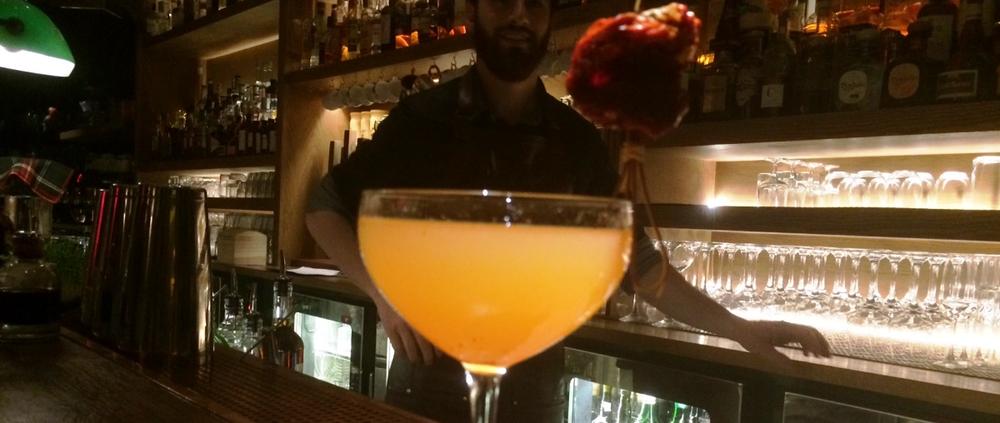 Chili Con Melon: This is one for the agave lovers as it has both white tequila and mescal. It's then mixed with melon from Argos cooked in smoked chipotle and a shrub of sage, which adds a note of acidity. It's garnished with a sundried tomato infused with black cardamom, black garlic and rice vinegar.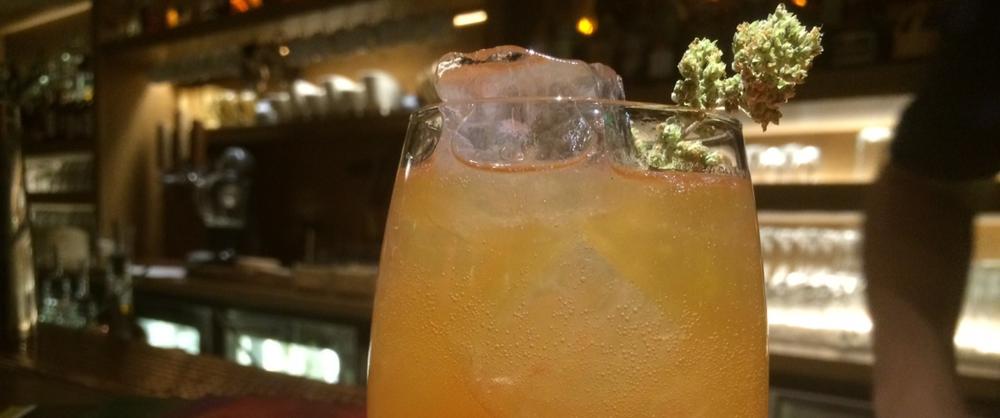 Ambrosia: Gin meets homemade watermelon cordial infused with dried black lemon with the addition of Kozani saffron, a little lime and some tonic to release the aromas.  Garnished with a branch of dried oregano.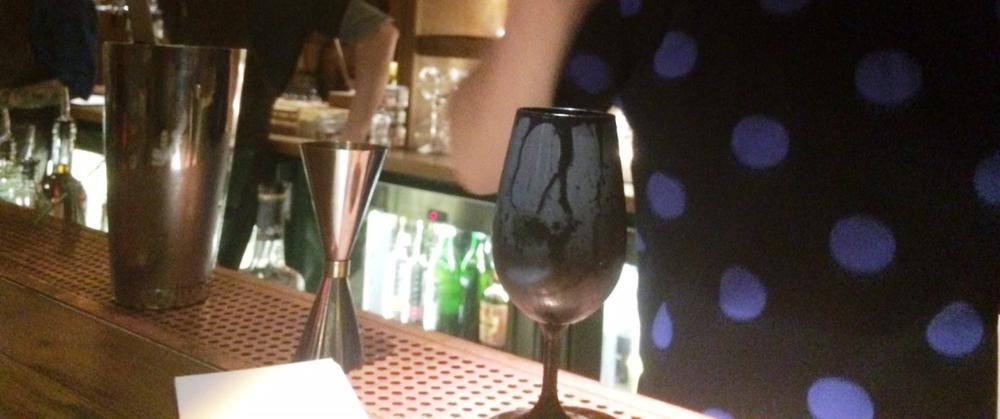 Ebony: A great drink which could be competition worthy due to its complexity; a real showcase for its creators.  Made with Zacapa 23 and a fermented elixir of fruit, various bitters, Campari yeast, sweet wine from Samos and a botanical liqueur (Herbs by Roots).  Served in a dark black degustation glass and garnished with rocket shoots.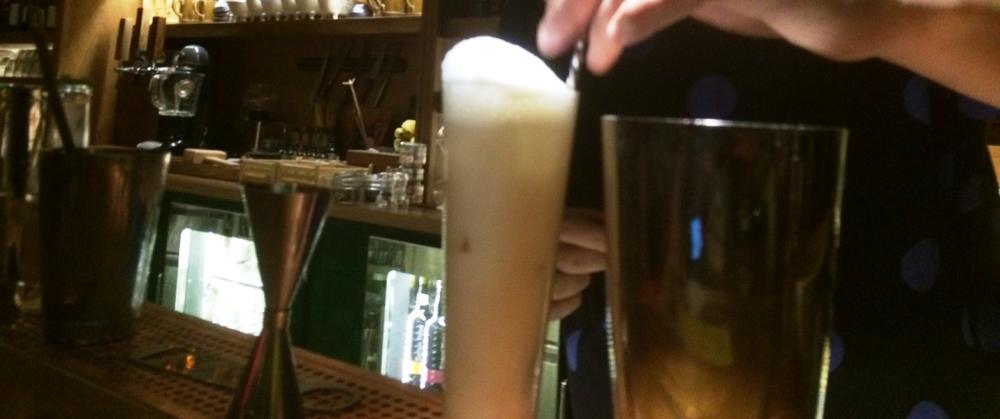 Banana Joe: Carbonising fat was a challenge Clumsies set itself and it's evident in this cocktail.  Made with a homemade lapsang tea syrup, coconut water, nuts, Calvados, black cardamom infused Grand Marnier and banana chips.  The drink is thick and filling, served in a big glass and finished off with Three Cents soda and grated tonka fruit.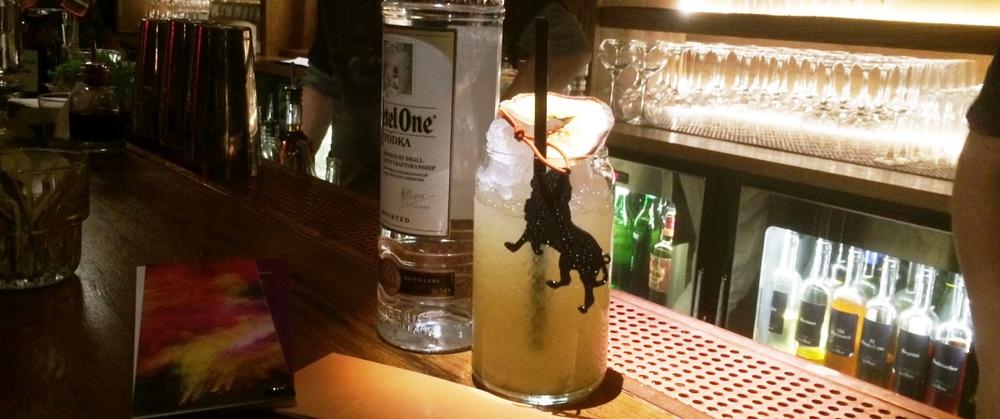 Lion Peach: I could easily have this for breakfast as it brings back so many childhood memories.  Ketel One vodka, a blend of biscuits, peaches, ginger and butterscotch mixed with sour lemon and served in a big glass with shaved ice and an orange blossom infused black lion, which hangs on the side.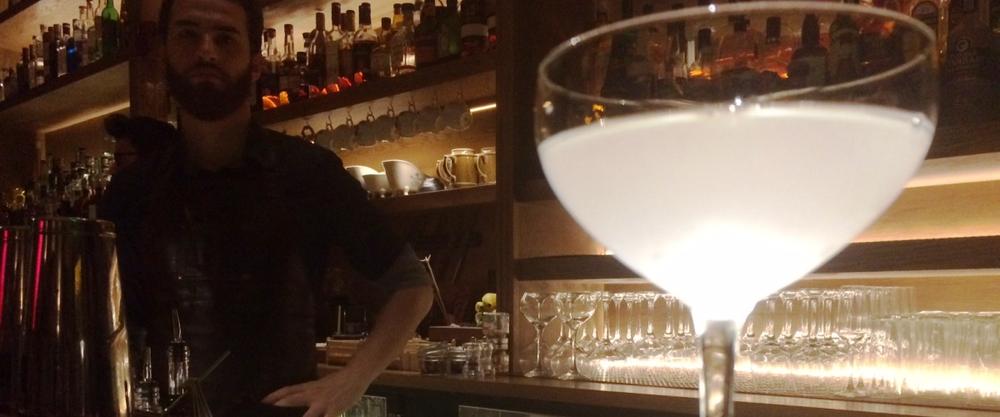 Mirror Eyes: A great Gimlet in a version made for the few in the know. Redistilled blue cheese infused gin, masticha cordial, kaffir lime leaves and lemon peel.  Served without colour and / or ice in a rounded glass and garnished with a small strawberry meringue.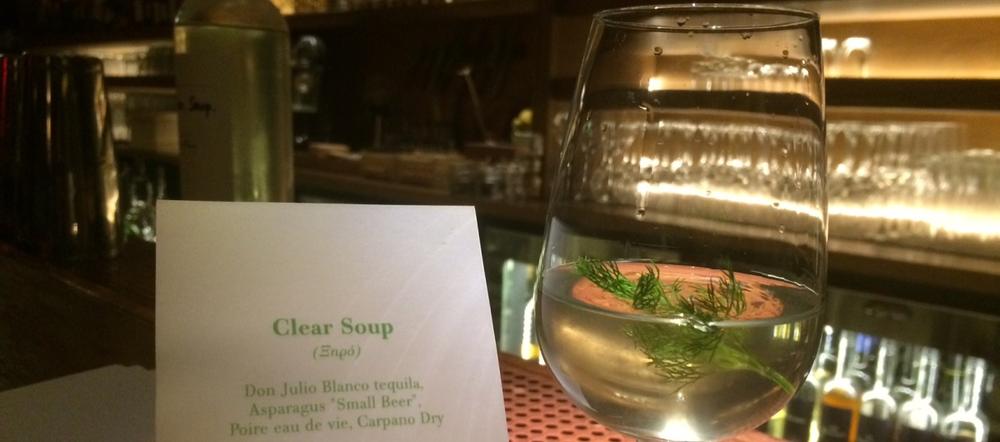 Clear Soup: Another great drink made with asparagus infused white tequila, which takes on a unique earthy taste, further intensified by a few hop drops. Some pear Eau de Vie and dry vermouth is then added and it's further garnished with some fresh dill.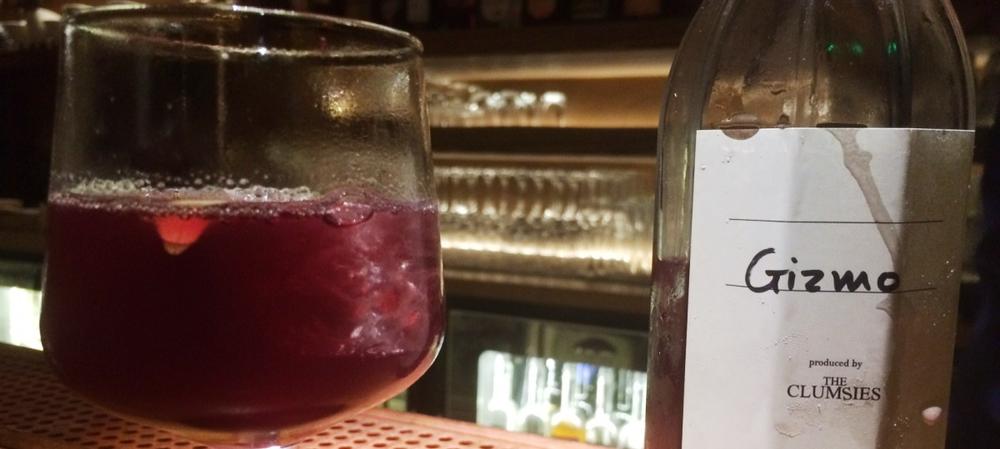 Gismo: A recent visit by White Lyan's Ryan Chetiyawardana has inspired Greek bartenders into making a cocktail with him, which now appears on the menu.  Bourbon whisky, grapefruit cordial, olive leaf infused Manzanilla sherry and a condensed Avaton red wine (from Limni, Mavrotragano and Mavroudi varieties), which gives the final result a unique tannin quality.  In true White Lyan fashion, this particular cocktail is served readymade from a bottle and is garnished with an olive leaf.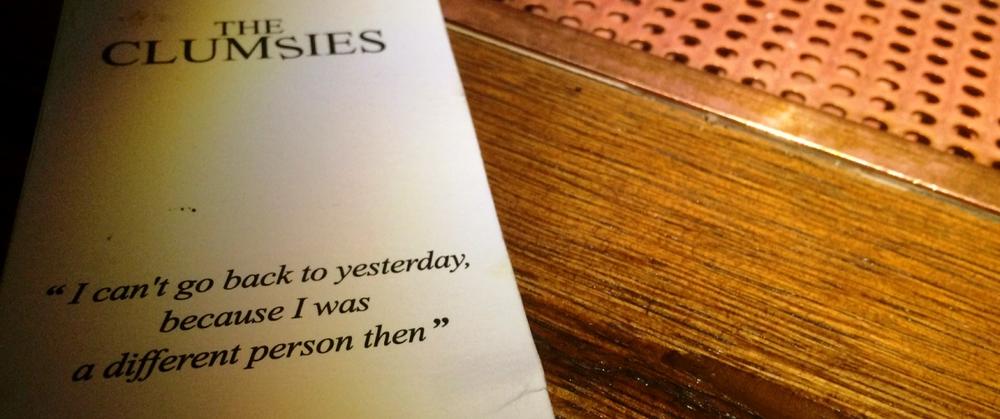 Kaleidoscope is a rare concept menu.
  It's very well put together and that is evident with every sip, but it presents its innovation in simple ways so as to not become inaccessible. It bases itself on the Greek taste palate, bringing herbal qualities to the forefront while retaining its complexity and eccentricity.
User Comments
Login or register to join the conversation