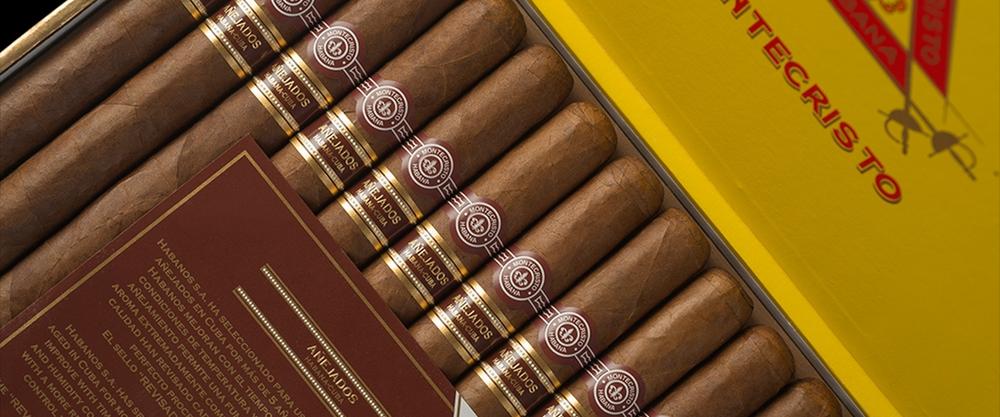 I was lucky to try them and here are my thoughts on the Montecristo Churchill Añejados and  the Romeo y Julieta Pirámides Añejados.
The new premium Cuban cigar line is promoting the idea of aging cigars, hence the name Añejados.  So far there are only two such products in popular formats: Montecristo Churchill and Romeo y Julieta Pirámides.
These cigars are made with great care, they go through rigorous controls and are aged for a period of between 5 and 8 years, achieving a rounder, more complex soft character.  Having tried them both, I can say that they are reminiscent of the Edicion Limitada but without the dry spicy taste.  I felt the Montecristo was by far the better of the two.  Their price range is higher than similar quality 'simple' Havana cigars but they are cheaper than the Edicion Limitada.
The tasting
Montecristo Churchills Añejados
Rating: 9/10
Length: 178mm
Diameter: 47 (18.65mm)
A beautiful, shimmery, chocolate wrapper perfectly bound. The smoke is rich and intense from the first few puffs.  It has the velvety character associated with the line while at the same time having the earthy aromas and those of cedar, chocolate, sweet spices and notes of white pepper.  A great cigar which becomes spicier as time goes by without ever losing its sweet, almost silky feeling awarded to it by the aging process.
Romeo y Julieta Pirámides Añejados
Rating: 7.5/10
Length: 156mm
Diameter: 52 (20.64mm)
Well bound with a little more give than would be considered perfect.
  It starts out relatively light and stays so until the end with a soft, round smoke which is less complex and aromatic than one would expect from a supposedly top cigar. Hints of spices and cocoa in a cedar wood setting are not enough to justify the high price tag.
Scoreboard Key
0 - 3

Poor

3.5 - 4

Average

4.5

Acceptable

5 - 5.5

Satisfactory

6 - 6.5

Good

7 - 8

Very Good

8.5 - 9

Outstanding

9.5 - 10

Excellent
| | | | | | | | |
| --- | --- | --- | --- | --- | --- | --- | --- |
| 0 - 3 | 3.5 - 4 | 4.5 | 5 - 5.5 | 6 - 6.5 | 7 - 8 | 8.5 - 9 | 9.5 - 10 |
| Poor | Average | Acceptable | Satisfactory | Good | Very Good | Outstanding | Excellent |
User Comments
Login or register to join the conversation