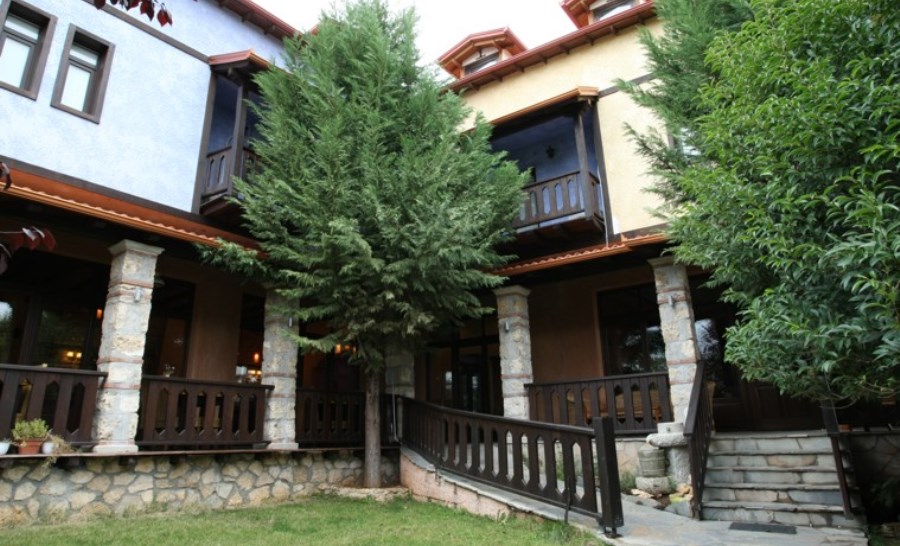 After arriving at the village of Xino Nero we asked an elderly lady for directions to Kontosoros and I immediately saw a look of excitement on her face. It was the same feeling I had experienced in some French and Italian villages when asking the whereabouts of certain renowned, Michelin-stared restaurants. It is the feeling – so rare in Greece – which reflects the pride felt in a small local community for the recognition earned by of one of their own!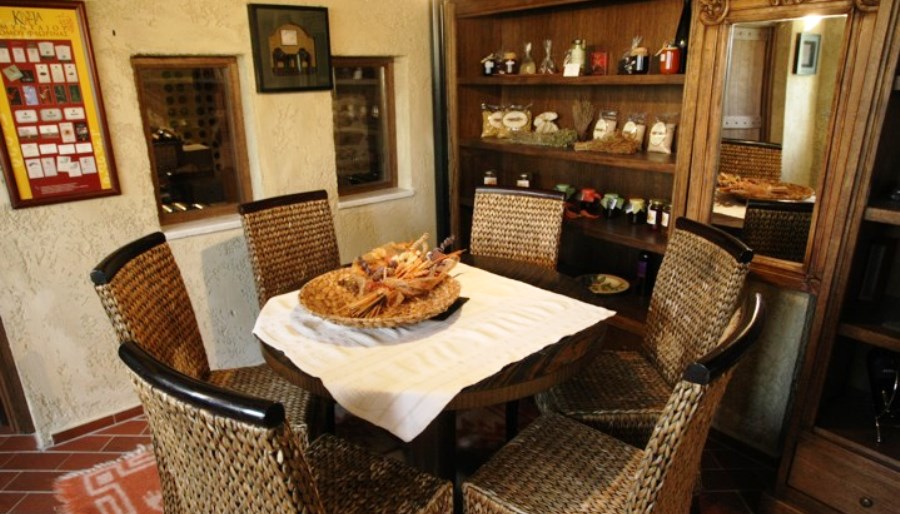 And understandably, for the Greek villages that can take pride in hosting such a restaurant can be counted on one hand! Here, Nikos Kontosoros proposes a deeply flavoursome cuisine based on local tradition and ingredients. Florina peppers, saffron and wild mushrooms hold place of honour here. And it's not just the cuisine. The stone cellar is stocked full of exceptional wines from the region and beyond, which are served (at unbelievable prices) in Riedel glasses and crystal carafes!
A meal here normally starts with ajvar, the exquisite pâté made with the local pepper. We continued with two different risottos executed to perfection, one with wild mushrooms and sensationally tasty, the other – with lemon zest, baby courgettes and smoked pork – was a real masterpiece of finesse and gustatory intensity. The "sout makalo" is one dish you must try at Kontosoros; a rustic local recipe with the tastiest beef meatballs you can imagine, in a thick, silky sauce of flour, chicken broth and saffron... simply divine! Finally, we had the pork with red pepper crust, so juicy and tasty that you'd swear it was some other kind of meat!
Keep in mind also that above the restaurant, Kontosoros has some really comfortable rooms with fireplace and an amazing breakfast! This review concludes the first feature on West Macedonia and you now have my complete proposal for a culinary exploration of the region!
Kontosoros
Phone: (+3023860) 81256
Address: Xino Nero, Florina, Florina,
Open:
Price per person (€)*:
* we do our best to reflect the actual price range per-person of a full meal including first and main courses, desert, water and half a bottle of wine or one beer depending on the type of restaurant.
Scoreboard Key
0 - 3

Poor

3.5 - 4

Average

4.5

Acceptable

5 - 5.5

Satisfactory

6 - 6.5

Good

7 - 8

Very Good

8.5 - 9

Outstanding

9.5 - 10

Excellent
| | | | | | | | |
| --- | --- | --- | --- | --- | --- | --- | --- |
| 0 - 3 | 3.5 - 4 | 4.5 | 5 - 5.5 | 6 - 6.5 | 7 - 8 | 8.5 - 9 | 9.5 - 10 |
| Poor | Average | Acceptable | Satisfactory | Good | Very Good | Outstanding | Excellent |
User Comments
Login or register to join the conversation