It is customary to look back on the highlights of the previous year around the Christmas holiday season. We think of the experiences we've had, try to forget what wasn't so good and hold on to what made a difference. My top highlights involve restaurants, dishes and chefs; some established and some up and coming. These chefs work at popular holiday spots and could easily compete for Michelin stars were they based in Athens.  The Michelin guide hasn't really extended its reach to the Greek islands so a lot of chefs' amazing work goes fairly unnoticed. As I flicked through my notes, I travelled from Northern Greece to the Cyclades, from mystical Patmos to cosmopolitan Santorini. Instead of pins, my mind's map uses images like: smoked mussels with pine needles, asparagus, coffee and parmesan by chef Mouratidis in Nikiti in Halkidiki, and ethereal fricassee morels with pea puree, olive oil, sweet peas and fried egg en croute by chef Kolimadis in Oia in Santorini. I couldn't forget the other side of Santorini and the village of Pyrgos where Thodoris Papanikolaou (Selene) stole my heart with his hearts: a tagliata of smoked beef heart with carrot puree, smoked baked carrot and heart tartare marinated with Red Donkey beer and black truffle caviar. 
As you read this you might think I have left out some great new chefs but I must remind you this is just a short walk down memory lane.  I am leaving out restaurants I have already written about.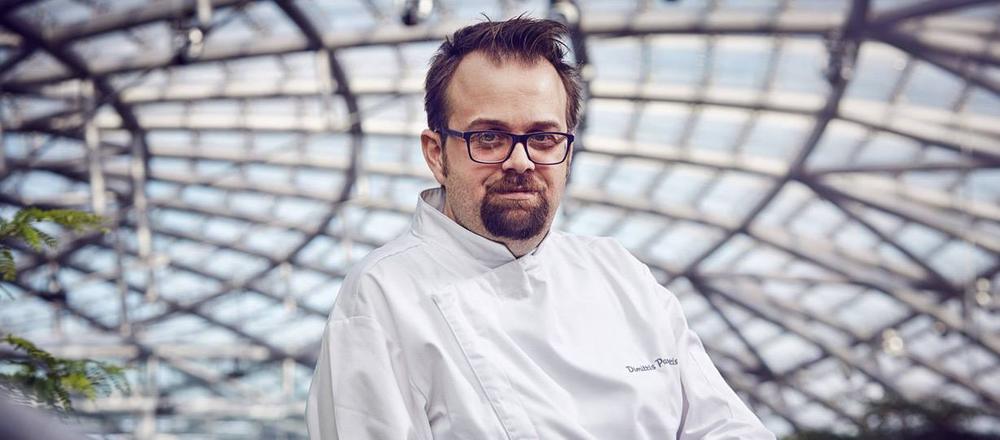 Apocalypsis Restaurant – Patmos Aktis Suites & Spa Resort Grikos – Patmos
Chef Dimitris Paboris has firmly put Patmos on the world gourmet map.  Three words condense what he produced in 2015 in the elegantly white Patmos Aktis hotel's Apocalypsis restaurant: precise, tasty and refined. What was evident in every dish was the combination of a light Greek touch and all the cosmopolitan touches he picked up during his time in one of France's best known gourmet destinations: the Haeberlin family's Auberge de l'ill.  He uses modern techniques but remains very Greek in the memories that seem to jump out of his creations.  This year he'll be at Ekies All Senses Resort in Halkidiki's Vourvourou
(www.apocalypsis-patmos.gr, tel: 2247032800)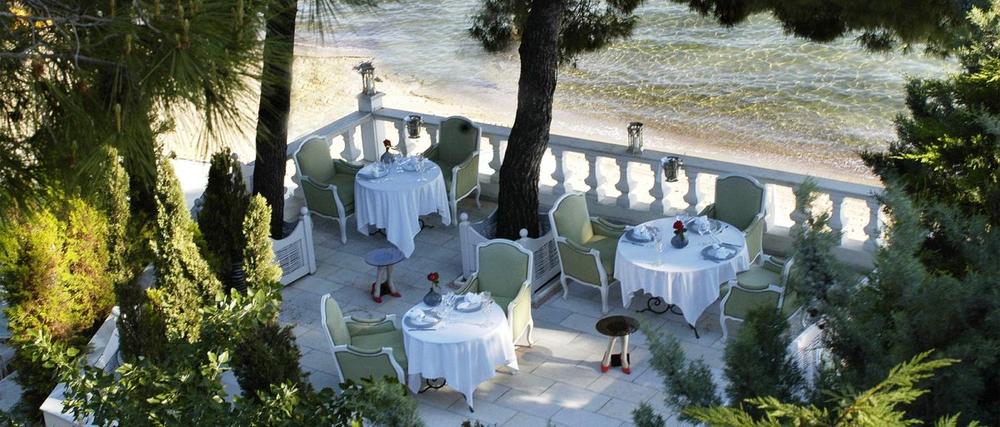 The Squirrel Restaurant – Danai Beach Resort & Villas, Nikiti Halkidiki
The change of guard in Danai Resort's kitchens had taken place the year before so there was a lot of anticipation building. Vasilis Mouratidis was Herve Pronzato's successor after spending 4 years as his right hand man. Not only did Vasilis have to live up to that but also try and better it and the signs were good early on. After an education at various Michelin starred restaurants overseas, he was asked to work alongside a refined but difficult mentor in Pronzato. In 2014 he was not only asked to run Squirrel but to also raise its Greek credentials as requested by CEO Kimon Riefenstahl who also happens to be the owner's son. Riefenstahl also wanted to showcase Andromeda, the second but equally high-end Danai restaurant. 
The end result was more than satisfactory.  The sea bass with cauliflower and almonds I tried at Andromeda could easily be on Squirrel's menu alongside dishes like the standout cod with cucumber, courgette puree, finger lime and green tea or the sweetbreads with crunchy hazelnuts that were perfectly accompanied with carrots. 
The Danai gourmet experience owes it uniqueness to the whole team that works behind the scenes though and it would be remiss of me not to mention them all: sous-chef Sofoklis Maragoudakis, chef-patissier Yiorgos Papakyritsis, the wonderful servers and Danai Collection, the wine list put together by head sommelier Apostolis Pliachouras which is probably going to be the best wine list in Greece for 2016. 
(www.danairesort.com/the_squirrel, Tel: 2375020400-2)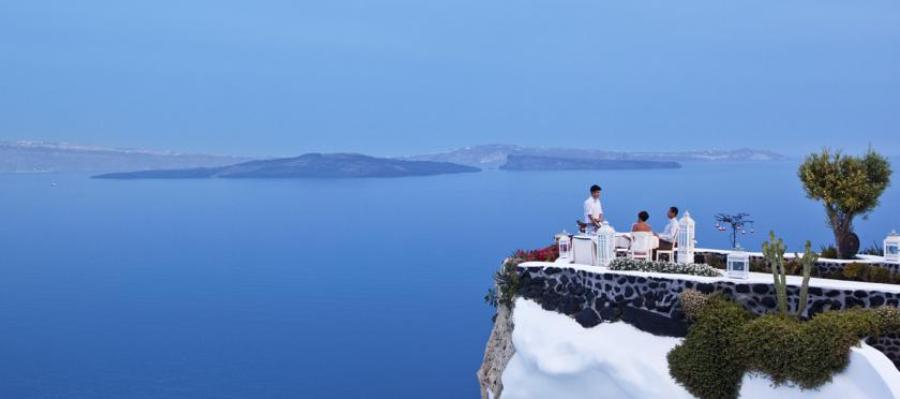 Lycabettus Restaurant – The Andronis Luxury Suites, Oia Santorini
Ever since the first time I tried something of his while he was still part of the team at Hytra, it was obvious that Stefanos Kolimadis stood out from the crowd and it was just a matter of time before he was given room to fully develop his talent. He's been given various opportunities in places like Halkidiki and Elounda and every time his attention to detail and refined technique were evident but his creativity hadn't quite reached its peak. In 2015 though, and in the stunning Caldera setting of Lycabettus restaurant and Hotel Andronis, what I saw was a more focused Kolimadis, a chef who has finally found his way. His trips to Spain and his constant quest to learn more, which he spends his winters doing, have provided him with the dexterity to produce dishes like the ethereal fricassee I mentioned in my introduction and the multi-layered porchetta stuffed with apricots, ginger and sage, served with a red cabbage puree. 
Anyone not staying in the hotel won't have the opportunity to have the full-on experience, which starts at breakfast with the chef's home made kiwi jam on top of a 'order whatever you want' policy as the aim here is to please. 
( www.andronisexclusive.com ,Tel: 2286072041-43)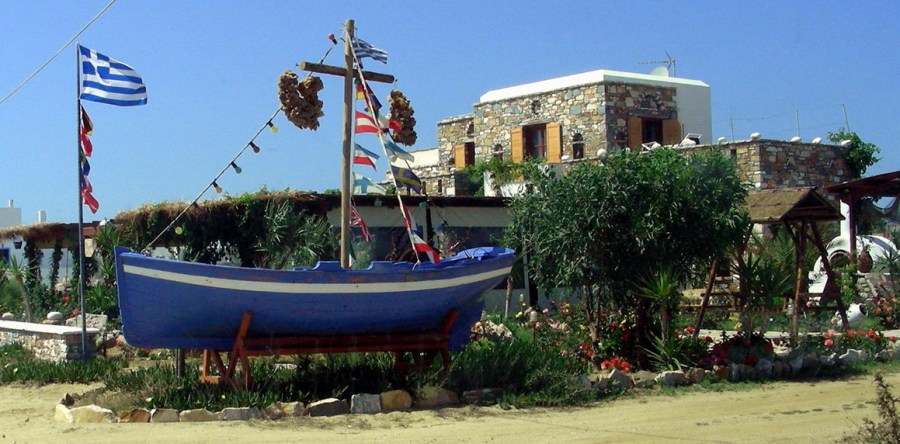 Petrino Beach & Restaurant, Plaka Beach, Naxos
You could easily miss Petrino on the vast beach of Plaka and I would have done exactly that if it weren't for my dear Gikas Xenakis (from Aleria) who noticed I was on the island via social media and told me I had to experience Konstantinos Houzouris' cooking. I was so thankful for his tip after my meal.  The very young Houzouris simply left me speechless. Where to begin? Having studied Sociology with a postgraduate degree in Criminology, he then went on to study photography with Platonas Rivelis (Photographic Circle) and creative writing at the National Book Centre. He wrote a book while studying at culinary school in Athens and then went straight into the family business in Plaka where he now cooks every summer. This is unique Naxian cοοking that combines Cycladic minimalism with fantastic local ingredients and modern techniques. Take the amazing mousaka with aged arseniko cheese or the yiouvetsi with fish fillet, vegetables and citrus powder which basically encapsulated the flavours and smells of Naxos. Make a note of this name and definitely visit this restaurant if you're ever on this beautiful Cycladic island. Summer's not that far! (Tel: 22850 41589)
User Comments
Login or register to join the conversation