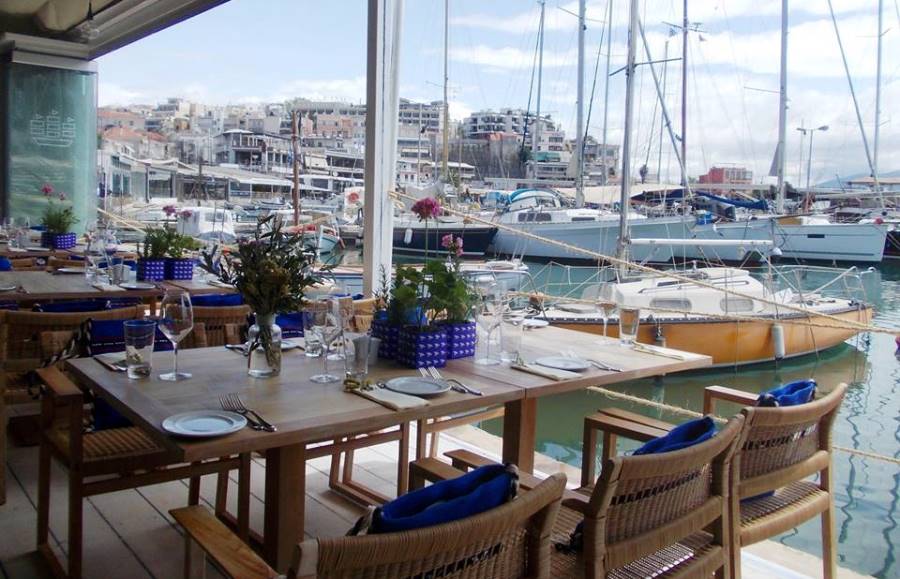 Varoulko's return to Piraeus, after nine whole years, was the gastronomic news of the summer. Particularly since this time the emblematic restaurant is not "hidden away" in some alley but has secured a privileged spot right next to the water's edge in picturesque Mikrolimano marina. 
I was curious about the aura, the feel of the new venue. And I couldn't help wondering: "Will it be the real Varoulko?". "Will its culinary identity have changed?" Well, the atmosphere is wonderful and the answer to the other two questions is... yes! Replying in the affirmative to both these questions may appear to be something of an oxymoron, but the truth is that Varoulko and Lefteris Lazarou have a very strong identity and a remarkable history, both far too important to relinquish. Yet at the same time, how could a location as vibrant and idyllic as Mikrolimano not affect a restaurant?  
So, what do we have here? First of all, a Varoulko that operates in more simple mode at lunchtime, with easier, less expensive, but always technically impressive dishes (try the amazing, velvety herring dip, the marvellous steamed clams or the expertly fried tope shark with delectable garlic dip and you will understand), and in the evening, a Varoulko that becomes more gourmet. There is no doubt, however, that it has taken a deliberate step backwards from its familiar gastronomic self. I could say that the return to Piraeus has been accompanied by a return also to the slightly more straightforward cuisine served at the restaurant prior to 2005. The quality remains just as high, the precision is equally evident, the ingredients are excellent as always, but there has also been a step backwards in terms of level of inspiration and complexity.
I could say that in choosing such a popular location, Varoulko has also become more gastronomically... democratic. Not only are dishes less demanding and more comprehensible, but the median price too has dropped. Particularly worth noting in this respect is the admirable wine list with many fine choices at prices under €20 per bottle! Please don't get me wrong (in any case the rating says it all, even if it is half a point lower than my last review), we ate very well indeed. It is clear that behind each dish, even the simplest, there is a chef and a team with great skills and impeccable technique. Take the Messolonghi bogue for example, served with a slice of wonderful, crispy bread on a silky pea cream and "brushstrokes" of tomato marmalade, Metsovone mousse, smoked aubergine purée and powdered prosciutto, all of which were exquisitely combined. In contrast with the many ingredients of that dish, the red mullet fillets – crisp on the outside, succulent inside – are accompanied in exemplary fashion with lime, while I was completely taken aback by the deep flavour of the perfectly cooked orzo with shrimps. Lastly, pastry chef Dimitris Chronopoulos offers a number of delicate desserts, the stand-out for me being the amazing chocolate.  
Both as a restaurant critic and as a fan of haute cuisine, I do see a slight descent, but the truth is "Varoulko Seaside" is precisely what a very good seafood restaurant in Mikrolimano marina should be; and people acknowledge this by filling the place, even on a Monday night, which is when I went. So? Let the critic grumble; you enjoy it!
* The rating is for the "regular" evening service and prices. A very interesting and varied menu is served at lunchtime for €25 per person!
User Comments
Login or register to join the conversation