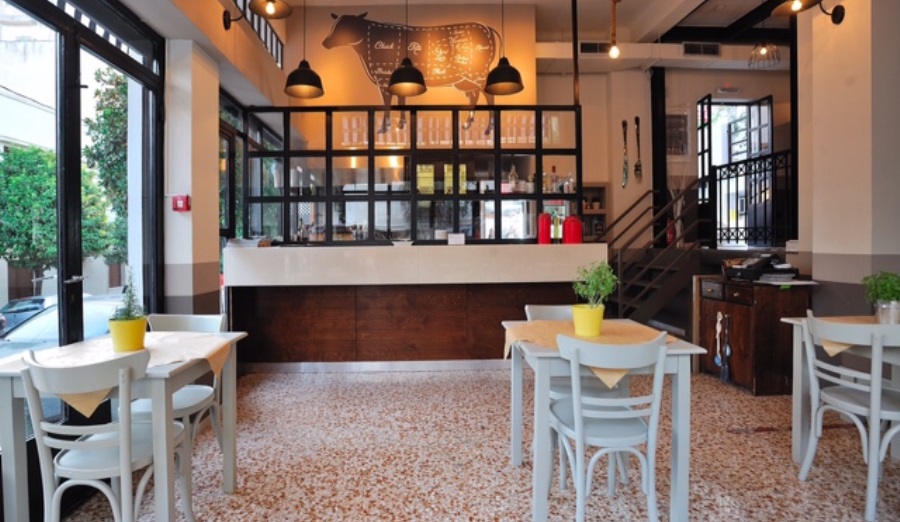 I liked To Kreas (lit. "The Meat"). It certainly sets the standard for its category. It could easily have been another modern-style taverna, but it isn't. It could have been an everyday, trendy restaurant, but it's more "alternative". It might even have been an American steakhouse, but its soul is quintessentially Greek. In actual fact, it's all the above; a combination it pulls off without the slightest hint of awkwardness.
Its owner, Yiannis Roussos, along with the manager, Michalis Angelidis (older readers will remember the nephew of Aris Tsanaklidis from Melrose and later, Melrose Bistro) have succeeded in combining all the diverse elements most adeptly. In doing so, they have created a restaurant with style and attitude which suits Petralona's vibrancy to a tee. This particular Athens neighbourhood, by  the way, is becoming increasingly interesting from a gastronomic viewpoint.
The Josper charcoal oven sets the tone in the kitchen. This amazing oven has gradually become the ultimate marketing tool for restaurants with a focus on quality comfort food. But let's get back to To Kreas, and in particular, its cuisine. I shall begin at the... end. With my conclusions, that is. I liked the fact they pay special attention to the sourcing of ingredients. I liked the fact there are ideas behind the food, which is flavourful and interesting. I was pleased to see that prices were reasonable. But a little more attention would not go amiss as far as execution is concerned.
The baked potato with crème fraîche and (a little) ham was undercooked; the "foodie's" burger patties with spicy tomato sauce and an egg were delicious but there was absolutely no cohesion, resulting in more of a... mincemeat dish. And when the regular burger patties arrived it became clear why this was so. Again, they were very tasty but fell apart too easily, while the accompanying chickpeas were almost raw. The Iberico spare ribs were very good indeed but should have been cooked a tad longer. On the other hand, the crispy zucchini sticks were impeccable and the dip of goat cheese and tomato paste provided the perfect match. The beef souvlaki deserves an award for tenderness and succulence, while the subtly spicy sauce was sublime. The American Black Angus picanha may have lacked depth of flavour, but it was perfectly cooked, delicious and tender. And the rich garnishes that accompany the meat dishes are another strong point of the restaurant.  
Throw in a short but novel wine list with attitude and good prices, a tasty though somewhat "amateurish" mille-feuille with crème pâtissière and fruits of the forest, the friendly, laid back (and again, a little amateurish but here quite fitting) service, and you have the complete picture of a restaurant at which I believe you will have a good time, just like we did. 
User Comments
Login or register to join the conversation