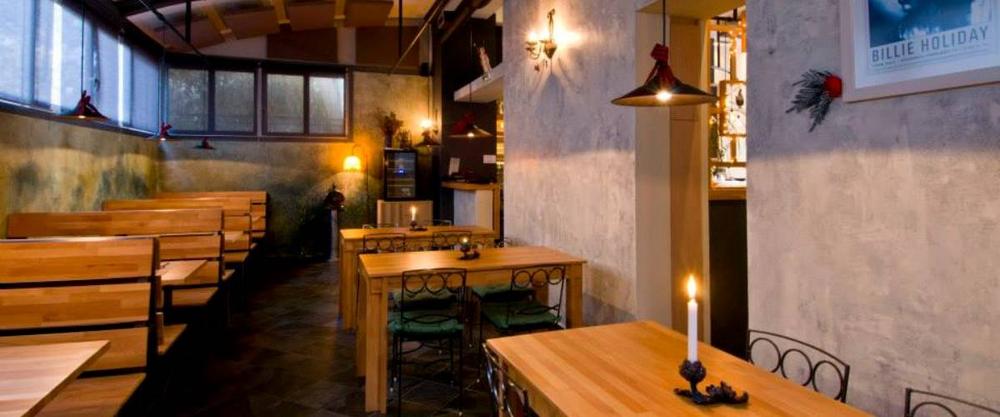 In recent years I have never been more optimistic about the gastronomic scene in Athens than during yesterday's visit to The Holy Goat! Full of new faces; a young crowd you usually see at small bars in the city centre, with a lively, upbeat atmosphere, relaxed, unconventional and punk rock music playing from the adjacent bar: this is the gourmet restaurant for 25-year-olds! To hear young waitresses with bare midriffs and navel rings telling me that my dish has a "hint of garlic" or "apple foam" was a surrealistic and very pleasant experience! But I spoke of optimism and that's exactly what I felt. For this place is something of a "prep school", preparing customers who in the not-too-distant future will seek and demand food that is better, more honest and more interesting… and it looks like there's a lot of them!
Sometimes, a restaurant's intentions and underlying philosophy are more important than a dish-by-dish review and a rating that must inevitably take everything into consideration and be uniform for all types of restaurants. I say this because although the cuisine at The Holy Goat may be inconsistent and with certain shortcomings, the restaurant has attitude, originality and boldness… which it's not afraid to express. Moreover, I can say with certainty that at €5-7 for starters and €9-12 for main courses, you won't find better value for money anywhere. Perhaps better, but not as interesting and original!
The menu I tried had just been changed and certain extreme combinations that in the past had kicked up a storm in social media were missing. The risotto with light curry, langoustine bisque, apple pieces and foam was extremely tasty and aromatic, though it should have been creamier and perhaps boiled a little less. I also tried the slender cannelloni with ox liver on a runny strawberry jelly that combined admirably, served with hare confit, which I would have preferred juicier. The "croissant" (of lasagne) with eggplant, feta cheese and olive with tomato marmalade was the only mediocre dish of the evening: mushy filling, soft exterior, vapid flavour.
Of the main courses, the rooster with paprika and a little tomato was superbly cooked and quite delicious, with a delicate mustard and lime sauce and garlic foam. The beef was properly cooked but no great shakes in terms of quality, with a very good amaretto sauce and an uninspiring vegetable tart. Generally speaking, the kitchen displayed a lack of skill in the way it handled vegetables, which may explain the insufficiently spring feel of the new menu. Lastly, another of the restaurant's strong points is the short but interesting list of wines, excellent draught beers and drinks.
The Holy Goat is a modern, appealing restaurant, with attitude, very good value for money and completely in line with its location and clientele.
Holy Goat
Phone: (+30210) 3410296
Website: http://www.theeholygoat.gr
Open: everyday for dinner, Monday only for drinks
Price per person (€)*: 25-30
* we do our best to reflect the actual price range per-person of a full meal including first and main courses, desert, water and half a bottle of wine or one beer depending on the type of restaurant.
Scoreboard Key
0 - 3

Poor

3.5 - 4

Average

4.5

Acceptable

5 - 5.5

Satisfactory

6 - 6.5

Good

7 - 8

Very Good

8.5 - 9

Outstanding

9.5 - 10

Excellent
| | | | | | | | |
| --- | --- | --- | --- | --- | --- | --- | --- |
| 0 - 3 | 3.5 - 4 | 4.5 | 5 - 5.5 | 6 - 6.5 | 7 - 8 | 8.5 - 9 | 9.5 - 10 |
| Poor | Average | Acceptable | Satisfactory | Good | Very Good | Outstanding | Excellent |
User Comments
Login or register to join the conversation