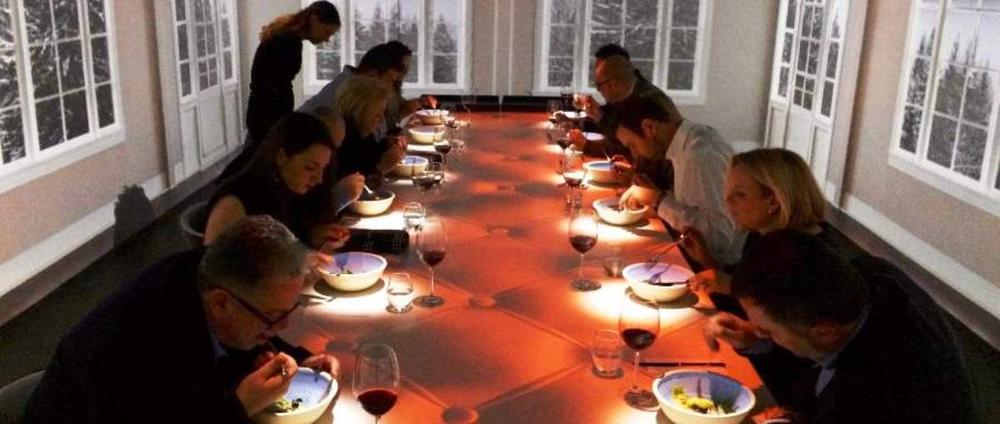 If someone were to ask me what 'All Senses Cuisine' meant, I would say that it must be something that excites you and then my mind would wander to restaurants that can do that with a dish or two.  Not quite 'all senses' though, is it? The brand new and innovative restaurant by Anastasios Sotovikis and Konstantina Batziou, is under the same roof as super trendy Spiti Neat Eat in Glyfada.  There are only 12 covers and a Danish chef with 2 Michelin stars to his name: Ronny Emborg. To be honest, I had my misgivings before going, especially when it came to the food itself.  I was wrong.  Lets take it from the start though.
The concept: Sensory Kitchen
The focus here is on engaging your senses but not necessarily just with the food.  This is Ronny Emborg's idea of combining a series of dishes with an impressive audiovisual element which has never been seen in Greece before now.  The difficult task of 'stage managing' this falls to Anastasis Sotovikis and Konstantina Batziou and the Indigo View team, including award winning director Thodoris Papadoulakis.  The result is magical with so many highs that I found it hard to concentrate on the actual food.
I was taken aback and touched at the same time by the grandmother's gaze, which was fixed on me, so by the time I had processed whether I liked the Mesologgi fish roe tart with sour cream and almond, we had already moved to the next stage. You feel like you're starring in a film whose script you don't know. You smell the sea urchins and carrots and nothing prepares you for the switch from the tranquillity of the ocean to an otherworldly fire which you will be transported to with some wonderfully burnt bread, smoked cheese and salmon eggs. I will have to stop here though; I don't want to give everything away as this experience should really be a personal one.
The interior is a high tech 12-seater monastery table with an open kitchen next door where everything takes place, i.e. the two menus Odyssey and Journey.  Odyssey has 24 stages, lasts 2 hours with a small break in the middle and costs 150 euros.  Journey is shorter with 12 stages, lasts for an hour and costs 95 euros including juices, wine and coffee. The prices might seem over the top but, trust me, they're not.  In Sublimotion, Paco Rancero's restaurant in Ibiza, the menu costs 1500 euros, just a little more expensive than Shanghai's Ultraviolet which shot straight to position 24 in the world's top 50 restaurant list.
The food: a few issues but an overall outstanding success
Personally speaking, I always put the food above everything else.  With All Senses Gastronomy, Ronny Embord didn't just come up with a menu.  He envisaged it, designed it after having studied Greek gastronomy and delivers it alongside his chef de cuisine, Trine Frausing, with great aplomb.  If we take the audiovisual element away, I feel that its audience is the more experienced foodie without that being a negative thing. Emborg might be young but his pedigree is impressive.  He was 2007's Danish chef of the year, the sous chef at the great Geranium in Copenhagen and has worked in legendary kitchens like Mugaritz and El Bulli.  Three months ago he took over the 2 Michelin starred Atera in New York where you'll find some of the same dishes as All Senses; like the rose with beetroot and scallop tartare, a truly fine amuse bouche. His dishes stand out for their impeccable technique, great look and equally great flavour.  The kohlrabi calamari with mussel sauce was one of them, so was the raw mackerel with green tomatoes.  There was also the challenging egg yolk made with oysters, parsley oil and cauliflower; a little gem if you ask me.  There are some dishes which don't quite hit the mark but the restaurant is only one month old.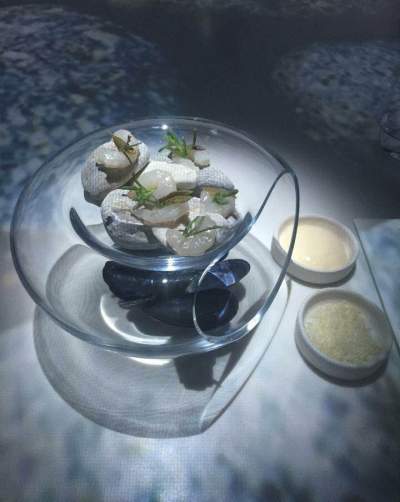 The lamb tartare with horseradish, sea buckthorn and herbs is not great as the live meat grinder does mess with the texture and flavour.  The John Dory in onion broth was gorgeous if a little overcooked which I can't but notice when the restaurant is at this level. The best dish was the celeriac with Aegina peanut crème and apple; true perfection.  The desserts were just as amazing as well: the joyful 'Crèmed Masticha' and the 'Stone with pear ice cream and chocolate ganache' was one of the best sweets I have ever tried.  I could write a whole article about the juices our dinner was paired with.  I would easily go back just for the grilled hay juice or the beetroot and gooseberry one.  The service was so good that it made me feel like I was abroad.
I left All Senses completely charmed and blissfully happy.  I'm curious to see how it develops when it's really found its feet and is ready to reap the fruit of its success.
Lazaraki 12, Glyfada, tel: 210 8980080
User Comments
Login or register to join the conversation