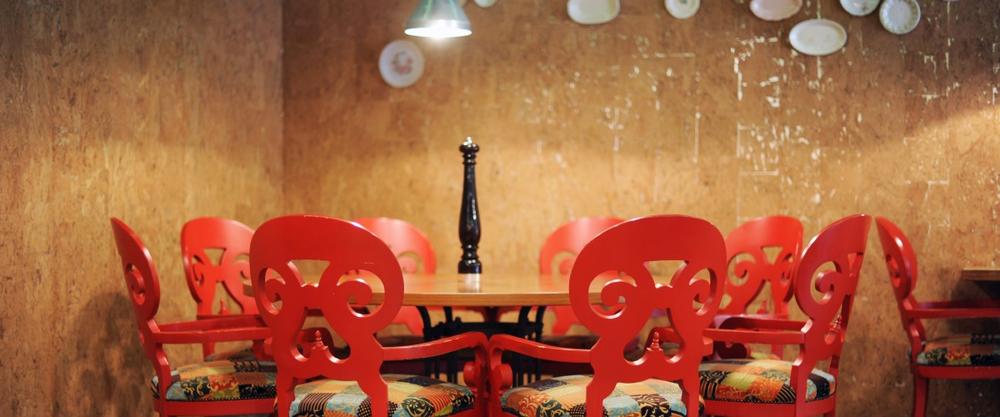 The transfer of talented chef Periklis Koskinas to Alatsi was a very smart move on the part of the restaurant's owner Stavros Theodorakis. Not only on account of the chef's skills, but also because his culinary philosophy suits the restaurant to a tee. Koskinas' cuisine may be characterised by a more general Greekness as opposed to purely Cretan fare, but personally I see this as a positive.
What closely unites the chef and the restaurant is the emphasis on the finest Greek ingredients. In fact this is the cornerstone of Periklis Koskinas' culinary offerings. From this point of view, the young chef has brought a different and very meaningful approach to modern Greek cuisine. He begins with the main ingredients, systematically sourced with care, which he treats with respect and handles with admirable technique, studiously avoiding any gimmicks and contrivances. His thinking in this respect can be seen in the menu, where he names some of his suppliers, as well as in remarkably simple dishes such as Greek salad with finest quality olive oil, wonderfully aromatic tomatoes and well selected, delicious feta (they were out of the sour myzithra).  
He deserves credit for this decision! He has chosen a difficult path precisely because he must compete with the experiences and memories of each one of us from every corner of Greece. The results sometimes vindicate him, other times not. I shall focus on the two most characteristic examples of the dishes I tried. The greens pie that is baked on the spot has spinach, various greens, aromatics and feta. It's very good, with dry, crispy pastry, but I believe we have all eaten better ones. From the pie of such a chef (which moreover costs €14) I have greater expectations. I want the pastry to be tastier, I don't want the spinach to conceal the aromas of the other greens, the texture of which I would expect to be livelier and crunchier, and lastly in my view the filling as a whole should be more appropriately salted and better flavoured overall. On the other hand, when I tasted the amazing chicken soup with noodles, vegetables, hot peppers, poached egg and smoked eel, I suddenly realised the heights that Greek cuisine can attain with the approach adopted by Periklis Koskinas! This is exactly what the kitchen does best. It takes an extremely familiar, even dull dish and – ingredient by ingredient, step-by-step – transforms it into an extraordinary creation. In this particular dish there is nothing superfluous; everything is superbly balanced. The egg (like the delicious chicken, from the Bralos farm) breaks up in the soup, complements its aromas and gives it volume, while the soup itself is not only deeply flavourful but has different levels of taste.
If all the dishes at Alatsi were like this soup, we would be talking about one of the top Greek cuisine restaurants in the country. Some, for instance the tender and very tasty kid goat with bitter, al dente spiny chicory and discreet egg-lemon sauce, which is served in a cooking pot for 2-3 persons, approximate the high level of the soup. But others, such as the slow cooked pork shoulder with – sublime! – grilled carrots and a bland, watery purée, are nowhere near that standard. More work is needed on the desserts. The rice pudding was good, the loukoumades very pleasant, with wonderful honey, but I expect much more. Lastly, I would like to see a more substantial and comprehensive list of Greek wines in line with the restaurant's new profile. Such emphasis on Cretan vineyards is now quite pointless, unless accompanied by corresponding emphasis on the country's other important wine growing regions.
Nevertheless, Alatsi is already better than at any other time in its eight years of operation! And it is certain that here, Koskinas' approach can generate significant progress for Greek cuisine and this is reason alone for supporting his endeavour.   
Alatsi
Phone: (+30210) 7210501
Website: http://www.alatsi.gr/
Open: Daily, noon- evening. Except Sunday.
Price per person (€)*: €35-50
* we do our best to reflect the actual price range per-person of a full meal including first and main courses, desert, water and half a bottle of wine or one beer depending on the type of restaurant.
Scoreboard Key
0 - 3

Poor

3.5 - 4

Average

4.5

Acceptable

5 - 5.5

Satisfactory

6 - 6.5

Good

7 - 8

Very Good

8.5 - 9

Outstanding

9.5 - 10

Excellent
| | | | | | | | |
| --- | --- | --- | --- | --- | --- | --- | --- |
| 0 - 3 | 3.5 - 4 | 4.5 | 5 - 5.5 | 6 - 6.5 | 7 - 8 | 8.5 - 9 | 9.5 - 10 |
| Poor | Average | Acceptable | Satisfactory | Good | Very Good | Outstanding | Excellent |
User Comments
Login or register to join the conversation