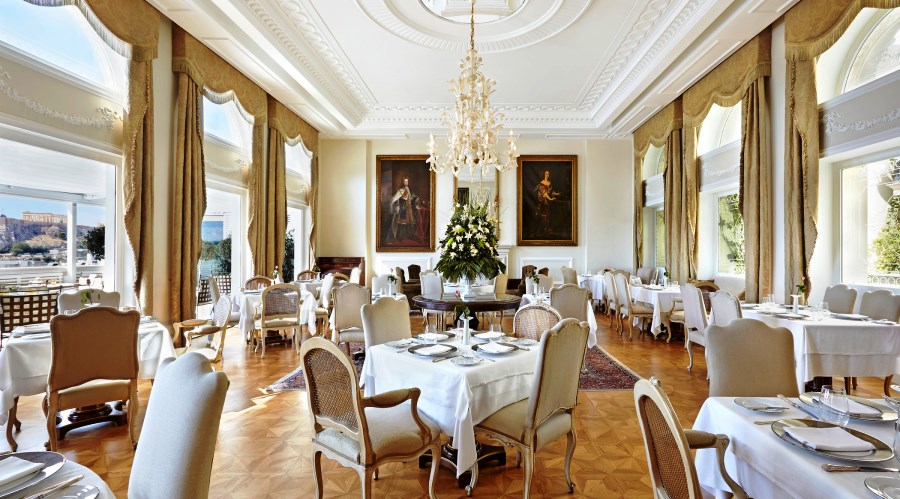 If there is one restaurant in Greece that – in terms of the venue itself – meets the criteria of a "grand restaurant", then without a doubt it is Tudor Hall. In fact the acquisition of the King George Palace hotel (which houses the restaurant) by the group that manages the adjacent Hotel Grande Bretagne has been marked by a number of interventions that have made the restaurant even better, especially with regard to that preposterous veranda, which has now been transformed into an attractive patio with a commanding view of the Acropolis and the Parliament building.
But the substantial improvements are even more important than the aesthetic enhancements. Following a remarkable succession of transfers, purchases and sales, Chef Sotiris Evangelou has returned to the restaurant where he began his – Athenian – career! And I dare say he is enjoying his finest hour. With Alexandros Koskinas as his right-hand man, Evangelou proposes fine cuisine with a Greek accent and Greek soul, but also one that employs French and modern techniques while masterfully combining finesse with strong, exuberant flavour! I may have one or two criticisms, but primarily because I believe Tudor Hall – in its current circumstances – can climb even higher. But the fact of the matter is that I had one of the most enjoyable meals of the year there!
The amuse bouche, a calamari cooked to perfection with exquisite aioli, on a bed of beetroot and a drop of olive oil, served as an appropriate introduction to the finesse of the cuisine. The scallops with mushroom ragout and sweet garlic cream which followed made for a spectacular dish that I believe is completely expressive of the unique balance of delicacy and extravagance which characterises Evangelou's cuisine. The briam, which came next, was densely flavourful, perfectly complemented by the delicious feta...  quite delightful, although the peppers – as is often the case – figured too prominently in the dish. Then came the hand-twisted pasta with beef cheeks, tomato, eggplant and graviera cheese... a rustic yet exquisite dish full of taste! Turning to the main dishes, the chicken – marinated in yoghurt, honey and thyme – also featured saffron and was served with crispy potatoes and a layer of rocket with very good olive oil; yet another delectable and stylish dish which, if a little juicier, would be truly unrivalled. The lamb is served in two versions (perfectly pot roasted and in noisettes with a pistachio crust, together with a velvety purée of goat cheese and roasted fennel) and the taste is out of this world!
Equally magnificent were the desserts. The revani with lemon cream, mastic foam and ice cream with orange blossoms is gorgeously syrupy and very elegant, but the revelation for me was the eggplant! I should clarify at this point that, in general, I dislike sweets using vegetables, since they rarely manage to convince me that they are not just gimmicky but have something meaningful to say. So, I ordered the eggplant with the thought at the back of my mind that I might catch the restaurant out! No way! It left me speechless! A layer of eggplant like a spoon sweet or marmalade perhaps, together with tiny bitter chocolate jellies, black tea ice cream and almond foam composed a startling and multi-level dessert, one of the finest in the city!
Complementing the cuisine of Sotiris Evangelou is a very good wine list with leading Greek and imported labels, very well selected, with plenty of options by the glass, while the service is extremely polite, with just the right degree of relaxed and 'cool' for a restaurant of this type. If I had to gripe about something, the only thing that comes to mind is the absence of the substantial part of the wine serving ritual. Minor details, you might say... and you'd be right; it's just that the standard of the restaurant is so high that any shortcoming is immediately evident.
The combination of cuisine, ambience and location makes Tudor Hall one of the most emblematic restaurants in Athens and provides a shot in the arm for high-end tourism. We all should have it in mind for a special occasion and it really would be a shame if we didn't. It may not be cheap, but the prices are absolutely justified!   
Tudor Hall
Phone: (+30210) 3330265
Website: http://www.kinggeorgepalace.com/
Open: Daily, noon- evening
Price per person (€)*: €70-90
* we do our best to reflect the actual price range per-person of a full meal including first and main courses, desert, water and half a bottle of wine or one beer depending on the type of restaurant.
Scoreboard Key
0 - 3

Poor

3.5 - 4

Average

4.5

Acceptable

5 - 5.5

Satisfactory

6 - 6.5

Good

7 - 8

Very Good

8.5 - 9

Outstanding

9.5 - 10

Excellent
| | | | | | | | |
| --- | --- | --- | --- | --- | --- | --- | --- |
| 0 - 3 | 3.5 - 4 | 4.5 | 5 - 5.5 | 6 - 6.5 | 7 - 8 | 8.5 - 9 | 9.5 - 10 |
| Poor | Average | Acceptable | Satisfactory | Good | Very Good | Outstanding | Excellent |
User Comments
Login or register to join the conversation