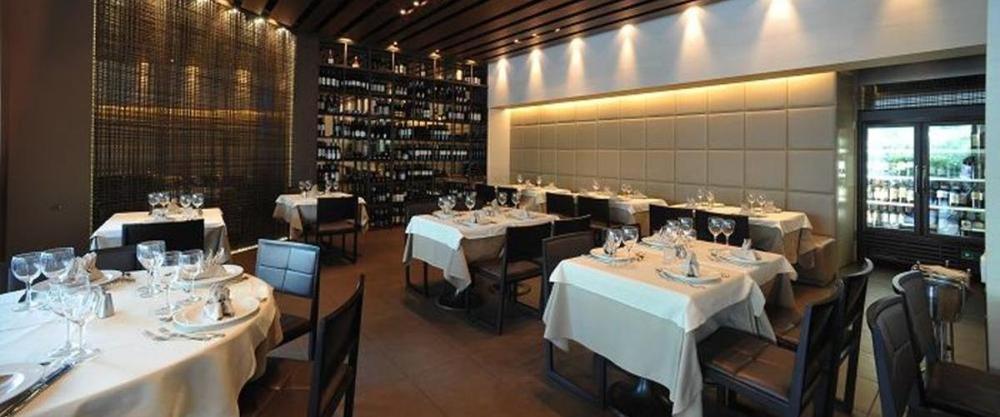 My Tartare review from a few years ago read: 'If a good aged beef could replace the veal and if the average price, including wine, could be about €40 or €45, then you'd have very little to complain about'.  I went back a few days ago and I was happy to see that my wish had become reality. And then some.
The classic menu now includes an American rib-eye steak, the quality of which  is much higher than before; Odysseas Polymeris is clearly doing his homework.  Tartare now imports Galician cote de boeuf from a special milk producing herd whose animals are not killed before they become 10 years old. The meat itself is also aged for a good while too (a bit like the Rubia galea served at Vezene but with a milder flavour).  These are not mainstream flavours but they will appeal to experienced carnivores.  It's also the mark of a new and very interesting direction for Tartare.
The new entries are joined by all the classics; the wonderful French fries which you can never get enough of, the perfect chocolate soufflé, the crepes and of course the steak tartare.  There are even more great new additions, like the warm foie gras and the thin onion and bacon tarte flambée.
Tartare is basically about the meat though, in all its classic French glory.
  Its new focus, on better raw ingredients, does make for a better restaurant.  However my point about the elevated prices remains.  They have some interesting reds on their wine list, which they should be encouraging their customers to drink.
Tartare
Phone: (+30210) 9680320
Address: 52 Panagouli , Glyfada, Athens
Website: -
Open:

Open every day, apart from Sunday night

Price per person (€)*: € 55-65
* we do our best to reflect the actual price range per-person of a full meal including first and main courses, desert, water and half a bottle of wine or one beer depending on the type of restaurant.
Scoreboard Key
0 - 3

Poor

3.5 - 4

Average

4.5

Acceptable

5 - 5.5

Satisfactory

6 - 6.5

Good

7 - 8

Very Good

8.5 - 9

Outstanding

9.5 - 10

Excellent
| | | | | | | | |
| --- | --- | --- | --- | --- | --- | --- | --- |
| 0 - 3 | 3.5 - 4 | 4.5 | 5 - 5.5 | 6 - 6.5 | 7 - 8 | 8.5 - 9 | 9.5 - 10 |
| Poor | Average | Acceptable | Satisfactory | Good | Very Good | Outstanding | Excellent |
User Comments
Login or register to join the conversation