And now is a good time to put our misery aside and offer ourselves some real experiences and memories.
After writing reviews for FnL for almost 18 months, the time has come to take a look at the country's leading restaurant. I don't necessarily believe that I will be sharing anything new with FnL readers, but there is no better time for reviewing such a restaurant. We may be going through a difficult time, with financial problems that limit our desire for gastronomic experiences of this sort, but then again, once in a while, connoisseurs of fine food must... recharge their batteries. And Spondi is just the place to do it, one of the few venues in Athens which remind us that we are part of the developed world, one of only a handful of restaurants in the country of truly international standard.
The departure of Arnaud Bignon last year highlighted the strong foundations that have been laid at the restaurant all these years, and cast the spotlight on an outstanding Greek chef, Aggelos Lantos. I visited the restaurant on several occasions over the past few months, so I had the opportunity to try many of the dishes two or three times. I believe that Bignon's absence is not noticeable. Each dish left the kitchen at its familiar, very high level. There may be a few ups and downs but that was always the case anyway. To be honest, I don't know whether Aggelos Lantos could craft a menu of his own at this level, but what I do know is that he executes this menu with consummate skill.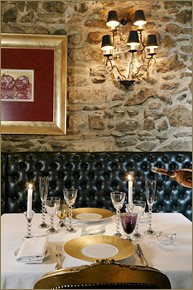 Some dishes in particular could easily be signature dishes of a three-star restaurant. I challenge anyone to recommend better venison than this masterpiece in an elegant crust of Sarawak pepper and – now – perfectly balanced hibiscus sauce (improved since the Bignon period), or tell me how one could possibly enhance the amazing sweetbread, cooked to perfection, crusty on the outside and silky inside, with coffee and liquorice, accompanied by velvety Jerusalem artichoke purée and incredible 'ravioli' of coffee jelly. Also outstanding are the cod with Coco de Paimpol beans and shitake mushrooms in an unbelievably tasty bouillon delicately flavoured with ginger, coriander and tamarind. It combines pure deliciousness with incomparable finesse and an airy texture that is quite enchanting.
There is no point describing each dish separately. Depending on your personal taste, whatever you order is certain to be of the very highest standard. Even if you go to Spondi to try some of the offerings on the more affordable €69 menu, you will experience the excellence of a Michelin two-star restaurant.
So, is everything perfect at Apostolos Trastelis' restaurant? No, of course not. But if I was pressed to identify a problem, it would not be related to the cuisine but the service and atmosphere. Not that the service is not appropriate, precise, professional, it's just that sometimes – especially when the restaurant's tireless manager Evripidis Apostolidis is not around – it can be a little... slack. This, along with a dining room that unfortunately does not fill, deprives Spondi of the feel and vitality of a grand restaurant. Lastly, it would be a serious omission not to make special reference to the desserts. The sweet delights prepared by Giorgios Platinos are, without exaggeration, among the best in Europe. Try the mind-blowing chocolate that I wrote about just the other day, the simply perfect hazelnut soufflé or the celebrated 'Coffee', in which each flavour, aroma and texture is in absolute balance, as I am sure you will agree.
Some may say that Spondi has no place in crisis-stricken Greece or that restaurants internationally are becoming more relaxed, simpler, more 'playful'. And to some extent I agree. But every 'civilised' megalopolis 'must' have at least one such restaurant, just as it should have a hotel like the Grande Bretagne and so on. It is good that the crisis is guarding us against lifestyle excesses, provided it doesn't condemn us to banality and misery. 
Scoreboard Key
0 - 3

Poor

3.5 - 4

Average

4.5

Acceptable

5 - 5.5

Satisfactory

6 - 6.5

Good

7 - 8

Very Good

8.5 - 9

Outstanding

9.5 - 10

Excellent
| | | | | | | | |
| --- | --- | --- | --- | --- | --- | --- | --- |
| 0 - 3 | 3.5 - 4 | 4.5 | 5 - 5.5 | 6 - 6.5 | 7 - 8 | 8.5 - 9 | 9.5 - 10 |
| Poor | Average | Acceptable | Satisfactory | Good | Very Good | Outstanding | Excellent |
User Comments
Login or register to join the conversation