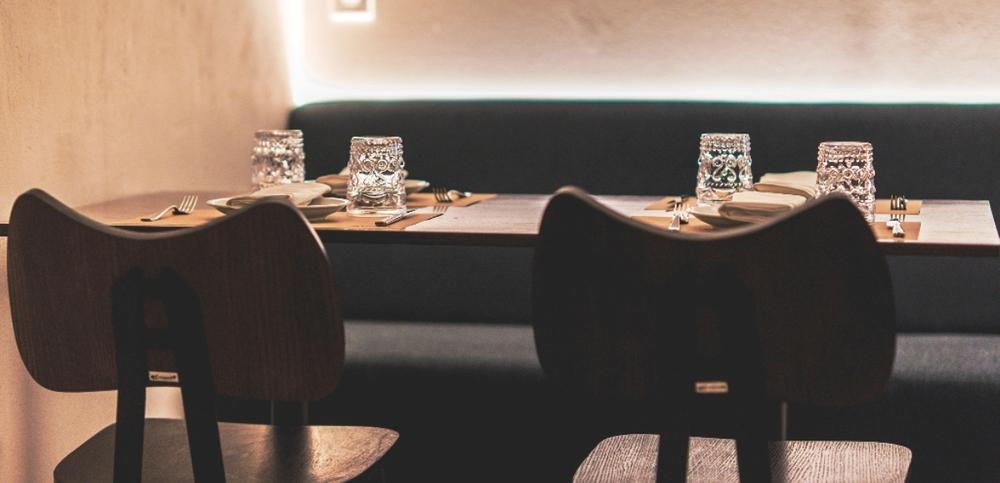 Simul was full of surprises.  I was impressed by its beautifully lit room where everything felt modern, simple and familiar at the same time.  Nothing here reminded me of what was here before (Prunier, an old school Athenian establishment). 
This is the perfect relaxing atmosphere to spend two leisurely hours enjoying Nikos Thomas' food. He calls it "mix & match" in an effort to avoid the overused fusion term. I am going to skip over the roots of the word Simul (simulator, simulation games) and the fact that they talk about "gastronomy in situ" so as to imply that cooking here is like interactive art. 
I like the idea of these tasty dishes being like mini graffiti on my plate but I would rather not over analyse things and just focus on the issue at hand: flavour. What stood out was the perfect homemade bread, their refreshing and ingenious salad combination of persimmon carpaccio, lamb's lettuce and a yuzu-mint mayonnaise, the earthy hot dog with sausage cream, avocado, radish and cheddar and the rooster cooked with wine, trahana and aged graviera cheese. 
Nikos Thomas bases his menu on seasonal produce, combining beloved Greek memories with experience he gained on the way, along with techniques both familiar and international. All of this results in a small interesting published daily, based on available seasonal ingredients.  What else could you possibly ask for?
The fact that I didn't like the combination of trout with the well cooked falafel or that fact that the handmade tagliolini pasta in smoked lamb broth with black garlic wasn't as al dente as I would have liked, are only minor negatives in my book. As far as I'm concerned Simul is a good all-rounder. 
Simul
Phone: (+30) 210 7224737
Address: Ipsilantou 63, Kolonaki, Athens
Website: -
Open:

Open Tuesday to Sunday for lunch & dinner

Price per person (€)*: 37-50
* we do our best to reflect the actual price range per-person of a full meal including first and main courses, desert, water and half a bottle of wine or one beer depending on the type of restaurant.
Scoreboard Key
0 - 3

Poor

3.5 - 4

Average

4.5

Acceptable

5 - 5.5

Satisfactory

6 - 6.5

Good

7 - 8

Very Good

8.5 - 9

Outstanding

9.5 - 10

Excellent
| | | | | | | | |
| --- | --- | --- | --- | --- | --- | --- | --- |
| 0 - 3 | 3.5 - 4 | 4.5 | 5 - 5.5 | 6 - 6.5 | 7 - 8 | 8.5 - 9 | 9.5 - 10 |
| Poor | Average | Acceptable | Satisfactory | Good | Very Good | Outstanding | Excellent |
User Comments
Login or register to join the conversation