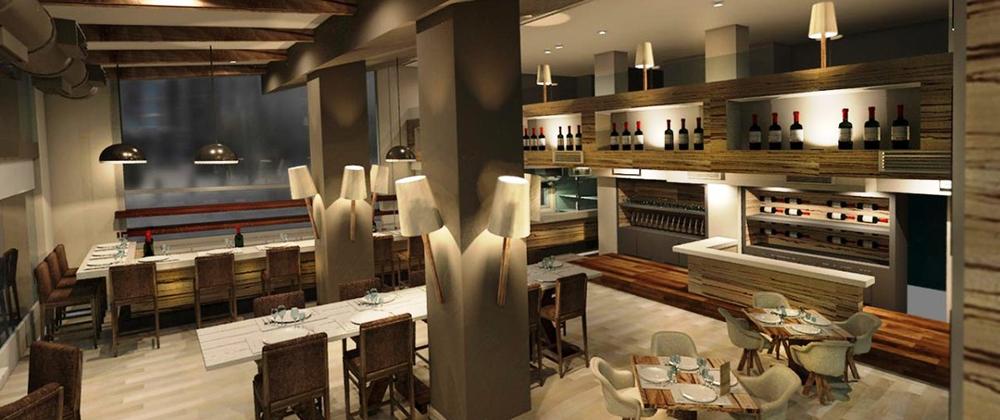 Dal Professore's new location on the corner of Agiou Konstantinou and Kifissias Avenue is modern, comfortable and inviting.  Long gone is the authentic trattoria look but the warm environment remains.  The move and the change in design do seem to have influenced a change in chef Nikos Dimitrokalis and his team.  There is no wood burning oven anymore and therefore no pizza menu but the chef has replaced his absolute dedication to authentic Italian cooking with a love for Italian/Greek fusion.  The new menu includes wonderful products like saganaki with Naxos graviera and citrus fruit marmalade and black boar steak from Bralos farm. He does succumb to current trends by including a very good tuna tartare or a classic Black Angus rib-eye steak instead of difficult to retain at a certain standard of authenticity dishes like bistecca fiorentina.
Nikos Dimitrokalis clearly loves clean but multi layered flavours, something that comes through in his well-made and rich dishes.  His technique is not without fault – there are inaccuracies in the grilling or boiling of some ingredients - but no one can deny the end result is enjoyable.  The title of 'best Italian restaurant in Athens' might not be accurate but you can have a good meal here for about €35 - €40 per head, including wine, which is pretty reasonable.
What Dal Professore needs to work on urgently is its wine list which is small and lacking in many fields but especially in its complete overlooking of Italian wines.  It really is a great oversight considering the design includes many interesting but empty Italian wine bottles!
Dal Professore
Phone: (+30210) 6109988
Website: http://www.dalprofessore.gr
Open: Open Tuesday to Sunday, 5.30 pm to 12.30 am





Price per person (€)*: € 35-45
* we do our best to reflect the actual price range per-person of a full meal including first and main courses, desert, water and half a bottle of wine or one beer depending on the type of restaurant.
Scoreboard Key
0 - 3

Poor

3.5 - 4

Average

4.5

Acceptable

5 - 5.5

Satisfactory

6 - 6.5

Good

7 - 8

Very Good

8.5 - 9

Outstanding

9.5 - 10

Excellent
| | | | | | | | |
| --- | --- | --- | --- | --- | --- | --- | --- |
| 0 - 3 | 3.5 - 4 | 4.5 | 5 - 5.5 | 6 - 6.5 | 7 - 8 | 8.5 - 9 | 9.5 - 10 |
| Poor | Average | Acceptable | Satisfactory | Good | Very Good | Outstanding | Excellent |
User Comments
Login or register to join the conversation