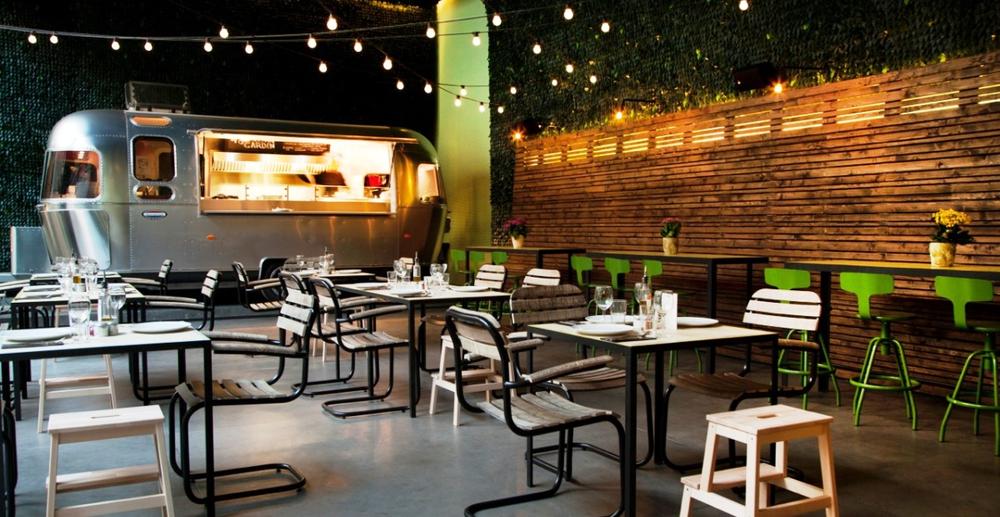 At first glance, 48 Urban Garden may appear to have little in common with 48 the restaurant, apart from the address, but then when you think about it, they both share something essential: concept. Different of course, but at the same time eminently modern and extremely interesting. Congratulations are in order to its creators, Ileana Tounta and George Varvaritis.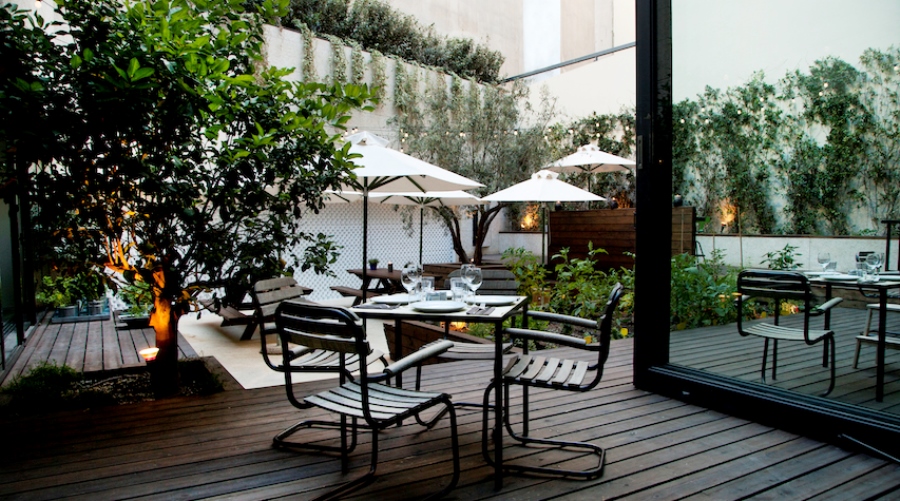 Entering the building that houses the Ileana Tounta Contemporary Art Center, I realize that the name Urban Garden refers to the entire space. The walls of the restaurant's old main dining room are covered with artificial ivy and an Airstream trailer, painted metallic silver, plays the role of a – stationary – food truck, giving the place its character. Enormous, wide-open windows open onto the courtyard featuring multi-level seating areas with picnic tables, bar stools, lounge chairs and beds planted with vegetables, fruit, herbs, etc. The setting is indeed wonderful and completely laid back. Katerina Apostolou and Minna Kolaki of architecture firm AK-A have done a remarkable job! The smooth sounds of soul, jazz and funk complete the very attractive picture.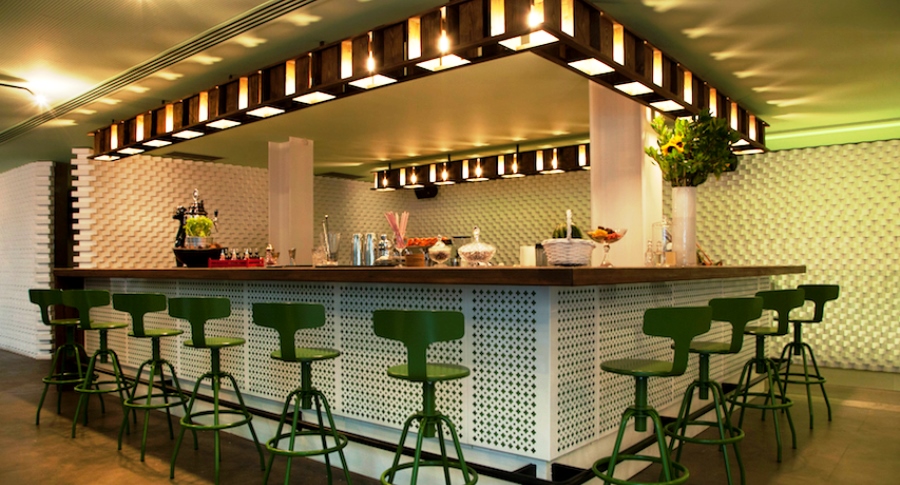 In the kitchen, young chef Yiannis Kandylidis creates with fine seasonal ingredients and proposes a short but intriguing menu with a multi-ethnic soul. The big advantage of his dishes is that they aren't afraid of intense flavours and exuberant aromas; their disadvantage is the technical shortcomings that keep it a level lower than what they could clearly attain. But let's not forget that 48 has been open for only one month. And I must say that prices are extremely reasonable, offering very good value for money, while "interest for money" is outstanding.
I tried the tomato gazpacho bolstered by egg and prosciutto… a dense cold soup, full of flavour, it was clearly a little more lavish than classic gazpacho but lacked its refreshing chilliness. The ceviche with sea bass, exquisite cherry tomatoes, slightly unripe mango, avocado, lime and coriander was the best dish of the evening: aromatic, cool, just the right sharpness, with spicy undertones. Perhaps a little more care with the way the fish was cut would not have gone amiss. The Moroccan burger was a very clever idea, with finely chopped tomato-cucumber-onion, harissa and a little yogurt. This was a very tasty recipe that was let down by the overcooked and not particularly "meaty" patty but also the bun. Burger buns should not be too big and overly rich, otherwise it will obliterate the other flavours and upset the necessary balance. The chicken marinated in soya and honey is served with beetroot greens and cashew nuts. Again, this was a very good recipe in which the ingredients combined perfectly, but it lost points because the chicken was overcooked and dry. Lastly, the light Valrhona chocolate mousse was very good. Add to all this the interesting cocktails and a wine list that, although shorter than I would have liked, offered a number of options.
48 Urban Garden is one of the most interesting openings of recent years and I am sure its culinary offering will soon be even better. But regardless of what the future holds, it offers an excellent and affordable option for a few hours of quality relaxation.  
48 Urban Garden
Phone: (+30) 2130281866
Website: http://48urbangarden.gr/
Open: every night, except Sunday
Price per person (€)*: 25-30
* we do our best to reflect the actual price range per-person of a full meal including first and main courses, desert, water and half a bottle of wine or one beer depending on the type of restaurant.
Scoreboard Key
0 - 3

Poor

3.5 - 4

Average

4.5

Acceptable

5 - 5.5

Satisfactory

6 - 6.5

Good

7 - 8

Very Good

8.5 - 9

Outstanding

9.5 - 10

Excellent
| | | | | | | | |
| --- | --- | --- | --- | --- | --- | --- | --- |
| 0 - 3 | 3.5 - 4 | 4.5 | 5 - 5.5 | 6 - 6.5 | 7 - 8 | 8.5 - 9 | 9.5 - 10 |
| Poor | Average | Acceptable | Satisfactory | Good | Very Good | Outstanding | Excellent |
User Comments
Login or register to join the conversation