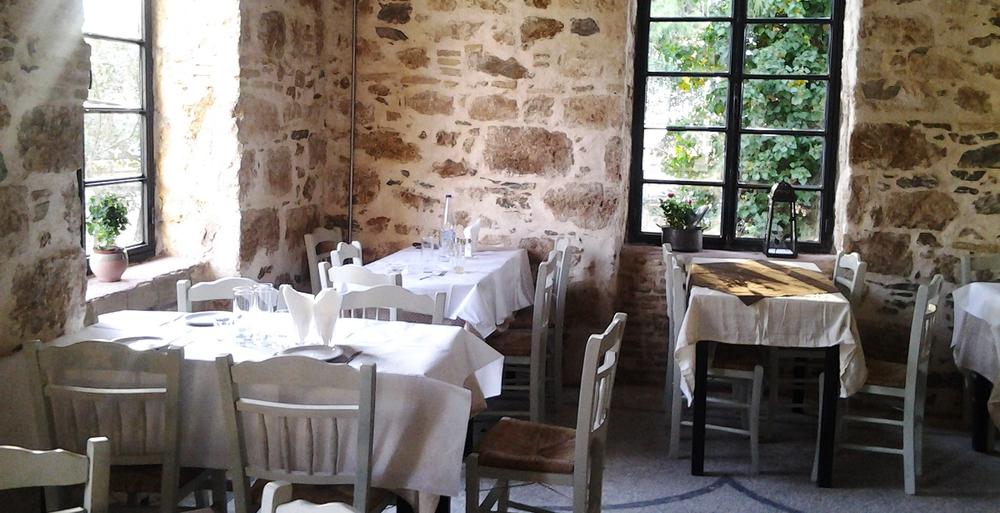 Friends told me about this place because, as you might have worked out, I'm not big on tavernas…not in Athens at least as I feel most of them don't have much to say on a culinary level.  In this case I felt drawn to the place and I didn't regret it.
On the main road and next to a BP garage, Papageorgiou has been in this spot for over 90 years.  They have retained their stone built rooms and are preparing to open a big courtyard in the summer months.  First impressions were good: a simple, warm and authentically rustic space, just as you would want a traditional little taverna to be.
As you know I'm also against what we call 'chima' wine, which is unbottled house wine.  True to their tradition, they still sell chima wine here and I have to admit the red was passable.  I did opt for the beer though as I didn't go for the wine or its history.  It's all about the cooking.  With influences from Konstantinople and the Pontus region (ancient Greek region on the Black Sea), they cook well and with intense flavours. Finally a taverna which doesn't limit itself to chops, ribs, Greek salads and pies.
I knew we were on the right track when the warm bread arrived along with a very tasty smoked cheese saganaki.  The sautéed rosemary mushrooms that followed were heavy on the garlic but nevertheless juicy and delicious. I also loved an oven roasted herby courgette fritter which looked more like a pancake and was served in a little tray.  The fresh tomato and kavourma kayanas (traditional tomato/cheese and egg omelette) was spot on as were the fries and the aromatically spiced pork fry up. As for the mains, the giaourtlou with Adana kebab was alright but I would have preferred the kebab juicier and spicier while the hunkar begendi was tasty but heavy on the garlic yet again.
The menu included some dishes for those who fast during Lent and they also informed me they would be doing monastic dishes as of next week. If you add the incredible 15 euros per head price tag on top of this wonderfully authentic atmosphere, you will understand how a koutouki ended up in the pages of FnL!
Papageorgiou
Phone: (+30210) 6008885
Website: -
Open:

Open for lunch and dinner, Tues-Sun.

Price per person (€)*: 15-20
* we do our best to reflect the actual price range per-person of a full meal including first and main courses, desert, water and half a bottle of wine or one beer depending on the type of restaurant.
Scoreboard Key
0 - 3

Poor

3.5 - 4

Average

4.5

Acceptable

5 - 5.5

Satisfactory

6 - 6.5

Good

7 - 8

Very Good

8.5 - 9

Outstanding

9.5 - 10

Excellent
| | | | | | | | |
| --- | --- | --- | --- | --- | --- | --- | --- |
| 0 - 3 | 3.5 - 4 | 4.5 | 5 - 5.5 | 6 - 6.5 | 7 - 8 | 8.5 - 9 | 9.5 - 10 |
| Poor | Average | Acceptable | Satisfactory | Good | Very Good | Outstanding | Excellent |
User Comments
Login or register to join the conversation