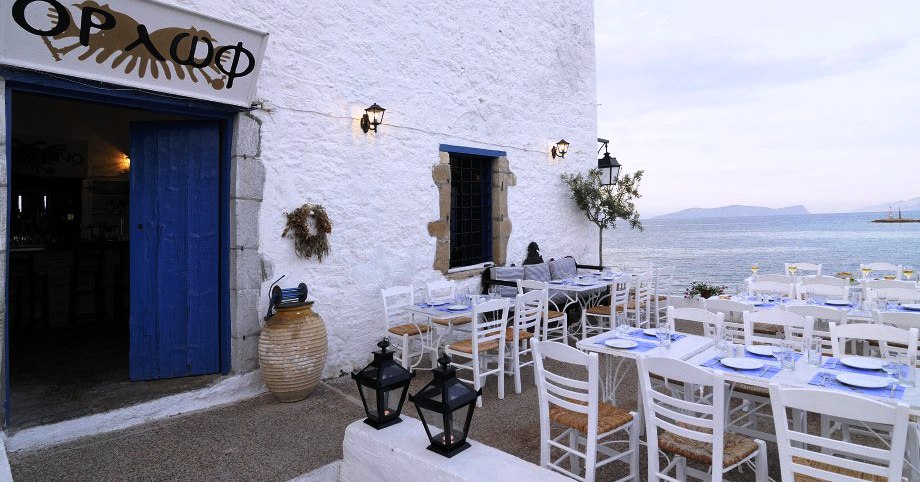 The verandas at Orloff and Poseidonio, albeit different, condense what's good about Spetses.  Strategically located at the edge of the charming old port, Orloff (ex Vyzantino) offers a view you would never tire of.  The surroundings, the service, the music and above all the charismatic host Christos Orloff combine perfectly and form a laid back but chic atmosphere.
This is the ultimate meeting point on the island and has been so for 25 years.  Visitors old and new, royals and locals, all come by Orloff when they're here.  The cuisine is Greek with an emphasis on fish.  Though not life changing, the dishes are satisfying in their delivery and quality of raw ingredients. Definite highlights are the amazing lemon zest taramosalata, the large steamed mussels, the beautiful marinated tuna and the very tasty classic moussaka.  There are some misses as well though, including the weak sea urchin pasta or the seafood orzo pasta where the tomato overpowers everything else and the truffle oil is completely lost. The famous orange pie is simply exquisite: full of flavour and perfectly moist.
The wine list is well researched if a little overpriced. Above all what makes Orloff special is the warm welcome you'll receive which will guarantee you a good time!
Orloff
Phone: +30 22980 75255
Address: Old Port, Spetses,
Website: http://www.orloffrestaurant.com
Open:

Open for dinner everyday, June to September.  May & October, Friday to Sun for lunch and dinner.

Price per person (€)*: 45-55
* we do our best to reflect the actual price range per-person of a full meal including first and main courses, desert, water and half a bottle of wine or one beer depending on the type of restaurant.
Scoreboard Key
0 - 3

Poor

3.5 - 4

Average

4.5

Acceptable

5 - 5.5

Satisfactory

6 - 6.5

Good

7 - 8

Very Good

8.5 - 9

Outstanding

9.5 - 10

Excellent
| | | | | | | | |
| --- | --- | --- | --- | --- | --- | --- | --- |
| 0 - 3 | 3.5 - 4 | 4.5 | 5 - 5.5 | 6 - 6.5 | 7 - 8 | 8.5 - 9 | 9.5 - 10 |
| Poor | Average | Acceptable | Satisfactory | Good | Very Good | Outstanding | Excellent |
User Comments
Login or register to join the conversation