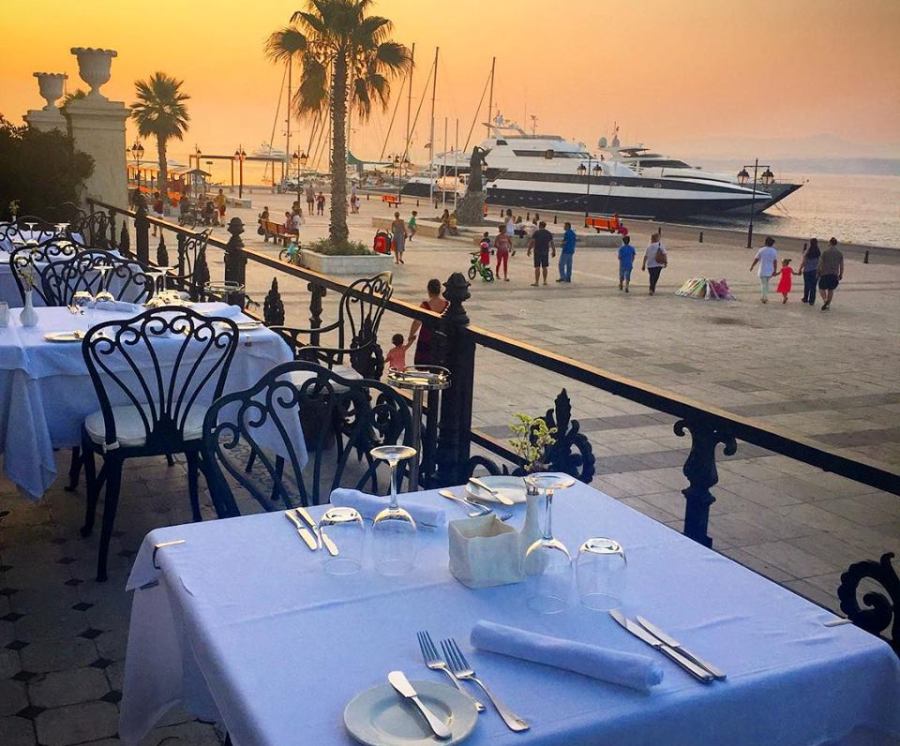 Poseidonion has a really special ambience with history lurking around every corner.  Everything harps back to a glamorous time gone by. What has been a total revelation this year is its gourmet restaurant on its famous veranda right on the promenade.
Along with the impressive new hotel manager, Maria Strati, Poseidonio can also boast about its new chef, Stamatis Marmarinos. His CV is very interesting and after 2 years hidden away in Kos, Marmarinos really lets his talent shine here with a maturity belying his years. His dishes are expertly presented, modern, creative and above all tasty with a focus on clean flavours he's not afraid to bring to the forefront. Inspired by Greek food traditions, he uses top local ingredients: vegetables from the hotel's nursery to local cheeses and freshly caught fish. Apart from 'On the Verandah', the hotel is excelling in all its culinary pursuits; from the Brasserie, which is also a lovely restaurant, to the humble toasted sandwich.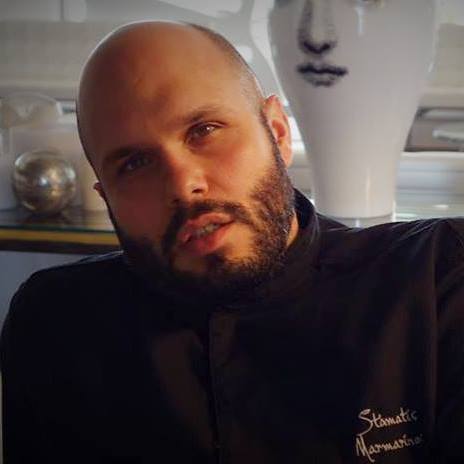 Dinner really started with a bang. The amuse bouches included feta tempura with little carrés of tomato and strawberry, country bread with bean soup (fasolada) mousse and mackerel and amazing moussaka croquette. They were all exemplary and really set the tone. The next course was just as magical: a thick kakavia (Greek fish soup) with a hint of lemon and a very fresh salad made with the hotel's own organic vegetables. I won't be describing every dish but will focus on the ones I feel really show the essence of Marmarinos' cooking. The rabbit stifado with a condensed mousse and served with a propyra bruschetta (a local bread with aniseed and black pepper) and an airy aubergine dip was a wonderfully rich dish with every element made obvious but also perfectly balanced.  The seabass a la Spetsiota was a superbly cooked pavé of fresh fish with a crispy bread crust and served with tomato and basil in various textures; a very modern and refined twist on an old classic.  Lastly the 'Argosaronic baklava' was crispy, very tasty and just sweet enough.  The combination of peanuts, almonds, Ermioni oranges and olives (!) was truly magical.
Stamatis Marmarinos' first season at Poseidonio's veranda elevates the hotel to a completely different gastronomic level and makes it a true foodie destination. There are great things to come both for the chef and Poseidonio hotel.
On the Verandah
Phone: +30 22980 74553
Address: Poseidonion Hotel, Spetses, Spetses
Open: Open for dinner everyday. On Sundays brunch is served too
Price per person (€)*: 60-85
* we do our best to reflect the actual price range per-person of a full meal including first and main courses, desert, water and half a bottle of wine or one beer depending on the type of restaurant.
Scoreboard Key
0 - 3

Poor

3.5 - 4

Average

4.5

Acceptable

5 - 5.5

Satisfactory

6 - 6.5

Good

7 - 8

Very Good

8.5 - 9

Outstanding

9.5 - 10

Excellent
| | | | | | | | |
| --- | --- | --- | --- | --- | --- | --- | --- |
| 0 - 3 | 3.5 - 4 | 4.5 | 5 - 5.5 | 6 - 6.5 | 7 - 8 | 8.5 - 9 | 9.5 - 10 |
| Poor | Average | Acceptable | Satisfactory | Good | Very Good | Outstanding | Excellent |
User Comments
Login or register to join the conversation