It had been years since I was last at Mythos.  Our need to constantly write about new trends, young chefs, talked about restaurant openings etc, does sometimes get in the way of revisiting the old classics where you know what you're dealing with.  Mythos is one of those cases.
There are still tables on a wooden platform built over the sea, soft music performed on the piano and despite the definite need for a freshen up, there is still that magical old school air about it.
Just like everywhere in the Divani hotel group, the service is attentive.  The menu is classic and seafood focused while the wine list is a tad boring, even though there are some good options.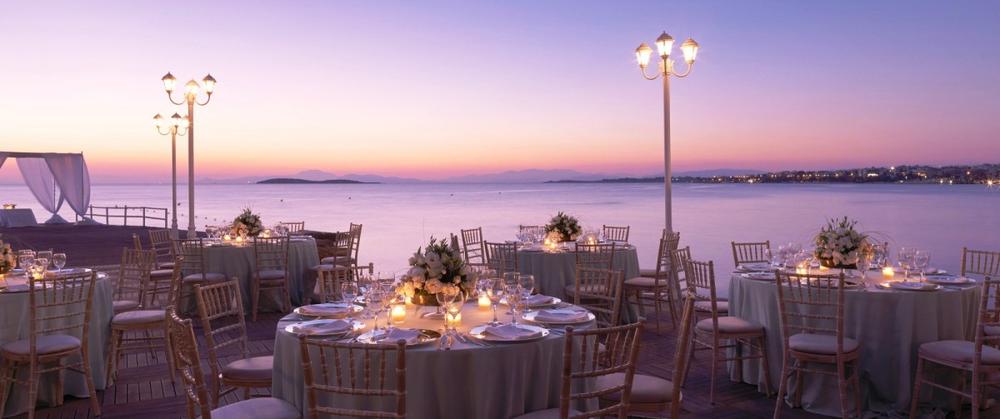 The food won't floor you but it is good overall with some dishes being really interesting.  For example the juicy plaice Meuniere is well cooked, with a crispy skin and buttery flavour.  The refreshing avocado and crab mousse is interesting and so is the slightly thick sliced sea bass carpaccio with citrus fruit, chilli and coriander. The classics are the fried langoustine meat, juicy stuffed calamari and the well-cooked fried fresh fish. The lobster pasta though was mediocre with the tomato overpowering the lobster, while the brill with girolles mushrooms, garlic confit and Moscato sauce was tasty enough but lacking in intensity.
Mythos is a good place to go for a romantic, summertime dinner by the sea.
  It could easily become a top restaurant without losing its traditional values but it would have to revisit them from a more up to date viewpoint.  This is an international culinary trend but one we've yet to master in this country.
Mythos
Phone: +30 210 8911100
Open:

Open for dinner, Monday to Saturday

Price per person (€)*: 65-80
* we do our best to reflect the actual price range per-person of a full meal including first and main courses, desert, water and half a bottle of wine or one beer depending on the type of restaurant.
Scoreboard Key
0 - 3

Poor

3.5 - 4

Average

4.5

Acceptable

5 - 5.5

Satisfactory

6 - 6.5

Good

7 - 8

Very Good

8.5 - 9

Outstanding

9.5 - 10

Excellent
| | | | | | | | |
| --- | --- | --- | --- | --- | --- | --- | --- |
| 0 - 3 | 3.5 - 4 | 4.5 | 5 - 5.5 | 6 - 6.5 | 7 - 8 | 8.5 - 9 | 9.5 - 10 |
| Poor | Average | Acceptable | Satisfactory | Good | Very Good | Outstanding | Excellent |
User Comments
Login or register to join the conversation