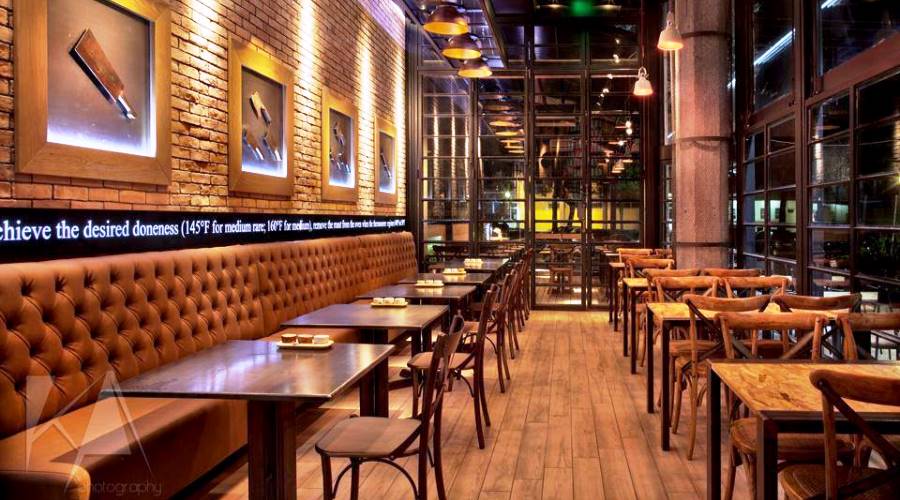 I immediately liked the idea when I heard about it a year ago. An inexpensive meat restaurant that would not resort to the easy solution of chops and pancetta but would strive to offer quality "off-Broadway" beef steaks, adopt the same successful approach of – the nearby and under the same ownership – "Sardelaki" and would not take reservations. In other words, profit would be generated by the sheer number of customers rather than consumption per head!
The realisation of this idea, a few months ago, has been a success and Moouu offers exactly what it promised and moreover in a very attractive and welcoming space. The menu is short and clever, avoiding possible pitfalls and presenting a large choice of lesser known but very good beef steak cuts. Whatever I tried, from hanger and picanha to classic rib eye and rib cup were perfectly grilled, well matured and with the deep, meaty flavour you would expect from a good steak, and at a cost of around €15! The meat is served already cut on cast iron plates which help them keep their temperature, along with several – run-of-the-mill and slightly overcooked – grilled vegetables. The various salads are most pleasant, the French fries good, although their – eye-pleasing – presentation in small "glasses" undermines the crispiness of those below. Among the first courses (!) is a rich and very delicious liver (only on one occasion, of the three times I dined there, it was a little overcooked) served with mashed potato and at just €8 you can't go wrong, as well as excellent tartare served with a poached yolk and fried eggs with cherry tomatoes and thinly sliced pastourmas. The offerings also include several oven-baked dishes of the day and here the kitchen displays both skill and technique. However the wonderful lamb, which melts in the mouth and is accompanied by well-made gnocchi, lacks – with regard to its sauce – the thickness I would have liked.
The desserts are pleasing, especially the crumbled mille-feuille, but their signature sweet with meringue, crème anglaise and ice cream, which they prepare at the table, is a bit of a disappointment. The short wine list features a number of original, well chosen and very affordable options, while the service is very friendly and efficient, despite the general panic.
Moouu this year earned our "best of" for value for money, but regardless of prices it is a good steak house and yet another strong addition to the burgeoning restaurant scene of the southern suburbs.  
Moouu
Phone: (+30211) 4096295
Address: 17 Foivis Str. Glyfada, Athens,
Website: -
Open: Daily, noon- evening
Price per person (€)*: € 20-30
* we do our best to reflect the actual price range per-person of a full meal including first and main courses, desert, water and half a bottle of wine or one beer depending on the type of restaurant.
Scoreboard Key
0 - 3

Poor

3.5 - 4

Average

4.5

Acceptable

5 - 5.5

Satisfactory

6 - 6.5

Good

7 - 8

Very Good

8.5 - 9

Outstanding

9.5 - 10

Excellent
| | | | | | | | |
| --- | --- | --- | --- | --- | --- | --- | --- |
| 0 - 3 | 3.5 - 4 | 4.5 | 5 - 5.5 | 6 - 6.5 | 7 - 8 | 8.5 - 9 | 9.5 - 10 |
| Poor | Average | Acceptable | Satisfactory | Good | Very Good | Outstanding | Excellent |
User Comments
Login or register to join the conversation