I had tasted the cuisine of Panagiotis Giakalis at the launch of the winter Baku at The Margi. It clearly had great promise but it seemed to still need more work. Besides, the chef had only recently been weaned away from Spondi and other positions in Apostolos Trastelis' group. Now, six months on, he appears to be spreading his wings and showing he is one of the top chefs of his generation.
At this point let me open a parenthesis to tell you, if you don't already know, that Malabar in Vouliagmeni is one of the most beautiful and atmospheric restaurants in Athens. Restaurant, lounge and bar are laid out in a walled courtyard with a swimming pool, which harmoniously combines the ambience of the Italian Riviera with touches of Beverly Hills or even a luxury Mexican hacienda along with some Eastern elements. Sounds too much? It's probably my description or imagination; just remember that it is an enchanting setting! To all this add finely tuned service, an exceptional bartender in the person of Stavros Gaitanaros, owner of Bardot, mixing the cocktails, well selected music at the ideal volume and you have a complete picture of the environment in which – this year – the cuisine of Panagiotis Gaikalis dominates!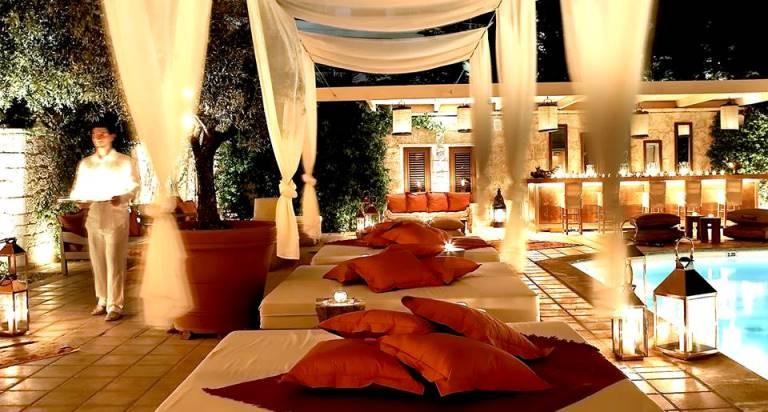 His influences from Spondi and Fuga are obvious and inevitable, after all he was there for nine years and he's only 29! But it doesn't matter where he draws his inspiration from, what's important is that he presents a very interesting, well considered, imaginative menu and executes it with confidence and great prowess. Even his simplest dishes, such as the delicious warm potato salad with tomato confit, light mayonnaise and egg, or the extremely elegant and perfect carpaccio of sea bass with citrus and sea urchin, has that something extra which every dish in a top restaurant should have. But he really reveals his culinary talent in two more dishes which, I believe, are truly outstanding. The first is the risotto, cooked and textured to perfection, with lemon and cilantro, ingeniously served over shrimp carpaccio, one of the best risottos currently being prepared in Athens. The second is a superbly cooked cod, with an airy texture (which reminded me of the marvellous texture of Matsuhisa's celebrated black cod) and a delicate aioli coating, served with a delectable trachanas with tomatoes and fresh herbs. I tried many more dishes, such as the juicy and very stylish turbot with pea purée, girolle mushrooms and a light soy sauce, the excellent chicken in prosciutto, which combined perfectly with 'maki' of melon and basmati rice in coconut milk, as well as the airy anchovy tempura with lemon mayonnaise, accompanied by two exquisite bruschette topped with tomato and marinated anchovies. I also tried the very good hamburger, but even though I am a burger fan, I believe it is out of place on this particular menu. And if for some commercial reason it has to be there, then I expect something more!
The desserts were good, although sweeter than they should be, but the main drawback is they follow dishes of such a high standard, which clearly put them at a disadvantage. Make a note of the name, Panagiotis Giakalis; Something tells me we'll be hearing a lot about him! 
Malabar
Phone: (+30210) 8929160
Open: Summer, daily, evening
Price per person (€)*: €45-60
* we do our best to reflect the actual price range per-person of a full meal including first and main courses, desert, water and half a bottle of wine or one beer depending on the type of restaurant.
Scoreboard Key
0 - 3

Poor

3.5 - 4

Average

4.5

Acceptable

5 - 5.5

Satisfactory

6 - 6.5

Good

7 - 8

Very Good

8.5 - 9

Outstanding

9.5 - 10

Excellent
| | | | | | | | |
| --- | --- | --- | --- | --- | --- | --- | --- |
| 0 - 3 | 3.5 - 4 | 4.5 | 5 - 5.5 | 6 - 6.5 | 7 - 8 | 8.5 - 9 | 9.5 - 10 |
| Poor | Average | Acceptable | Satisfactory | Good | Very Good | Outstanding | Excellent |
User Comments
Login or register to join the conversation