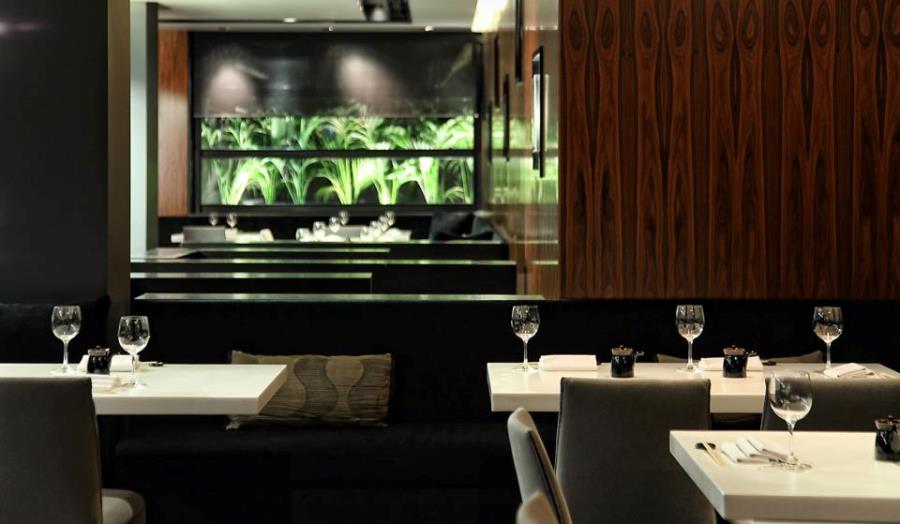 Anyone walking into Kiku after its recent renovation might think they have walked into an entirely different Asian establishment. It now sports sleek yet simple lines, presents customers with a touch of theatrical lighting elegance at their tables and its bar definitely echoes Japan with its beautiful almond tree installation.
The level of service has most surely moved up the quality ladder as well, a fact accentuated by the friendliness of the staff and their evident knowledge of Asian cuisine. That being said, the real winner here is the kitchen, led by Chronis Damalas. Now clearly more mature than ever, the chef that first caught out culinary eye at Sea You Up in Chalkidiki and wowed us all over again at Gaspar, offers up a modern take on Asian cuisine, that proudly wears its fusion elements on its sleeve, a trend that was originally established by Nobu in every modern Asian culinary establishment around the globe. Shining through the renovated décor, Kiku's kitchen handles its flavors with finesse, shows a delicate hand with its flavors and fragrances and is surgically precise with its technique. And if you're looking for immediate proof of this, then look no further than the signature rolls, a regular stumble, that in this case stays refreshingly away from the over styled  and frankly overbearing flourishes we often come across in other restaurants of this type.
Kiku has now certainly set its sights on the title of best Japanese restaurant in town, a title that I too would gladly award it. Having said that, the black miso cod, which Kiku re-christens Gindara Saikyo Yaki, was a touch overcooked and slightly heavy-handed with its marinade and the tempura shrimp could have done with being slightly lighter, but other than those two small points, everything else we tried was simply flawless. The bass and spicy mayo nigiri were surely the star of the evening. Perfectly filleted, top quality fish, paired with exceptional rice, with the maki a close second. The shrimp dumplings were also a hit, as were the lightly sautéed meat and vegetable gyozas. The tuna tartar was a delicate wonder, allowing the fish to really express its flavors, the ceviche was fragrantly spot-on and the soft shell crab rounded the flavors off with a flourish.
If that isn't enough of a treat for the senses, then Kiku also boasts a rather short but inclusive wine list, some solid sake and cocktails, as well as a selection of western influenced deserts. All in all, Kiku manages to present itself with style and flair, with the only obvious drawback being its slightly steep pricing, seeing as the dining experience could well set you back by about 100 euros per person.
Kiku
Phone: (+30210) 3647033
Website: http://www.athenskiku.com
Open: Daily, except Sunday evening. 




Price per person (€)*: 90-120
* we do our best to reflect the actual price range per-person of a full meal including first and main courses, desert, water and half a bottle of wine or one beer depending on the type of restaurant.
Scoreboard Key
0 - 3

Poor

3.5 - 4

Average

4.5

Acceptable

5 - 5.5

Satisfactory

6 - 6.5

Good

7 - 8

Very Good

8.5 - 9

Outstanding

9.5 - 10

Excellent
| | | | | | | | |
| --- | --- | --- | --- | --- | --- | --- | --- |
| 0 - 3 | 3.5 - 4 | 4.5 | 5 - 5.5 | 6 - 6.5 | 7 - 8 | 8.5 - 9 | 9.5 - 10 |
| Poor | Average | Acceptable | Satisfactory | Good | Very Good | Outstanding | Excellent |
User Comments
Login or register to join the conversation