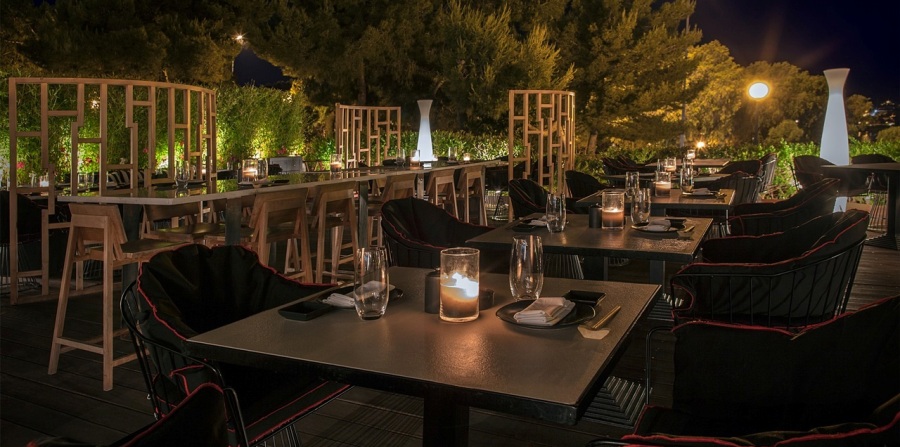 When I first heard about Kiku opening in Vouliagmeni I thought what most of you surely did too.  How could it survive so close to what is potentially Athens' biggest summer hot spot, Matsuhisa? It seems I had nothing to worry about.  Matsuhisa is still there but Kiku Seaside is very well appointed too.  The lovely setting isn't its main selling point though; Chronis Damalas' cuisine is, very deftly executed by the talented Vangelis Leousis.
When I reviewed Kiku in Kolonaki last November, I wrote that chef Chronis Damalas has definitely come into his own. His team, under young chef Vangelis Leousis, are doing him proud.  They are showing finesse and great technique hence the rating I've given them, even though Damalas himself doesn't cook here.
The menu is big and follows the same Japanese fusion lines that Nobu established years ago when he ended up starting one of the most long lasting trends in culinary history!  There are however, some dishes which are a little simpler and more accessible.  These include the steamed burger buns, the beautifully fried calamari with coriander and chilli jam or the more Chinese inspired aromatic salad with juicy confit of duck, mango and cashew nuts.
Chronis Damalas' signature nigiri, a staple from his time at Sani Resort's Sea You Up, made with warm eel and foie gras is always tasty but this time it had a little too much sauce which made it too sweet.  It just wasn't as immaculate as I remembered it. On the other hand, the sea bass and spicy mayo nigiri was amazing. Perfectly balanced with beautifully cooked rice; not only was it tasty but it came apart in the mouth the minute you bit into it. The Gindara Saikyo Yaki (otherwise known as black cod with sweet miso) was perfectly marinated, well balanced and if it had been cooked a tad less, it would have been nothing short of magnificent.
I tried many other dishes but there is no point listing the whole menu.
  They were all well made, tasty and demonstrated the overall restaurant's calibre. The desserts were more Western in style but interesting and the relatively short wine and sake list was comprehensive enough.
Kiku Seaside
Phone: +30 210 9671866
Address: Orfeos 2, Vouliagmeni, Athens
Website: -
Open: Open every night during the summer months
Price per person (€)*: 75-110
* we do our best to reflect the actual price range per-person of a full meal including first and main courses, desert, water and half a bottle of wine or one beer depending on the type of restaurant.
Scoreboard Key
0 - 3

Poor

3.5 - 4

Average

4.5

Acceptable

5 - 5.5

Satisfactory

6 - 6.5

Good

7 - 8

Very Good

8.5 - 9

Outstanding

9.5 - 10

Excellent
| | | | | | | | |
| --- | --- | --- | --- | --- | --- | --- | --- |
| 0 - 3 | 3.5 - 4 | 4.5 | 5 - 5.5 | 6 - 6.5 | 7 - 8 | 8.5 - 9 | 9.5 - 10 |
| Poor | Average | Acceptable | Satisfactory | Good | Very Good | Outstanding | Excellent |
User Comments
Login or register to join the conversation