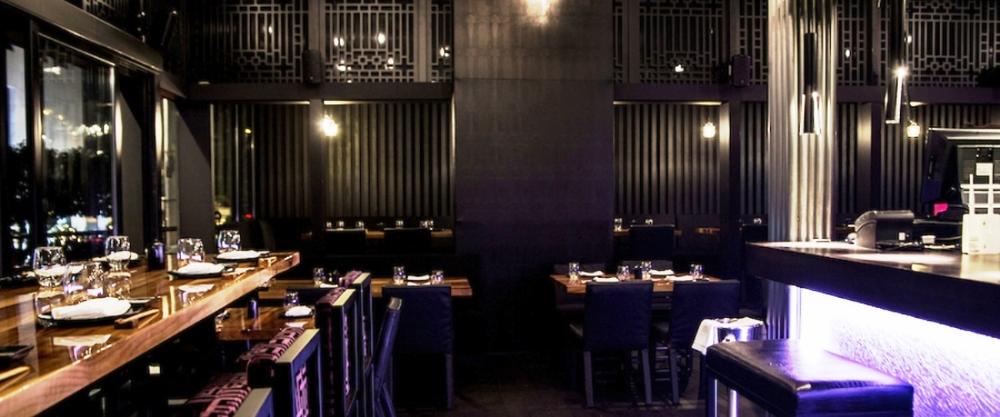 Kiku is the best Japanese restaurant in town and chef Chronis Damalas has proven his great talent again and again.  During the summer months Kiku had pop up restaurants in Vouliagmeni and Mykonos but Kiku Psychiko is the first full time addition to the original.  It shares the same menu and high prices as Kolonaki but with a more youthful outlook.
It's a very elegant bar-restaurant, all black, with theatrical lighting, a big bar and great music which is just loud enough to create the desired ambiance but without getting in the way of conversation.  A beautiful, comfortable space with obvious Japanese references, Kiku Psychiko is a restaurant I'd like to be able to visit a lot.  At €250 a couple though, you couldn't really call it your regular!
The food is really good here, even though it does need to go a little way before it can match the standard set by the Kolonaki restaurant (hence the half point difference in its rating).  The minor imperfections I'd noticed in Kolonaki exist here as well but they're more obvious.  The weakest link continues to be the shrimp tempura which is oily, without the lightness that should characterize this dish.  Same with the black cod, which wasn't cooked correctly and was missing that fluffy texture you're after.  On the other hand, the sushi is amazing with great rice and perfectly filleted fish.  I finally remembered to order the fantastic smoked eel and foie gras nigiri that Damalas has first cooked in Sea You Up in Chalkidiki.  This is an incredible combination, a fusion dish of the highest level.  The ceviche was also excellent; perfectly balanced and elegantly presented.  The japanese style burger buns were OK, but not amazing, and an obvious nod to the bar element of the restaurant.
I think these kinks will be ironed out soon, as it's still early days.
  As they're in an expansion phase though, they have to aim to retain the standard set by the original restaurant.  As far as the prices are concerned, there is a lot of space for manoeuvre on certain dishes, as well as the wines and sake.
Kiku Psychiko
Phone: (+30210) 6776759
Address: Perikleous 7, Psychiko, Athens
Website: -
Open:

Open for dinner every day, apart from Monday. Saturday: lunch and dinner service


Price per person (€)*: 90-120
* we do our best to reflect the actual price range per-person of a full meal including first and main courses, desert, water and half a bottle of wine or one beer depending on the type of restaurant.
Scoreboard Key
0 - 3

Poor

3.5 - 4

Average

4.5

Acceptable

5 - 5.5

Satisfactory

6 - 6.5

Good

7 - 8

Very Good

8.5 - 9

Outstanding

9.5 - 10

Excellent
| | | | | | | | |
| --- | --- | --- | --- | --- | --- | --- | --- |
| 0 - 3 | 3.5 - 4 | 4.5 | 5 - 5.5 | 6 - 6.5 | 7 - 8 | 8.5 - 9 | 9.5 - 10 |
| Poor | Average | Acceptable | Satisfactory | Good | Very Good | Outstanding | Excellent |
User Comments
Login or register to join the conversation